We know that Home Loans For All is one of many online loan companies, and we know that smart consumers understand that they can't trust everything they read online. But as described in our mission statement, honesty and transparency are among our top priorities here at Home Loans For All.
That's why we've chosen to make our editorial guidelines – the high standards of quality all of our work. If you're wondering why you should trust Home Loans For All, wonder no more; here's how it all works here. Also, if you think we can do better, please send us a message through our customer support page.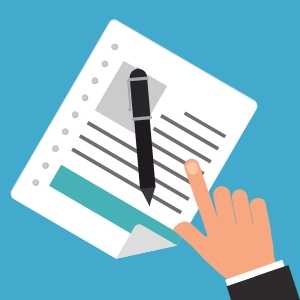 Our Blog Guidelines
The mission of HomeLoansForAll.com is to help ALL Americans find home loans and understand the home loan process. To achieve this mission, we provide an easy-to-read blog. Its purpose is to help ordinary homebuyers cut through the dense confusion of the modern mortgage process. We also help to understand the information potential homebuyers need to acquire a home loan.
Indeed, every piece of information you read on the Home Loans For All blog comes from actual real estate agents working to help people find mortgages today. Our main partner is Leslie Rowberry, whose credentials you can read about in more detail here.
Leslie's expertise includes:
Buying property
Selling property
Renting property
Understanding credit – how a credit score is determined, how to repair it, how it affects the home buying process, and what home buyers with bad credit can do to secure a mortgage
Loan origination
Escrow
Programs offered at the national level (such as FHA, VA, and USDA home loans)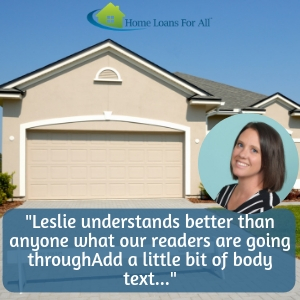 As well as many more topics. With more than 14 years of education and 12 years of experience in the home industry, Leslie understands what our readers are going through. In particular, she makes sure we're providing them with an authoritative and accurate portrait of the home buying process.
Furthermore, any statistic we cite is carefully sourced from a reliable publication. When we're discussing a particular program offered by a state or federal organization, we link to that organization's website.  How else would you double-check that everything we're saying is true?
Overall, we believe that the best way to create business for ourselves is to provide superior service to our customers. We genuinely want to help you find a home loan you can afford and a program that works for you. That's why we'll never force you to just "take our word" for any topic we write about. Click the links on any given article and you'll see that we do research our topics. We also regularly check those links so to make sure the numbers and our info is up to date. So, do not hesitate to click the links. They are safe and are there for you!