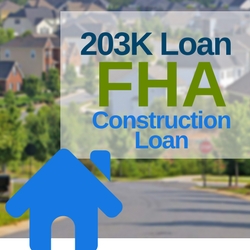 There are many construction loans available for funding residential construction projects. The most popular today is the 203k FHA Construction Loan. The two versions of the 203K Building Loans have actually emerged as a popular option among today's home buyers and property owners wishing to make improvements to a property. Today we'll be looking at the pros and cons of this option as well as explaining the 203k loan rates.
Which version of the 203k construction loan is right for you?
These FHA programs are known as the Standard 203k, and also the Streamline 203k.
We Help You Qualify For A 203K Construction Loan
Fill Out The Form Below To Get Help Today!

FHA New Construction Loan
The FHA Construction To Permanent Mortgage Program is a short-term building loan that transitions into a permanent FHA loan after you build the home. The building is handled by a qualified contractor approved by the loan lender, and the Federal Housing Administration insures these types of new construction loans so that loan lenders feel more secure and will give out more money up-front for fewer requirements.
FHA construction loan requirements are lower than the requirements for other types of construction loans, and they have smaller down payments. 203K mortgages are a type of FHA construction loan that is best for an existing home that requires repair or rebuilding. As mentioned before, there are two kinds of 203K FHA New Construction Loan:
The FHA is not a home loan lender. Rather, it's an insurer of home loans.
203k Standard vs Streamline
As a insurer, the FHA offers a backstop to home loan lenders who make loan which meet the agency's specifications for insurance.
For example, the FHA will certainly guarantee a mortgage if the home buyer's FICO score meet specified minimums (e.g; 580 or higher); and, if the borrower is a legal resident of the United States; and, if the borrower's month-to-month earnings is reasonable regard the household's monthly debts.
The FHA releases a series of such standards which, collectively, are known as the FHA mortgage guidelines. Loans which meet FHA guidelines can be insured, and loans which could be guaranteed can be accepted.
FHA guidelines also consist of stipulations for certain "programs", which may fall outside the spectrum of the typical mortgage applicant.
One such FHA program is its construction loan program, officially called the FHA 203k loan. The 203k comes in two types– the Standard and the Streamline.
A FHA 203k Construction Loan can be utilized by owner-occupants of a residential property, local governments, and other qualified non-profits. It can be used to purchase and/or renovate a residence with up to 4 units, and can be used in a multi-use structure with certain exception.
FHA Construction Loan Requirements
The 2 versions of the FHA construction lending loan: The 203k Standard and also the 203k Streamline work very similarly.
However, there are a couple of distinctions.
First, the Streamline 203k is covered at $35,000 in repairs, and requests less documents as part of the approval. The Standard 203k is not topped at $35,000 as well as documentation demands are a little a lot more intense.
Another improvement in between both 203k loan programs is that the Streamline 203k calls for that the residence be "habitable" throughout the period of renovation. If the home will certainly be unlivable for any reason at any time, use of the Standard 203k is required.Nevertheless, debtors utilizing the Standard 203k can add up to six months of home mortgage payments to their building financing for the duration during which the residence is unlivable.
A 3rd improvement is that, with the Streamline 203k, settlements to a service provider could be taken care of in two stages. The initial payment can be made at the beginning of the job (i.e. 50 % to start the work); as well as, the 2nd settlement could be made at the project's conclusion (i.e. remaining 50 % on the work).
With the Standard 203k, payments are made differently. There is an assigned "consultant" which monitors construction, making payments as each stage of recovery is completed.
Which 203k Construction Loan is right for me?
The two 203k programs additionally vary in just what kind of job can be executed as well as in their 203k loan rates. The FHA program guidelines consist of an extensive list.
The FHA 203k Streamline construction loan is best for repair/replacement/or upgrade of roofs, gutters, existing HVAC systems, plumbing and electrical systems, and existing floor covering.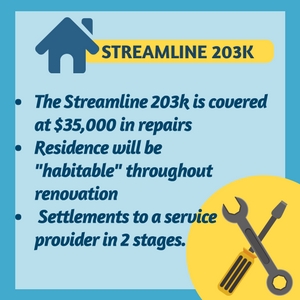 It also covers small non-structural makeovers including outside and interior paint, insulation, weatherization of windows and doors, ease-of-access improvements, and lead paint stabilization.
It allows for a few larger renovations so long as the repairs are non-structural to the basement (including waterproofing), door and window replacements, and well or septic tank replacement and repair. Finally, the Streamline version of the FHA building loan can cover the purchase and installation of basic appliances.
The FHA 203k Standard construction loan covers more significant repairs, like moving a load-bearing wall, repairing architectural damages, repair requiring in-depth illustrations or architectural exhibits, and improvements that need a strategy customer.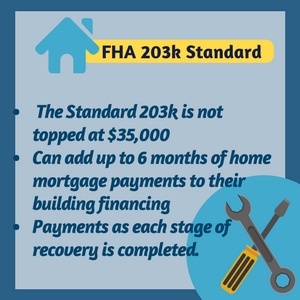 The Standard FHA building loan also covers brand-new construction, area additions, landscape design, and other site amenity renovations.
In short: any type of repair needing a work schedule longer compared to three months, rehab activities that call for more than two epayments each specialized service provider, and improvements that result in work not starting within 30 days after loan closing.
To summarize, the Streamline lives up to its name– less paperwork for the customer, much easier for the loan provider to authorize, and a convenience in the draw timetable. The Standard 203k FHA construction loan is for "bigger tasks" and more substantial long-term repairs.
Both types of FHA new construction loan can be advantageous for those seeking to purchase and also restore before moving in your house.
FHA Construction Loan FAQs
What are the current 203k construction loan rates?
Mortgage rates fluctuate depending on the current state of the market and the economy. However, rates for FHA home loans are much lower than they are for other types of building loans, and you can use our site to help you find the best deals.
Take a look at the best FHA new construction loan lenders. Your personal info is not required to get started, and the information you do provide is 100% protected with our SSL encrypted website.
How long does it take to close on a house with a 203k construction loan?
FHA construction loans can be closed in as little as 30 days, but it often takes closer to 45-60 days because these sorts of building loans involve the government, the lender, and the applicant. But for many home buyers, the wait is well worth it considering that you often get a better deal with an FHA loan.
What credit score do you need to get a 203k construction loan?
The Federal Housing Administration allows credit scores as low as 580, but most construction loan lenders require a score of closer to 620 (with lower scores usually requiring higher down payments.) Still, that's a lot easier to manage than the 720+ credit scores required for traditional new construction loans.