Why You Should Choose Home Loans For All
Shop and Compare mortgage rates from multiple lenders.
FHA-insured mortgage financing.
Many of our approved lenders work with 580+ credit scores.
Direct access to the HUDHomestore and real-time foreclosure listings.
Poor and low credit home loans are available.
First time home buyer programs and FHA 203K loan programs also available.
Useful tools like a mortgage calculator and an up to date mortgage & real estate blog.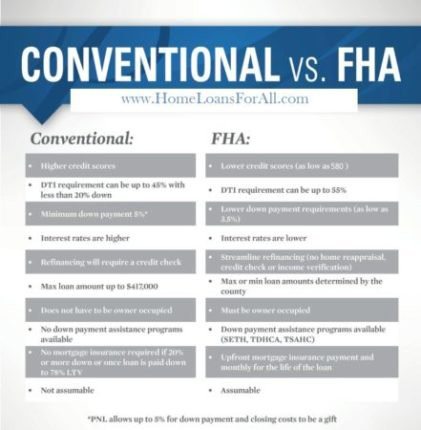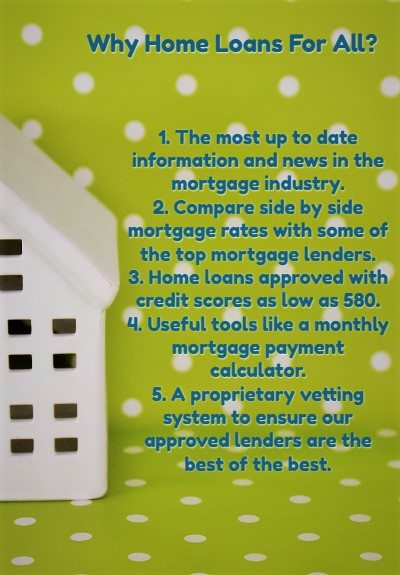 At Home Loans For All our mission is to provide every potential buyer with as many mortgage options as possible and that's it. We try our best to take all the stress from the sometimes daunting task of finding the right lender and the best mortgage rate. Our unique system allows consumers to get multiple offers from several lenders instantly and by tapping into our massive network of mortgage professionals. Each lender has their own specific mortgage credit requirements when it comes to approving someone for a home loan. You may reach out to several different lenders before you find one that may possibly be able to help you based on your own unique situation. At Home Loans For All our lenders are experts with low credit score home loans. They offer programs such as 100% FHA financing and even approvals with credit scores as low as 550. You just simply fill out our short form and the lenders come to you. We also assist with the refinancing of your existing home. If your interest rate is too high then it's time to refinance. If your monthly mortgage payment is keeping you from achieving financial freedom then it's time to take action. In some cases you can even refinance regardless of your credit scores. Home Loans For All can get you the best deal possible because we shop and compare mortgage rates from our network of the very best mortgage lenders in the country. In addition to home loans, mortgage refinance and HUD Homes, Home Loans For All also provides a number of great tools including a home loan affordability calculator, a mortgage calculator, tips and tricks on mortgage negotiation and we even allow you to check your credit scores for FREE! We even provide direct access to HUD homes. In the event your lender cannot get you approved, we have partners/lenders that offer mortgage loan preparation/credit repair and credit restoration. This program has proven time and time again to improve your credit scores fairly quickly so you can qualify for the home of your dreams.
Be sure to check out Blog featuring a ton of the latest mortgage news.