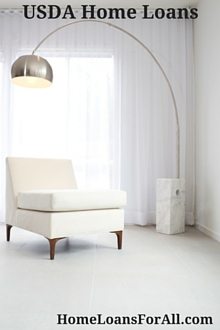 If you are one of the first-time home buyers coming into the market or you are a seasoned individual in the home buying market, it can be extremely stressful to try and have the correct funds for the down payment on a home. However, it doesn't have to be a stressful event you are expecting. In today's market, homebuyers have a wide variety of options of low- and no-down payment mortgages to choose from. Introducing USDA Home Loans.
USDA home loans are one of the most overlooked small down payment mortgages and allows for 100% financing and zero money down. It's a shame not many people learn about USDA loans. USDA loans are a government-insured mortgage, formally known as a Section 502 loan. The purpose of a USDA loan is to encourage homeownership in parts of the country with lower populations, like rural areas and even some suburban neighborhoods. You have a very good chance of being able to buy a home that qualifies under the program since 97% of the US is USDA loan eligible.
>> More: Get Preapproved For USDA Loan
Benefits You Can Expect from USDA Home Loans
Among first-time home buyers, the USDA mortgage is extremely popular. It is very popular among buyers who know the program exists but it is not widely known about, sadly. USDA loans are very convenient as they offer 100% financing, reduced mortgage rates, and even a small mortgage insurance payment. It can be quite helpful to look and determine what each benefit means separately.
With the USDA home loan program, you will be able to purchase a house without it costing you any sort of down payment. USDA loans are one of only two mortgage programs. They actually allow for no down payments. (The other type is a VA mortgage, available to military people only.) Of course, as a USDA mortgage borrower, you are not required to borrow 100% of the cost of the home. You have nothing stopping you, though. The down payment you pay can be as big or small as you have the funds for.
Buyers participating in the USDA mortgage program receive access to different and lower mortgage rates than those not using the USDA mortgage program, i.e., the general population. The most aggressive of today's mortgage rates are often USDA mortgage rates and can be up to 40 basis points, or 0.40% less than the rates of other comparable conventional mortgage rates.
Since USDA mortgages are guaranteed by the U.S. Department of Agriculture, USDA home loans offer mortgage reduced rates. If you looked at the mortgage insurance rates for a 30 year-long fixed rate USDA loan, the rates are less than half of what you could expect to see with an FHA mortgage insurance. It can even be up to 2/3 less than any private mortgage insurance rates with a normal, conventional mortgage. In simplest terms, this means USDA loans are cheaper and require less money upfront than other loans.
USDA Loans Eligibility and How to Qualify
The first thing you'll need to do for a USDA mortgage is to follow the same approval steps you would normally with any other mortgage loan type. You will need proof of income, W-2s, pay stubs, or maybe even federal income tax returns.  They will verify your savings, and your monthly debts. You will need to have proof of employment and citizenship, so prepare and get all the docs ready.
USDA mortgages are really only available in areas with a lower density of people, so you would not be able to use USDA loans in a huge city. However, if you are looking at a home in somewhere rural or many US suburban subdivisions, lucky you! To be sure though, there is a USDA property eligibility checker on their website. Of course, you also need to pass the verification for household income. USDA loans are meant for those with modest income only, though that can vary from house to house. For example, a modest income for a 2-person household in Cincinnati, OH would be around $82,000. A modest income for a 5-person household in Los Angeles, CA would be around $129,600.
Please note, the home you are purchasing will be your primary residence and for one family and not a multi-unit home. They will check up on that as well. You cannot use USDA home loans for second homes, vacation homes, or rentals.
What Mortgage Rates Can You Expect Today?
If you are one of the many First-time home buyers, you have access to so many different low- and no-down-payment mortgage loans However, the 100% USDA loan is, hands-down, one of the most aggressive of mortgage products out there. Whether you are buying for the first time or have bought a home in the past, you can definitely benefit from getting a USDA loan. You will be spending less money upfront and in the long run.