Mortgages: Common But Complicated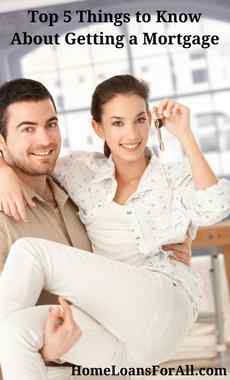 A mortgage can be an important piece of our lives. There's a lot of money involved, and often, a lot of dreams attached to it.
As easy as defining a mortgage is, it's still a complicated process. The following items will take you a long way through Mortgages 101!
5 Things To Know About Getting A Mortgage
Important Mortgage Information You Need to Know, In Short:
 You should get pre-qualified for a home loan before you do anything else.
The lender, such as your bank, informs you what amount you can borrow. House hunting is difficult without that number.
With your budget in mind, you and your agent can focus on real possibilities you love. (Once you find "THE house", you ask your lender to pre-approve you for the mortgage loan, so the seller knows you can pay for it.) As recent national crisis has showed, buying more house than you can afford is a very bad idea.
Mortgage Prequalification Online
 There is more than one type of mortgage loan.
The most common is a

conventional mortgage

, where the buyer puts down 20% of the price, borrows the rest, and pays it off with interest in 30 years.

People who can't put down 20%, or whose credit score is too low to get a conventional loan, can qualify for an FHA mortgage

 (Federal Housing Administration)

. Although there are fees and insurance costs with this government-sponsored loan, it's a doable option for many buyers.

Veterans, those actively serving, and their widows/widowers can get a

VA mortgage

, managed by the Department of Veterans' Affairs. Designed to show gratitude for service, this loan requires a small or no down payment and no mortgage insurance.
 There are also different types of mortgage payments.
Fixed Rate Mortgage

: The buyer pays the same amount every month for the years of the loan. Payments don't change when interest rates inevitably sink or rise.

Adjustable Rate Mortgage

: The buyer pays changing amounts each month, depending on current interest rates, because the rate is not locked in. Although an ARM benefits you when interest rates are low, your monthly payment will be higher when they go up.
 Speaking of interest rates, you want to pay the lowest possible monthly interest payment on a Fixed Rate Mortgage.
To make this happen:
Know that you don't have to accept the first offered rate. Negotiate for what you want.

Don't grab the first interest rate you see online from the first lender you look at. Do your research and compare.

Hire a mortgage broker, whose job it is to know good rates and how to get them. They cost money, but brokers are the experts.
 There are various mortgage sources, and you should explore them to get the best rate that is right for you.
Start with your own bank, and request a meeting with a mortgage consultant. Then visit other banks with the same request.

Meet with some mortgage brokers to see if you want to work with one and, if so, which one.

Investigate reputable online lenders. Not only the bigger banks but also smaller even online based mortgage lenders.
How much can I borrow for a mortgage calculator
Don't Forget to Pick the Brains of Your Real Estate Agent!
Another great resource in your search for a mortgage is your agent! A top-rated local real estate agent is a wealth of information and support. Having been around the block, literally and figuratively, your agent can give you advice on where to look for your mortgage, and what good rates look like in your area.