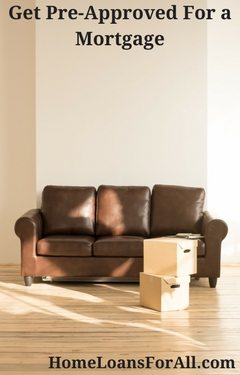 If you are reading this article chances are you're looking to get pre-approved for a mortgage loan. When you are purchasing a home, you need to go through a lot of steps before you can settle down into your new pad. There are a few different almost foreign terms that you'll hear and need to understand about getting pre-approved for a home loan. Knowing the ins and outs of the process can help you make the best decisions and make the process go a lot more smoothly. One of the very important pieces of this is the pre-approval, which can be a confusing concept for some new to the process. This will take you through everything you need to know about getting pre-approved for a mortgage.
Difference between Pre-Approval and Pre-Qualification
A lot of people confuse pre-qualification and pre-approval. While they may sound the same, there are very distinct differences between the two. A pre-qualification is you are trying to figure out what you are actually able to afford. This is a process where a broker, bank, or even yourself can quickly do. All this involves is a quick look at what you can put for a down payment on the house, what assets you have, and your debt-to-income ratio, credit etc. You can determine your what your payments will be with a mortgage loan prequalification calculator. This is a very basic step that you would complete at the very beginning of the home buying process. Next is going to be the actual mortgage pre approval process.
A pre-approval is something that lenders and realtors will take a look at, which is one of the biggest differences between these two items. This is a more in-depth look of what you are actually able to get approved for when it comes to a mortgage, rather than just a look at what you can afford. The pre-approval is a conditional and written commitment from a lender that will state that you are pre-approved for the financing. In order to get a pre-approval, there are several things that you need to do. You will need to fill out a loan application, which also includes verifying your income, checking your credit, assets, proof of employment, and going through an initial underwriting of the loan.
Get Your Mortgage Pre Approval Letter
How To Get Pre-Approved For A Mortgage
A pre-qualification is a very good start in the process of looking for a mortgage as it can give you an idea of what you can afford before you start falling in love with houses outside of your budget. However before you actively start looking for a house, you absolutely need to get a pre-approval. Sellers want any potential buyer to have one and if you want to show them that you are serious about purchasing their home, you need it. Through a pre-approval, you can also uncover any credit issues that may hold you back from buying a home or require you to pay a much higher interest rate.
While the process was briefly touched upon in the previous section, here we will go into more detail about every step of this process. The first thing that you will do is to fill out an application for a mortgage, which may entail an application fee to file. As you are applying for a pre-approval, you will have a property section to fill in so you can leave this blank on your application if you have not picked out a home yet. Once you have completed the application, you will also need to submit a lot of information to the lender so that they can pick an accurate mortgage and interest rate for the loan. Whether it's an FHA loan, a VA loan or you're trying to refinance your existing mortgage you'll want to have your interest rate hopefully locked in. If you stick with this company, you can often get them to lock in the loan with this interest rate.
One of the biggest things that you need to provide is your proof of income. To do this, you will need to show pay stubs for the last few months of work in addition to the year-to-date income. You should also show between 60 days to a quarterly statement of your banking accounts (all checking and savings account) as well as any investment accounts that you may have. You should also remember to show 2 years' worth of W-2s and tax returns. Other information you will need to show include bonuses and alimony payments and any other recurring debts etc.
The lender will need to see proof of your assets. For this, you need to show that you have enough money for closing costs and a down payment which means that you need to show them your bank and investment accounts. If you receive any money from family or friends, you will need a notarized letter to say that this is a gift and not a loan that needs to be repaid. They will then do a credit check, which will have a big impact on your mortgage. If you have great credit, meaning a score of typically 720 or more, you will get the lowest interest rates. For the most part, you need at least a credit score of 580 to get a loan with only 3.5% down payment. It can be very difficult for you to get a mortgage with any score lower than this but you may be able to qualify if you have a larger down payment. Home Loans For All has a massive network of lenders that do work with borrowers with lower credit scores.
Lastly, you will need to show your ID and have your employment verified. It is important for lenders to only give money to people who have stable employment, so they will likely contact your employers to see how much you make and how long you have worked there. If you recently found a new job, your lender may call your previous employer as well as your current one. For those self-employed mortgage applicants, you will have to provide a lot more information about your income. You need to show your ID and give your social security number so that they can run your credit and prove that you are who you say that you are. Your lender will ask for other information as needed. Once your lender has all the ducks in a row you'll finally have that mortgage pre approval letter in hand.
Determine your mortgage prequalification online
How Long Does this Process Take?
For the most part, this process could take anywhere between a few days up to a few weeks. A lot of lenders are now using online applications, which can speed up the process. The exact time frame is really dependent on which lender you are submitting your application with.
When going house hunting it is a pretty powerful thing to have your pre-approval letter in hand. It shows you're not only serious about the home but it also shows you've gone through the pre-approval process and are pre-approved for a mortgage. Should you decide to make an offer on a home, you'll have a pretty good chance of getting the home of your dreams. Happy house hunting!