There's nothing like the security and freedom of owning your own home. A friend of mine used to say that an apartment gives you a place to sleep, but a house gives you a place to live.
And if you're not a philosophically-minded person, maybe you're a pragmatic one: a house is a long-term investment that will appreciate in value over time. That's why if you have bad credit, finding a bad credit mortgage in San Antonio is essential.
We get it: sometimes bad credit happens to good people. But Home Loans For All is here to help.
Get Help Pre Qualifying for a San Antonio Low Credit Home Loan – Click Here!
How To Find A Mortgage In San Antonio With Bad Credit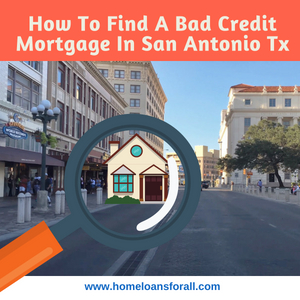 What is credit, anyway, and why is it so important? Understanding that will help answer the question of how to find a mortgage in San Antonio with bad credit.
Your FICO credit score, or "hard pull credit score", is in essence a measurement of your financial health and your history of repaying the lenders that you borrow from.
It lets lenders see, at a single glance of three digits, how likely they are to lose money if they give you a San Antonio bad credit home loan.
Of course, you and I know that just because you had something that damaged your credit in the past (or have yet to build up your credit properly) it doesn't mean that you're going to default on your loan. But most mortgage brokers won't see it that way.
You should also be aware of your debt-to-income ratio (the amount of debt you have in outstanding loans and ongoing bills relative to your total income.) If this is higher than 40 percent, it will make it difficult to find a conventional home loan.
So if you're trying to find a mortgage in San Antonio with bad credit, we recommend starting with some of the government programs designed for people in your situation.
Government Programs
San Antonio NHSD
In addition to the down payment assistance programs offered by the state of Texas, the city of San Antonio has its own Neighborhood and Housing Services Department – the NHSD. This is a very useful resource if you're looking for home buyer assistance in San Antonio, and they also do a lot of work with repairing and improving existing houses.
But the NHSD also offers down payment assistance programs to homebuyers in the general public – anywhere between $1,000 and $12,000 USD.
Down payment assistance is not the same thing as a bad credit mortgage in San Antonio, but such mortgages often come with higher down payments to offset the risk of accepting a poor candidate, so this kind of assistance can be very useful.
Also, a big benefit of the NHSD down payment assistance program over the programs offered by the state is that the state assistance is only available to first-time buyers, which the NHSD offers help to anyone buying a home in the city of San Antonio.
Federal Programs
The NHSD is great if you're just looking for down payment assistance on a bad credit conventional mortgage in San Antonio, but what if your credit is too bad for these programs? You need to start looking at some of the federal government's programs to help home buyers, particularly the FHA and VA loans.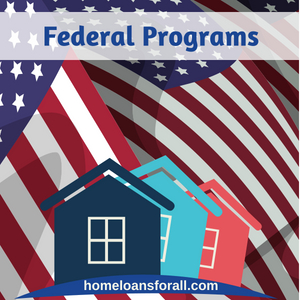 VA Loans in San Antonio, TX
VA loans are the best no money down bad credit mortgages in San Antonio, but they're only available to eligible service members and veterans. Loans insured by the VA have no minimum credit requirement and often end up saving you thousands of dollars on your loan payments.
The latter happens because VA loans in Texas waive the down payment entirely in most cases and don't require you to continually pay Private Mortgage Insurance.
FHA Loans in San Antonio, TX
Of course, if you're not a veteran and you're looking for a San Antonio bad credit mortgage that's available to anyone, you should consider the FHA loan option.
FHA loans are especially good for first-time home buyers in San Antonio with bad credit – that's actually who they're designed for.
FHA loans have no minimum credit requirement and down payments as low as 3.5 percent. So if you haven't had time to save up money for the closing costs and/or you have bad credit, this is the loan for you!
Let's break down that down payment business. San Antonio home buyers with a credit score of 580 or more will only have to pay a 3.5 percent down payment on a San Antonio FHA loan.
If your score is below 580, your FHA application may still be accepted if you have alternative credit or if you make a larger down payment, typically around 10 percent.
In either case, the down payment is a lot lower than the 20 percent that's asked by most conventional home loans.
Rent To Own Options in San Antonio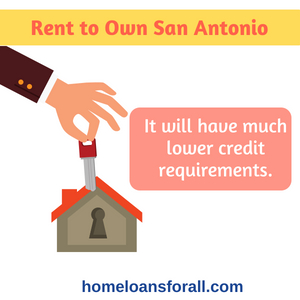 If you're not yet ready to buy a home, or you're ineligible for the government programs listed above, you might want to consider renting a place now with the option to buy it in the future. This is a great alternative to a bad credit mortgage in San Antonio.
The first thing you'll need to do is pay a potential options fee when you sign your rental contract, similar to a down payment. Because a rent to own contract is a rental contract and not a mortgage, it will have much lower credit requirements.
Then, as you pay off your lease, a portion of your payments will be put towards the principal of the home. Once the lease ends, you will be given the option to purchase the property outright if you want.
This will require you to find additional financing, but now you'll have had plenty of time to try to repair your credit and save up for the down payment, so FHA, VA, and even conventional mortgages may now be within your reach.
Co-signer on a San Antonio Mortgage
If you don't qualify for a bad credit home loan in San Antonio and you're looking for another option that will allow you to buy a house now, you might consider finding a co-signer. Mortgage brokers will consider the co-signer's credit score in addition to your own before setting the terms of a potential mortgage, which will increase your chances of getting accepted. H
owever, the cosigner is agreeing to make any payments that you fail to pay and tying their credit to the home you're buying, so make sure that your cosigner is someone you can trust.
Bad Credit Mortgage Loans In San Antonio After Bankruptcy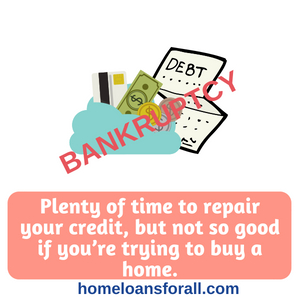 If your home is foreclosed upon or you file for bankruptcy, it will greatly impact your credit score and your chance of finding another place to live in the future. Conventional financing has a seven-year waiting period between filing for bankruptcy and applying for another mortgage.
Plenty of time to repair your credit, but not so good if you're trying to buy a home.
Government-insured loans often have much shorter waiting periods because the FHA or VA is absorbing some of the risk of granting a loan to a bankrupt buyer. VA loans only require two years, while FHA loans have a three-year waiting period.
That's less than half of the conventional average, and a perfect amount of time to start looking seriously at improving your credit in San Antonio, TX.
San Antonio Credit Repair Tips
Looking to repair your credit? If not, you should be! Even if you've already successfully secured a bad credit mortgage in San Antonio, you can always step up your credit to find better loans (home, auto, student, or otherwise) in the future. And remember: there's nothing that a credit agency can do to repair your credit that you can't already start doing by yourself.
The first thing you need to do is to make sure that you always pay all of your bills on time and in full every month.
This will have a big impact on your credit score if you do it regularly, because your score is largely a measure of how well you're paying your bills and how likely you are to keep paying your bills (and your mortgage payments) in the future.
The second thing you need to do is to make sure that you're consistently paying off any existing mortgages, car payments, and other debts.
This both raises your credit score and lowers your debt-to-income ratio, making it one of the best things you can do if you're looking for a bad credit home loan in San Antonio, Texas.
Assistance Available In San Antonio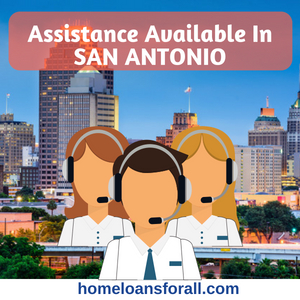 There is a great deal of assistance offered by to bad credit home buyers in San Antonio by the state, city, and federal counseling agencies.
A HUD-approved housing counseling agency is a good place to start – they can answer specific questions about your situation and guide you on your first steps towards home ownership.
Texas State Affordable Housing Corporation, or TSAHC, also provides mortgage assistance to prospective buyers across the state.
Conclusion
We hope you've learned everything you wanted to know about bad credit mortgages in San Antonio. We know that it can often feel like finding a home is impossible when you're facing rejection after rejection, but now you know lots of options that are available for anyone with any credit or income.