Mortgages are easier to obtain for some people than others. For some people, alternatives like USDA loans and FHA loans are the best way for them to achieve their goals of becoming a homeowner. Each of these options brings their own benefits and downsides, which means that it would be in your best interest to do your research. Here is a closer look at USDA loans vs FHA loans so that you can fully understand which of these options is going to help you obtain your dream home.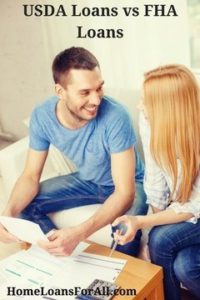 USDA Loans
A USDA loan is also known as a "USDA Rural Development Loan". From the United States Department of Agriculture, these loans are one of the few loans available right now that do not require any down payments. An estimated 97% of United States landscape is geographically eligible for this highly affordable type of loan. There are two major options for this type of loan: the Rural Housing Guaranteed and the Rural Housing Direct loan programs. You may try to avoid this type of loan because you hear rural and you think a farm house miles away from a neighbor. That is a common misconception. You may be surprised as to what this organization actually refers to as a "rural" area. For instance, a lot of rural areas that were designated as such by the USDA in California are actually pretty close to some of the larger metropolitan areas. The same applies to many other locations, so you may still qualify for this type of loan. This is an option that a lot of first-time home buyers are looking at.
As far as USDA loans go, this is generally used for residents that may not have been able to get any other financing in rural areas as there are income limits in order to be eligible for these loans. Not everyone is able to qualify based on their income, which is exactly why FHA is another great option to consider. If you make 115 percent of the median income for the area, you will not qualify. People in these rural areas that qualify can be eligible for a variety of grants, loans, and loan-guarantee programs. The terms for these loans can range between 30 and 38 years, which can be very nice for some people to get that extra time to pay for the loan. These loans offer 100 percent financing and can often be guaranteed. There are still income and credit requirements that are required for those who want to get these loans, but these qualifications are geared towards the low-income buyers that are interested in purchasing a home. These loans are also great options if you do not have a down payment for a home because of the 100 percent financing option. There is still mortgage insurance that you need to think about with this type of loan.
FHA Loan
Your other option is the FHA loan. FHA loans are loans that are backed by the Federal Housing Administration, an ability that they get as a result of the mortgage insurance. What happens is 96.5 percent of the home's purchase price is covered by the mortgage and the rest is covered by a down payment that can either be a gift or from your own money. Like other mortgage options, you will end up with mortgage insurance but the amount of mortgage insurance is far less than you would have to pay with traditional loans.
When comparing USDA loans vs FHA loans keep in mind that an FHA loan does not have any requirements as to where the home is. USDA loans only apply to those homes in rural locations. The mortgage insurance is higher for FHA loans when compared to USDA loans, meaning that it can be more expensive. The loan requirements to get a FHA loan are also a bit more lax than what is required for a USDA loan. There is also a down payment of at least 3.5% that is required to apply for an FHA loan, though this can be a gift from a family member or friend. The FHA loans are guaranteed. A benefit of FHA loans is that there is no income cap whereas the USDA loan does have a maximum as far as income goes.
Conclusion
An important thing to know is that neither of these loan options requires you to be a first time home buyer. You do need to live in the home in order to be eligible for these loan programs. You cannot use these loans if you are interested in getting rental or investment properties. These are loans that were created so that everyone who wants to be a homeowner can get a home to live out their lives.
As you can see, each of these options does offer something for the potential home buyer. Depending on your specific circumstances, you may not even qualify for one or the other. For instance if you are choosing a more urban location for your home, you will not even qualify for a USDA loan. If you have any questions about your loan options, a mortgage broker can help you to decide what you qualify for and the pros and cons of each of those options.
For the most part, you may find that it can be more beneficial to go with a USDA loan if it is possible. This will make the home more affordable for you in the long run. This is because of the fact that you do not need any down payment and the lower mortgage insurance premiums. These are both great loan options you should consider even if you have thought that you may never be able to buy a home. These loans give more options for people who are interested in buying a new home than the more traditional loan options on the market. When looking at USDA loans vs FHA loans be sure you take into account all the pros and cons of each. You worked hard saving for your home; you should be able to get the home of your dreams.
Additonal Resources
FHA Loans in New York – Mortgage Information For Your NY FHA Loan
FHA Loan Requirements in 2018