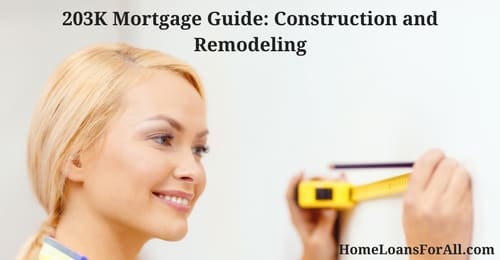 Home remodeling can at times be as demanding as buying a new house altogether. It's a great experience and you'll love the end result, but there are however things to consider, and details to pay attention to. This being said, financing shouldn't be one of the problems you are facing when planning a total remodeling of your home. At least not with the FHA 203K mortgage loan that is made just for that: construction and remodeling. But let's dive deeper into things and see exactly how it works.
Types of FHA 203K Loans
Before making any plans to get financed you need to estimate how big your project is. If it's not a huge one where you reconstruct your entire house, then you can consider the FHA's "Title 1" loan which isn't tied to a refinance or home purchase.
And if your project plans require more money, then you might need to apply for the FHA 203K mortgage. The great thing about this plan is that it adds all the costs of the remodeling to your loan and the final improved value of your home is calculated into your loan-to-value ratio.
Whichever of these you go with, there will be a FHA-approved mortgage lender working with you, calculating the costs of your upgrades. Your lender will determine what you need to get approved for your mortgage.
How Does The 203K Mortgage Work?
It is useful to know that you can use your FHA plan not only for remodeling but as help with your house purchase as well. Another option is to use the 203K mortgage and include your home remodeling in the same loan. The standard FHA 203K mortgage plan is available for people who need remodeling works above $35.000, while the FHA Title 1 loan is intended for smaller, not so costly projects.
The FHA 203K mortgage doesn't require a home equity which is a relief for those who don't fall under that category and it also saves you from the surcharges of the cash-out refinancing that bring many risks along with it.
FHA 203K Requirements
Compared to other mortgage plans, the FHA one isn't so strict and its criteria aren't that many and hard to reach, but there are few to follow if you want to apply:
The house you are financing must be a minimum of 1 year old
You need to apply for a loan that is not higher than the amount set for your area
Your budget needs to be $5000 or higher for the renovation project
FHA Guidelines To Follow
Although not very strict, the FHA mortgage does limit your intentions of remodeling to some extent. This means that your constructional work should be necessary and vital to your normal everyday living and luxurious items aren't part of it. So to avoid misunderstandings and planning of things that aren't covered, here are home improvements you can do using the FHA financing:
The elimination of health and safety threats
Making the home disabled-friendly
Reconstruction of the floor, or adding a new one
Rebuilding and changes of structure in the house
Landscaping and site improvements
You can replace or add roofs, gutters and/ or downspouts
Environmentally friendly systems and green renovations
Building a well or a septic system
Reconstruction or replacement of plumbing systems
Modernizing and updating certain features of your home and its appearance
Fixer-Uppers On FHA Mortgages
In case you opt for a fixer-upper, here are steps you need to follow in order to remodel your house and have no problem with the funding source:
Before choosing, make sure to look into several mortgage quotes. This will ensure you get the most suitable deal. Also, you need to hire a lender that has an approval to do 203K loans
After applying and getting a pre-approval letter, find a property that matches your needs. Make sure it supports a 203K mortgage in order for you to complete the purchase
Find a licensed contractor who will write an estimated sum of money for the work needed and materials required
In case the expenses exceed $35,000, hiring an FHA 203K consultant will help you get a detailed cost estimate from the contractors
You, then, will get your home appraised, after receiving a green light from your lender
Before all else, you need to know that you aren't allowed to do any work on your home yourself unless you are a licensed, professional builder. When working with this kind of loan, note that first you must submit all the improvements you plan on making, and then the loan will fund the expenses completely – once they are completed.
Refinancing Guidelines
You yourself can calculate the approximate sum of money you can get with the FHA loan if you follow these guidelines:
The mortgage rate you currently have plus the renovations to which closing expenses are added as well, or
Current home value plus the costs of the construction works, or
Or multiply the 110% of the improved value by FHA's 97.75 % maximum loan-to-value ratio – 96.5 % for purchases.
After doing the calculations, whichever of these three equations gives the lowest value is your maximum refinance loan amount.
As mentioned above the lender needs to appraisals done on your property, of which the first one presents the "before" state of your home, and the second one is the "after" evaluation, after the remodeling has been done. To be more detailed about it, picture that you owe $305,000 on a property that is worth $315,000. If you need $55,000 for the improvements and your closing costs are around $10,000, this brings your improved property to the value of $355,000. Based on this, the amount of the loan you can take will be the lowest of these 3 calculations:
$305,000 + $55,000 + $10,000 = $370,000
$310,000 + $55,000 = $365,000
$355,000 x 1.10 x 0.9775 = $381713.75
Judging by the calculations, having in mind that the lowest amount is picked to be the maximum loan limit, your amount will be the second one, $365,000. The mortgage will pay off the old loan you have, including extra money to cover your closing costs and $55,000 for the remodeling of the house. You can determine other mortgage loan payments using a home loan affordability calculator.
NOTE: To get approved for an FHA loan, as we stated above, your house needs to be 1 year old or older than that. In case this isn't the situation with you, then your lender will use the acquisition cost to which the documented rehabilitation costs are added to calculate the maximum loan amount you can get.
The Limited FHA Mortgage Plan
The smaller, or the limited FHA program is less complicated to work with, however, it does limit your renovations to up to $35,000. To be eligible for this loan you only need a contractor with who you will calculate the working expenses and will file them in the application form. It also frees you from working with a consultant.
Choosing FHA Title 1 Loan
In case you don't plan on making large home improvements, you can opt for a smaller loan called the FHA Title 1 Loan. Taking the small amount of money out of consideration, this loan is a pretty good deal since it's easy to process, has low closing costs and if you need a loan of $7,500 or less, only your signature is needed without the lien recorded against your home.
With this loan, you can borrow up to $25,000 and repay in the next 20 years. Manufactured homes are also eligible and you can do the work yourself if you are qualified to do so.
NOTE: Since the FHA 203K mortgage isn't funded by HUD, but by private lenders, they are the ones setting interest rates and loan fees. Because of this, there can be many differences in prices so in order to get the best quote, we advise you to compare several offers before choosing one.