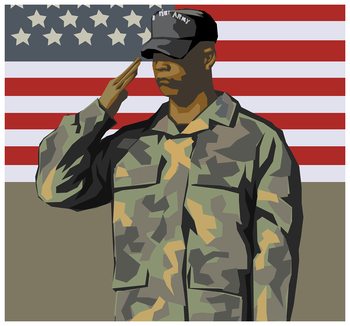 Veterans Affairs mortgages, known as VA loans have increased recently because banks have tightened lending criteria. VA loans remain one of the few mortgage options for borrowers who can't save up down payments. Getting a VA loan is somewhat easier to qualify for than conventional mortgages, making them a real advantage for more than 22 million veterans and active military members.
The U.S. Department of Veterans Affairs is not a direct lender. They make loans through a private lender and partially guarantee the ones that meet and maintain certain guidelines. They have backed and supported almost half a million loans this year alone. The number is 38 percent higher than last year, and three times the number issued in 2008.
Get an instant VA loan rate quote here
Here is what a potential applicant needs to know to get started:
Eligibility. Getting a VA Loan
Most members of the military, veterans, reservists and National Guard members are eligible to apply for a VA loan. Spouses of military members who died while on active duty or as a result of a service-connected disability may also apply.
Active-duty members generally qualify after about six months of service. Reservists and members of the National Guard must wait six years to apply, but if they are called to active duty before that, they are then eligible after 181 days of service.
Potential borrowers need to download their letter of eligibility before applying for a loan. The form can be submitted online. Most military records and letters are available online now at the eBenefits portal.
Advantages
The days of most no-down-payment mortgages are over, due to regulations enacted since the Great Recession. However, loans guaranteed by the VA can be granted without any down payment. Also, VA loan don't require mortgage insurance, like FHA and conventional loans with less than 20 percent down payments. This means big monthly savings for VA borrowers. For example, a $300,000 FHA-insured mortgage holder would pay more than $300 a month for mortgage insurance alone.
Fees
VA loans still carry a one-time funding fee that depends on the amount of the down payment and the type of veteran. An active duty first-time borrower making zero down payment would pay 2.15 percent of the loan amount; only 1.25 percent with a 10 percent down payment. Reservists and National Guard members normally pay about a quarter of a percentage point more in fees than active-duty members pay.
Those using the VA loan program for the second time, and not putting a down payment, would pay 3.3 percent of the total loan amount. The fee is waived if you receive disability compensation.
Underwriting
The VA does not require a minimum credit score for a VA loan, but lenders generally have their own internal requirements. Most lenders prefer you have a credit score of 620 or higher. Some risky lenders may accept lower on condition of charging more interest.
Borrowers must show sufficient income to repay the loan and shouldn't have too much debt, but their guidelines are typically more flexible than for conventional loans. As a benefits program, there is some flexibility in the underwriting.
VA loans can be applied for a year or two after bankruptcy or foreclosure.
VA loans are available only to finance a primary home. A VA loan cannot be used to purchase or refinance vacation and investment homes, unless it can be proven that they were once the borrower's primary residence.
The limit on getting a VA loan varies by county: $417,000 in most parts of the country and a little over a cool million in high-cost areas. You can go from being Officer of the Quarter to the Prince of Bel Air, and the VA will help you get there.
Click here to see today's current VA loan rates.
What if I stop paying the mortgage?
Another advantage of a VA loan is the assistance offered to struggling borrowers. If the borrower of a VA loan can't make payments on the mortgage, the VA can negotiate with the lender on behalf of the borrower. Dedicated staff nationwide stand by committed to helping veterans who are experiencing financial difficulty.
The Veteran's Administration has financial counselors that can help borrowers negotiate repayment plans, loan modifications and other alternatives to foreclosure.
In its most recent year, the VA assisted close to 90,000 veterans in avoiding foreclosure. Any veteran struggling to make their mortgage payments can call (800) 827-1000 for assistance, regardless of the lender.