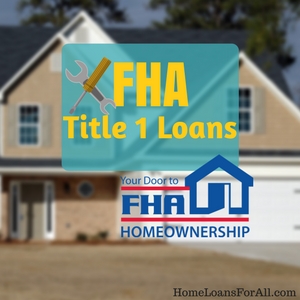 The FHA Title 1 loan provides an easy way for homeowners to finance home improvements without having to have large amounts of equity built up in their home.
When looking to make repairs on a home, many homeowners are forced to take out loans in order to cover the costs of the repairs.
While many use the equity in their home to secure the loan, many homeowners lack the ability to do so. For homeowners in this position the FHA title 1 loan is an excellent option.
We Can Help You Qualify For FHA Title 1 Loans
Fill Out The Form Below To Get Help Today!

FHA Title 1 Loans For Home Renovations
A title 1 FHA loan is a loan that is offered by the FHA for the purpose of home renovations.
What makes the Title 1 Loan different from other home improvement type loans is the ability to secure one without any equity.
This makes it available for a wide range of homeowners to use to improve their home.
No Equity? A FHA Title 1 Loan May Be the Answer!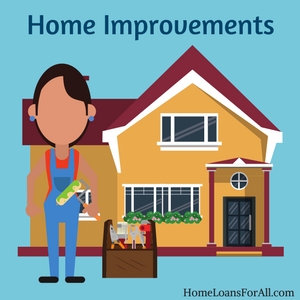 Title 1 loans are for those looking to make necessary home improvements, who can't secure a traditional home equity loan due to lack of equity in their home.
One key here to remember is that the title 1 FHA home improvement loan can only be used for improvements that directly impact the livability or functionality of a home.
That includes things like a new roof or replacing a furnace, but not something like installing a swimming pool.
Items deemed as "luxury" improvements can not use the Title 1 loan to finance their construction.
For those that are looking to many an approved improvement the Title 1 loan is a fantastic option. Due to needing no equity in the home, even recent home purchases can qualify for the loan.
FHA Title 1 Loans Provide Lenders With Security
Lenders are happy to work with Title 1 loans as they provide additional security for the lender.
The big reason is that they are covered by mandatory mortgage insurance of $1 per $100 of the loan or 1%.
This gives them additional security in the case of a default. In addition to that, larger amounts are also secured by collateral in the home.
Applying for a Title 1 Home Loan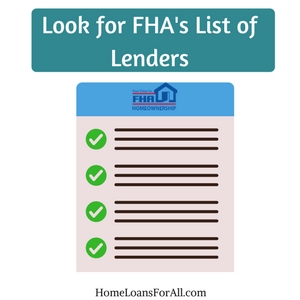 Much like the standard FHA home loan, the title 1 loan is not directly provided by the FHA but by approved 3rd party lenders.
In order to secure a FHA, a prospective borrower needs to approach one of these lenders, which the FHA has a list of on their website.
It's important to note that because it is provided by a 3rd party lender, each one may have their own terms and conditions.
This includes things like credit and income requirements, as well as interest rates and repayment terms. It pays to shop around a bit, and see which lender can provide the best deal.
It also means that time to get approved can vary by lender. Depending on the requirements and process, it may take a lender more time to review and make a decision on an application.
FHA Title I Loan Requirements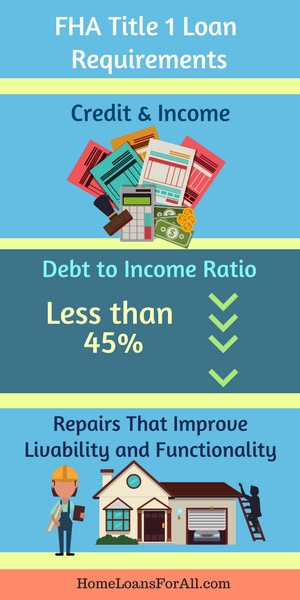 Much like the typical FHA loan, title ones loans have a variety of requirements governing their usage.
Understanding these requirements is essential to determining whether a title one loan is the right choice.
As with any loan, the first thing a lender will check is your credit and income.
To start, FHA Title 1 loan credit requirements can vary by lender, but a higher score is always better.
There are no set minimums for credit score for a title one loan, so even low credit borrowers can be approved.
Lenders however are likely to offer better rates to those who have higher rates, but having a low credit score won't automatically exclude a borrower from the program.
After that the lender will check income to make sure that a borrower can afford to make payments.
Many lenders will require proof of income in the form of pay-stubs, bank statements, or W-2's. These all help to prove income, and show the lender that they are likely to get their money back.
They are also looking for a debt to income ratio of less than 45%.
Lastly, there are also requirements for what the loan can be used for.
In general, only repairs that improve the livability and functionality of the home can financed through this type of lien.
This means improvements such as a new roof or other ones that fall into a similar vein of improvement are acceptable.
It can't be used for any sort of luxury improvements like adding a hot tub.
The loan must also be used on a property that has been occupied for at least the last 90 days.
FHA Title 1 Loan Limits
As with most loans, there are limits to what can be borrowed. Any amounts over these limits need to separately financed, or made up for by the borrower.
For single family dwellings, the limit is $25,000. Multi family dwellings are bit different, and come with a limit of $12,000 per unit, up to a maximum of $60,000.
In terms of repayment, single and multi family homes offer loans of up to 20 years. There is no repayment for early repayment either!
It's also important to know that loans under $7,500 also don't require any sort of collateral. This means that if a borrower defaults on the loan, the lender won't be able to go after the home. However, for loans above the $7,500 mark, the loan is secured by the collateral of the house. In cases like this, the bank can foreclose on a house where the payments are not being made.

Alternative Home Improvement Programs
The title 1 Loan program is not the only option homeowners have when looking to make improvements on their home.
What's fantastic for homeowners is some of these programs can be used in conjunction in order to increase the amount a borrower can potentially use for their home improvement project.
FHA Title 1 Vs. FHA Title 2 Loans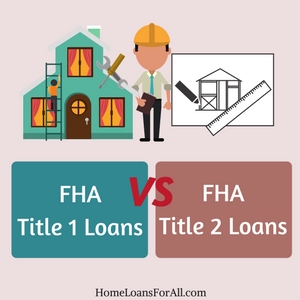 Title 2 loans are a group of home loans that allow borrowers to roll the costs of improvement and labor in the mortgage for a home.
Unlike a Title 1 which focuses on the improvement of an existing property, Title 2 loans can also be used for new purchases and fixer-upper type properties. Certain ones can also be used on an existing property to improve or fix issues.
This gives them a much larger range options and a higher amount that can be borrowed.
To offset this, they generally have stricter requirements for who can be approved for one, as well as other requirements such as minimum down payments and property inspections that must be met.
FHA Title 1 Vs. FHA 203K Loans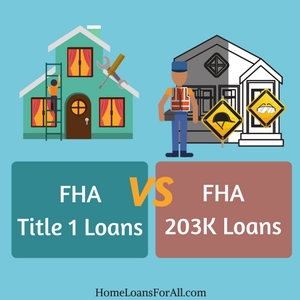 Another option for homebuyers and owners is the 203(k) loan. This type of loan is meant to aid in major property renovations, and can be taken pre-purchase for a fixer-upper or for improvements on an existing property.
The big difference on this loan when compared to the title one is the much larger amount that can be borrowed as it can be used to buy and fix up an entirely new home.
In addition to that, it can also be used with a Title 1 loan in order to further increase borrowing power.
The downsides of a 203K loan come with stricter requirements in terms of credit, as well as long approval process.
A 203K loan actually requires a contractor to submit a bid for larger projects before it can be approved, which can greatly slow down the process. It also requires a down payment of 3.5% for good credit borrowers.
Conclusion
For those looking to make improvements to their home the FHA Title 1 Loan is a great option. It provides an excellent way for those without much equity to secure funding for their project, and without a lot of the red tape of other home improvement loans.
FHA Title 1 Loan FAQs
Can I use a Title 1 loan to put in a swimming pool?
No, the title 1 loan cannot be used for luxury items such as a swimming pool. It can be only used to improvement of functional and structural components of a home such as fixing damaged siding or repairing/replacing a roof.
Can I use a Title 1 loan to install solar panels?
Some energy saving improvements such as solar panels can qualify for a title 1 loan. For those that don't, the FHA offers a separate PowerSaver program specifically for this purpose. Keep in mind though, this program has different requirements from the title 1, such as minimum credit score of 660, so not all borrowers will qualify.
Does a Title 1 Loan require mortgage insurance?
Yes, title 1 loans require mortgage insurance that is an annual premium of $1 per $100 of loan. This helps to offset the risk for lender and helps ensure they are able to recoup their money in case of a default or non-paying borrower.
What Is The Maximum I can Borrow For a Title 1 Loan?
The maximum amount that can be borrowed depends on the type of house the improvements are going to be performed on. For single family dwellings the maximum is $25,000. For multi-family dwellings, this maximum is increased to $12,000 per unit with a cap at $60,000.
Additional Resources