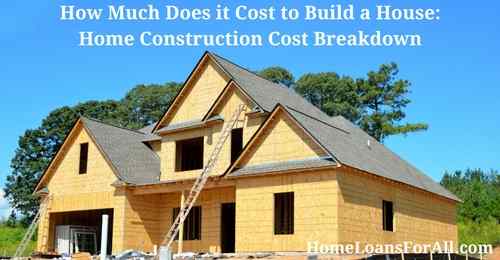 How much does it cost to build a house?
What all expenses will I run into when doing a new construction build?
These are common questions revolving in minds of people wondering how much does it cost to build a house.
A detailed discussion on the subject is given below.
How Much Does it Cost To Build A House
Average cost, though a reasonable estimate, may not resemble your actual cost. Its reason is that specifics of your project may fluctuate and your actual costs may be much lower or higher than the average.
Building or Buying a Home? Click Here To Pre Qualify for Financing Fast.
Different things to take into consideration when building a house
The following checklist will help you understand what contributes when determining how much does it cost to build a house
The lot
According to National Association of Home Builders, average cost of a building lot, including the cost of financing it, is $85,139.
The geographical location of your home
You sure will have to level it. Cost of leveling it depends on the existence and condition of roads leading to your property. Moreover cost of excavation depends on the site and what local labor charges.
Foundation of your new home
According to NAHB, foundation of a house costs over $33,400. This includes charges of excavation, retaining walls along with other necessities.
Size of the house and number of stories
If you desire to build a multi-story house that is also a large one, it sure will cost more as compared to a smaller one.
Cost of walls
As estimated by NAHB the average cost for drywall is $11,744.
Windows and Doors of your house
As reported by Homeadvisor.com an average cost for windows installation is $5,000. NAHB reports a combined cost for windows, doors and garage doors is over $12,000.
House's roof
According to NAHB's estimate, roofing of the house costs around $10,000.
Siding of your house 
Siding really affects the cost of your house. Decoratorswisdom.com reports that in 2017 top choices for siding remained stucco and brick. But if you plan to expand your budget to over $750,000, only then consider this type of siding.
As reported by Fixr.com stucco contributes to the total cost at the rate of $6-$9 per square foot. The price is based on an increment of 1,000 square foot. On the other hand brick and stone veneer pile up $11-$15 per square foot on the total amount.
Vinyl siding is a low cost option. It costs you around $4 per square foot.
Despite this economic fact, vinyl siding lost market competitiveness between 2010 and 2014. And brick rose up in the market. And it is expected to increase its popularity in 2017 and onwards. So brick siding may be used even on custom built houses.
Flooring of the house
You should expect that hardwood flooring may cost between $9-$12 per square foot. And price for wall-to-wall carpeting is somewhat $3-$5 per square foot. NAHB data shows that you should be ready to pay over $13,000 for flooring.
Plumbing costs
House's plumbing system costs around $12,000.
Electric System
It costs around $12,000.
The Kitchen
Kitchen is normally equipped with countertops, hardware, fixtures, appliances and fixtures. Just countertops and cabinets will cost you around $16,000 while appliances will add another $5,500 to your total cost.
Heat, Ventilation and Air Conditioning (HVAC)
According to data by NAHB average cost of HVAC is $12,623.
Spare $6,000 for landscaping if you want your house to be properly sprinkled and clean.
Spare another $6,000 for a driveway, and $4,000 for a deck, patio or porch. But it depends on what features do you want.
Hope the above information may provide you with an insight into the costs of building a house. Now you know what factors may affect the total cost.
Average cost of building a house 
NAHB reports that building new house costs more than buying an already built one. The cost of building a new house depends on many factors.
Size of the house
Its design. For example rounded walls, corners and curved staircases will cost more.
Real wood, sophisticated sinks, granite tiles and crown molding will increase the cost. So material used in building affects the cost.
If you want to add media room or extra bathrooms or apply paint, carpets and tiles of your choice, the upgrades will cost you more.
Estimated time-frame for building a house
It takes a year to complete building a house. You have to purchase a lot first then you have to finalize design for the house. After that blue prints will be produced. You will have to work with builders then seek for a loan. After that you will have to complete the building work and start decorating the house.
Building a house in a planned community
Most people build their houses in planned communities. Each home builder has model homes with different designs for you.
Mostly each design cannot be changed but you may have, occasionally, the liberty to add extra bedrooms, media rooms, bathrooms and powder rooms in exceptional cases. You will have choice of selecting your desired lot and house design. You will be led to builder's showroom so that you may pick upgrades.
A set house design is economical than purchasing a complete custom house.
Need of a house construction loan to build a house
Construction loan's money goes to an escrow account after approval and you may use it as per need during building your house. This loan is required if someone owns a lot and hires a custom home builder for building a house on it.
In case you use a home builder, you have a conventional loan, FHA home loan or a VA home loan to buy the house. A pre-approval letter is demanded by the home builder. There is also a deposit of 1-2% for starting the construction. The amount cannot be refunded but is adjusted in your down payment on a loan.
For an FHA loan, the requirement is a credit score of 580 as well as a 3.5 % down payment.
There is no down payment for a VA loan. Moreover the credit score for this loan is also flexible.
Get ready your loan before completion period. After your house is built and ready, you may continue with a mortgage in the same way you would on some other house.
Average cost per sq ft 
NAHB reports that an average cost of a single family home in 2015 remained $289,415. The construction cost per sq ft was around $103. NAHB further reports that the inflation during 2013-2015 remained over 4 %.
US census bureau's statistics show that a single-family home in the US was 2,467 sq ft in 2015.
If we add the inflation rate of 4% per year, the per sq ft price will be $111-$127 in 2017.
So, the average cost for a 2,467 sq ft home can be expected to be around $313,309 in 2017.
According to Homeadvisor.com the average cost is a bit lower at $305,372. But they estimate costs using a 2,000 sq ft house. Their reported average per sq ft price is $150 for 2017. Their estimate says that homeowners in the US should budget between $178,010 and $466,493 when they intend to build a new house.
Which is better: Buy or Build? 
If you buy an existing one, within 30-45 days you can start living in it, the design and material used in the house may differ from your choice. You may feel the need to change tile, sinks, wall colors and carpets as per your requirements. It may also seem a bit old and you may see some cracks in walls or paints. The toilets may be overly used and the ceilings may appear popcorn.
But while building a new house, you select colors, carpets, tiles, sink and appliances of your own choice. The house looks brand new and perfect to shift in. But it is also a fact that you will have to wait between 5-12 months for your house to be completed.
Conclusion
When you are ready to have the house of your dreams, you might choose to go about building your own home. You should be well prepared for the cost of the home you want going into the entire process. This guide could give you a great starting point when you start asking the question, how much does it cost to build a house?
Be sure to talk with your lender about what financing options might be available to you when you purchase a new construction home. Not all lenders will issue construction loans, so you should know what is available to you upfront before you begin building. Do as much research as you can ahead of time to help you develop a solid idea of where you're headed.
Frequently Asked Questions
How much does it cost to build a 1,000 square foot house?
This will depend on your location and the types of upgrades you put into the home. Most houses range from $100 to $150 per square foot. Using these numbers as a guide, a 1,000 square foot home should cost roughly $100,000 to $150,000.
What is the 1,000 square foot house construction cost?
A 1,000 square foot home will typically cost between $100,000 and $150,000 based on your location and the number of upgrades you put in the home.
How long does it take to build a house?
A custom home usually takes about one year to build.
What is the cheapest way to build a house?
The cheapest way to build a house is by purchasing a new construction home in a planned development.
Can you build a home with bad credit?
Yes, you can build a home with bad credit if you can find a lender willing to work with you. You might qualify to use the FHA construction-to-permanent loan if you meet the minimum credit score requirement of 500.
What the price per square foot to build a house?
The price per square foot will depend on the upgrades you put into the home and your general location. However, the national estimates for the average square foot price range from $100 to $150 per square foot.
Do I need a construction loan to build a house?
No, you only need a construction loan if you are working on building a custom home with your builder. You can still purchase a new construction home from a planned development without the need for a construction loan. In this example, you could use a VA loan or an FHA loan to purchase the property.