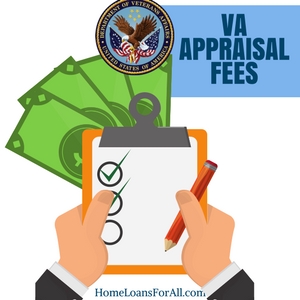 How much can veterans expect to pay for the VA appraisal fees? This inspection is a necessary part of the home buying process for individuals who want to take advantage of the features found in a VA mortgage. It is designed to ensure that the property meets the minimum standards required to be deemed safe and sanitary. You should know what this process is going to cost you, especially because it isn't something you can get out of paying.
The VA appraisal fee schedule isn't usually set in stone. The fees can vary based on where your home is located and the type of home you're attempting to purchase. However, most veterans will pay between $300 and $500 for their VA appraisal fees.
The good news is that you might be able to ask the seller to repay these costs as a part of your negotiations.
Get Help Pre Qualifying for a VA Home Loan – Click Here!
This upfront fee applies to your initial appraisal and home inspection. If something is identified as needing repair, the appraiser may make a note of it and schedule another inspection at a later date once the issue has been resolved. You might find that the VA appraisal fee schedule adds up quite quickly when you have significant repairs that need taken care of.
What are Non-Allowable VA Appraisal Fees?
Veterans are only allowed to pay for certain items when they purchase a new home, including: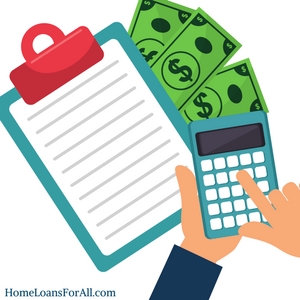 Discount points to lower their interest rate
Reasonable fees for itemized items and charges allowed by the VA
Lender's one percent fee
Under this loan program, there are some costs that a veteran should not have to cover during the purchase of their new home. These are commonly referred to as "non-allowable fees." Some of the most important items to note on this list include:
Processing fees
Document preparation fees
Interest rate lock-ins
Lender appraisals
Postage
Notary fees
Tax services
All of these items must be covered under the lender's one percent fee or the veteran is not responsible for them. This prevents the buyer from paying for excessive charges that truly have no benefit to their process. Lenders must keep an important check on how much they charge for these fees if it is going to come in under that one percent mark.
Who Pays the VA Appraisal Fees?
In terms of the VA appraisals, some of these non-allowable fees relate to who orders a particular appraisal and the reason for the order. To put it simply, only the borrower or the lender can request the initial appraisal unless someone else is going to cover the cost. Under normal circumstances, the buyer pays for the appraisal fees.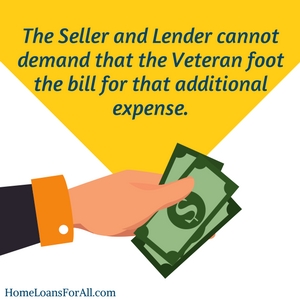 The seller and lender may sometimes argue that an additional appraisal is necessary for the sale of the home. They are well within their rights to request an appraisal, but they cannot demand that the veteran foot the bill for that additional expense.
The same principle applies for a reconsideration of value. If the buyer agrees to order and pay for a new appraisal to see if the house will appraise at a higher rate, it is acceptable to order an additional VA appraisal. However, the lender and the seller cannot demand that the veteran pays for an entirely new appraisal as a reconsideration of value.
The intent behind this policy is to prevent veterans from paying for unnecessary services that only benefit the lender or the seller. Their end goal is to sell the home or to make money from your financing, so they have something to gain from the home receiving a higher appraisal. Any disagreement they have with the actual appraised value might not be entirely honest, so this prevents the veteran from having to pay for their attempts to sell the home at a higher rate.
This last non-allowable fee should go without saying, but borrowers can't be charged money for services that weren't provided to them. Sometimes, you may have an appraiser or an inspector attempt to add fees to the sale of the home, even if they didn't actually render their services. Veterans must be charged fairly for the work that is done on the property, so you should actually receive something in exchange for your money.
What is the VA Appraisal Fee Schedule?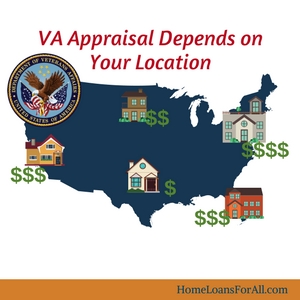 The VA appraisal fee schedule varies based on your location. It might even vary based on the type of property you are attempting to purchase. For the specific details regarding what the VA appraisal fees in your state are, you can view this map from the Department of Veterans Affairs. By clicking on your state, you can see the detailed breakdown of the fee schedule for your area and your property type.
Included in this fee schedule is the timeline you can expect from your VA appraiser. Most areas estimate that the timeline should be completed in ten days or less. The exception to this is in more remote areas such as Alaska where there might be more travel time involved or fewer inspectors available to survey the property.
VA Appraisal Fees
The VA appraisal fees are a necessity when purchasing a home using this advantageous program. You should know what to expect from the VA appraisal fee schedule and just what you cannot be charged for with non-allowable fees. Educating yourself on the process right now is the best way to ensure that you only pay the recommended amount when your time comes.
Frequently Asked Questions
Who pays VA appraisal fees?
The buyer pays the VA appraisal fees but the seller may be able to repay these fees during negotiations. Learn more about VA buyer and seller requirements by clicking here.
How can I get a VA appraisal fee waiver?
All properties will need a VA appraisal, and there are no VA appraisal fee waivers.
Can I get a VA appraisal fee refund?
No, you cannot get a refund once the appraisal is officially completed. However, you may ask the seller to repay the costs at closing depending on your negotiations.
Are there any VA appraisal fee limits?
Yes, there are limits to the VA appraisal fees that you can be charged for. Be sure to check what the limits are in your local area with the VA website here.