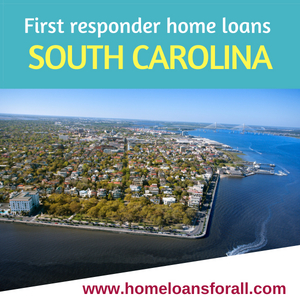 South Carolina is a wonderful place to live. Beautiful coastline, elegant landscapes – and of course, great barbecue. Everyone who lives in this beautiful state deserves to live in a permanent home of their own, but with no assistance programs for first responders like the "Hero" loans of other states, it can be difficult for paramedics, police officers, EMTs, firefighters, or certified first responders to save up for the massive initial down payment.
Buying a home is stressful enough even when you don't have a job with long, variable hours and difficult tasks to complete. But here at Home Loans For All, we want to make it as easy as possible for you to find great SC housing for first responders at a price that won't break the bank. We'll talk about which loans you should be looking at, what other state and federal assistance you can pursue, and general advice about finding first responder home loans SC.
See If You Pre-Qualify For A South Carolina Home Loan – Click Here!
Best First Responder Home Loans SC
Conventional home loans for first responders in South Carolina usually require you to pay 20 percent of the total value of the home as an up-front down payment. This is a problem for many first responders (and home buyers in general) who know that they can make the regular monthly payments but can't pay several thousand dollars all at once.
Conventional mortgages also have high minimum credit requirements (usually 660 to 700) and minimum income requirements that are designed for upper-middle-class home buyers. That means that, while they might be a good choice for some South Carolina first responders, many will find them unavailable or unaffordable.
Here are three other options that we would consider the best first responder home loans SC.
VA Loans For SC First Responders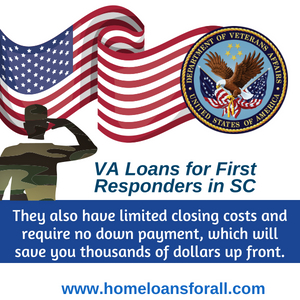 Many South Carolina first responders previously served in a branch of the armed services. If that includes you, it means you may be eligible for a mortgage that has been insured by the Department of Veterans' Affairs.
VA home loans for first responders in South Carolina have many advantages. VA loans have low interest rates and don't require you to make any private mortgage insurance payments, so each individual monthly payment on a VA loan is much cheaper than a comparable payment on a conventional mortgage. They also have limited closing costs and require no down payment, which will save you thousands of dollars up front.
VA loans also have expanded income and credit requirements when compared to conventional mortgages. So if you're a South Carolina first responder who's eligible for this type of loan, you should definitely take advantage of it today.
FHA Loans For SC First Responders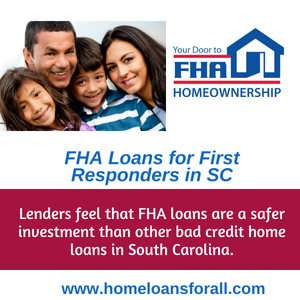 FHA loans are the most popular type of mortgage in the country, making up about 30 percent of all home loans. FHA loans are insured by the Federal Housing Administration but are offered by most private lenders and banks.
Because the FHA's guarantee that a certain portion of the loan will be paid back in the event of a default is backed by the power of the US Treasury, lenders feel that FHA loans are a safer investment than other bad credit home loans in South Carolina.
As a result, you can apply for an FHA loan as long as your debt-to-income ratio is 50 percent or less. The minimum credit requirement on these first responder home loans SC is a score of only 500. And if you have a score of 580 or higher, you only have to pay a down payment equal to 3.5 percent of the total value of the home, saving you thousands of dollars as a South Carolina first responder.
USDA Loans For SC First Responders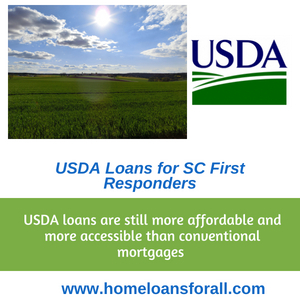 After VA loans were insured by the VA and FHA loans were insured by the FHA, you might think that USDA home loans insured by the US Department of Agriculture. But actually, the USDA pays these loans out directly, rather than merely insuring these loans when they're given out by private lenders.
That means that the requirements for these loans are slightly higher than the requirements for a VA or FHA loan in South Carolina. They have less lenient income requirements, minimum credit scores that are usually about 100 points higher than those of FHA loans, and they require a debt-to-income ratio of 40 percent or less instead of 50 percent.
Furthermore, only certain properties in rural areas are eligible for USDA loans. You can learn more about specific property requirements on the Department's website here.
However, USDA loans are still more affordable and more accessible than conventional mortgages, and these first responder home loans SC come with one major advantage: 100 percent guaranteed financing. This means that instead of making the huge down payment up front, you can pay it off in monthly payments over time with the rest of the loan.
How To Find South Carolina Home Loans For First Responders With Bad Credit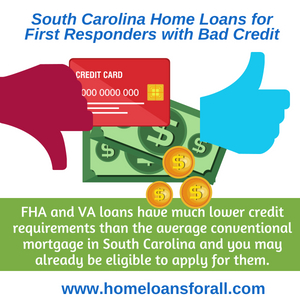 Credit is the first thing a lender looks at when they're deciding whether or not to approve your loan application. But what happens if you're a first responder in South Carolina who has bad credit? We know as well as anyone that these things happen sometimes, and here's some options to consider when your credit isn't quite up to snuff.
Firstly, you should try one of the FHA or VA loans that we recommended above. These loans have much lower credit requirements than the average conventional mortgage in South Carolina and you may already be eligible to apply for them. FHA loans will also accept "alternative credit," which normally takes the form of a utility bill or some other proof that you can make regular payments on time.
However, if you still can't get a home loan even with the lower down payment and expanded credit eligibility requirements of these various government programs, you can also seek the help of a co-signer. A co-signer is someone who ties their credit score to your property in exchange for more favorable terms and conditions on the loan. In exchange, the co-signer absorbs a certain amount of risk for the loan and may be expected to make any payments you default on.
If you don't have a close friend or family member who is willing to co-sign for you, many lenders will underwrite certain credit and income requirements if you can prove that extenuating circumstances hurt your credit for reasons that weren't your fault. This is why it's always good to "shop around" for different moneylenders and see who is the most willing to work with your situation and your credit.
Also, if you're a first responder who also happens to be a teacher (or whose spouse is a teacher), you might be interested in learning more about the South Carolina Teacher Housing Initiative.
Conclusion
We hope that this article has helped you find first responder home loans SC and some of the great home resources that can be used to find SC housing for first responders. Everyone deserves to find a great permanent home at a price that they can afford, no matter what their credit or work schedule looks like.