If you're looking for Ohio home loans for first responders, there are many excellent options available. VA loans, though not available to all first responders, are some of the cheapest around. USDA mortgages offer those outside of the big cities a chance to waive the down payment and get lower interest rates.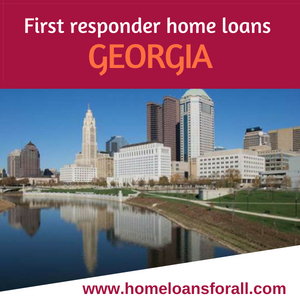 FHA loans combine accessibility and affordability by having no credit requirements and low down payments. And then, of course, there's the Ohio Heroes program designed especially for first responders, police officers, and teachers.
Get Help Pre Qualifying for an Ohio First Responder Home Loan – Click Here!
In this article we will cover all of these programs in detail, as well as other forms of assistance offered by the state and federal government to help first responders in Ohio buy the home of their dreams. We'll also help you find a home loan with bad credit or low income.
The Ohio Heroes Program For First Responders
The Ohio Heroes program is offered by the Ohio Housing Finance Agency, or OHFA, to citizens of the state of Ohio who are employed in a job that somehow benefits the public at large (see next section.)
If you apply for the Ohio Heroes program, you are applying for a VA, FHA, or conventional mortgage through the OHFA. But the advantage is that no matter what type of loan you get accepted for, you will have a greatly discounted mortgage interest rate (exact rates vary by county) and can choose to have the state pay the down payment for you.
This down payment assistance is "forgiven" after seven years, meaning that as long as you continue to make payments and live in the house for that long you won't have to pay back the down payment at all.
This can save you thousands of dollars on your initial and ongoing payments on a mortgage, making the Ohio Heroes program one of the best Ohio home loans for first responders in the state.
Who qualifies for Ohio Heroes assistance?
The Ohio Heroes program for first responders is offered to police officers, firefighters, volunteer firefighters, EMTs and paramedics who have a FICO credit score of at least 640, a debt-to-income ratio of no more than 40 percent, and who meet the Ohio Housing Finance Agency's income requirements in their area.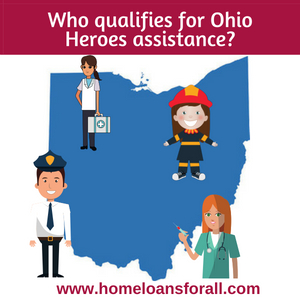 You can use this tool, provided by the OHFA themselves, to calculate the income requirements for your county in order to see if you're eligible for the Ohio Heroes program.
Although it's not particularly relevant to the subject of this article, which is Ohio home loans for first responders, loans from the Ohio Heroes program are also offered to:
Veterans, active duty military members or members of reserve components (including surviving spouses)
Physicians, nurse practitioners, nurses (RN and LPN) and STNAs
Teachers (pre-K through grade 12), administrators and counselors
Also, if you're looking for home help for Ohio single mothers, you should click here to see what programs are available for those in your situation.
Ohio Heroes Home Loans For First Responders
These are the three types of home loans that you can apply for using the Ohio Heroes program for first responders.
You can also apply for them separately, which will come with the expanded eligibility requirements (lower credit scores, etc.) described in each section below.
Conventional loans
Conventional loans are the most common Ohio home loan for first responders in the state and is the first type of loan eligible for the Ohio Heroes program.
However, these loans are designed for upper-middle-class home buyers and are too inaccessible and too expensive for many Ohio first responders.
Conventional loans require a minimum credit score of 660 to 700 (depending on the lender), a debt-to-income ratio of 40 percent or less, and a down payment of 20 percent of the total value of the home to be made up front.
The credit and down payment requirements in particular are difficult to achieve for many Ohio home buyers – even if you think you can make regular payments without much trouble, paying a thousand dollars all in one go is a big ask to make of anyone.
Fortunately, the next two home loans for first responders have expanded eligibility requirements and much lower down payments.
FHA home loans for first responders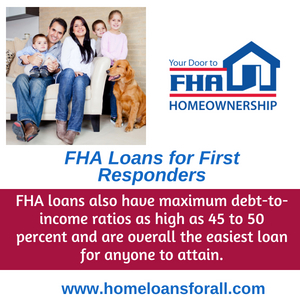 FHA loans are the most popular form of home loan in the state of Ohio, and when you look at the benefits it's not hard to see why.
Because these loans are partially insured by the federal government, lenders see them as having less risk and will give these loans to applicants who might be rejected outright for a conventional mortgage.
FHA loans still have down payments, but very small ones – only 3.5 percent so long as the applicant has a credit score of 580 or higher.
And since FHA loans technically have no credit requirement imposed on them by the federal government, you're likely to have your loan application accepted even if you have a lower credit score than that, provided that you can provide alternative forms of credit or are willing to pay a down payment as high as 10 percent of the home's total value.
In either circumstance, you're paying much less than the 20 percent down payment required by conventional mortgages, and you're much more likely to get accepted.
The only real downside of FHA home loans for first responders in Ohio is that you have to make Private Mortgage Insurance payments for the duration of the loan period, as opposed to only for part of it (which is the case with conventional and USDA loans.)
This means that a conventional mortgage may save you a little money in the long run, but only if you already have the money now to make the down payment or receive down payment assistance through the Ohio Heroes program.
VA home loans in Ohio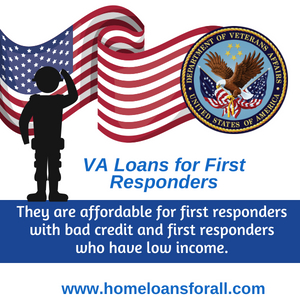 VA loans are also insured by a branch of the federal government – the Department of Veterans' Affairs. As you may have guessed, this means that VA loans are only available to current or former members of the armed forces who have served long enough to receive a VA Certificate of Eligibility.
However, if you are eligible for a VA home loan in Ohio (especially through the Ohio Heroes program), you should definitely apply.
These loans have no minimum credit requirements (although lenders often require a credit score of 500 to 580), no PMI payments, and no down payment whatsoever.
When combined with the more lenient debt and income requirements of the FHA loan, these loans are very easy to receive if you're eligible and will save you thousands of dollars over time. What's not to love?
USDA Ohio Home Loans For First Responders – Another Option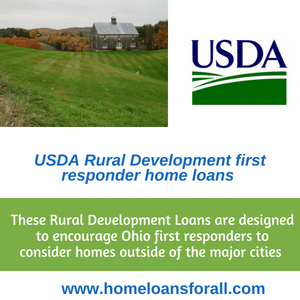 USDA home loans are not eligible for the Ohio Heroes program. However, we wanted to mention them as a good alternative, particularly for those in rural areas of the state.
These Rural Development Loans are designed to encourage Ohio first responders (and other home buyers) to consider homes outside of the major cities, with about 97% of properties in the state being considered eligible.
USDA loans aren't quite as accessible as FHA loans, requiring minimum credit scores of 600 and income that must be less than 115 percent of the median income fin your county.
However, a USDA home loan for Ohio first responders can save you a lot of money in the long run.
USDA loans require no down payment in many cases and only a low down payment in all others and usually have some of the lowest interest rates around.
Conclusion
We hope that this article has helped you to better understand the Ohio Heroes program and the other Ohio home loans for first responders that are available.
Whether you have bad credit, low income, or simply can't afford to pay a large down payment, remember – everyone deserves to live in a beautiful and permanent home of their own.