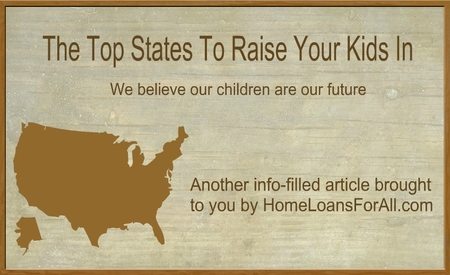 Being a mother can be both wonderful and challenging. One of the biggest challenges for mothers in America is doing what's best for their children and family. For all the moms out there, we wanted to find the top states to raise your kids.
Recently, some Harvard professors published a study on how the neighborhoods where kids grow up affect their chances for success later in life. The results were fascinating. As it turns out, it is not just about wealthier areas being better than poor ones. A blend of factors, such as the quality of schools, the strength of community ties, and the integration of poor and wealthy families were found to matter greatly.
Using this research, we can highlight four hot housing markets that are home to the most kids under 18 and moms: Utah, Texas, Georgia, and California.
Take a look at our 7 Options for Single Mothers to Own There Own Home article here.
Utah is the top mom state, as it has the greatest percentage of mothers with children in the country. Utah is also home to many of the best counties in the nation for giving children a chance to climb the economic ladder.
Duchesne County in Utah is near the top, according to the research data. With more than half of the homes for sale priced under $100,000, Duchesne is also one of the most affordable markets for families. The speed at which homes are selling in Duchesne is accelerating, with the median number of days on market in April down 29% year over year and down 22% from the previous month.
Texas (my home State) is second in our mom states. Montague County, in the northern part of the state bordering Oklahoma, has one of the best rankings in Texas for giving kids an economic chance for success. Listings in Montague are moving quickly and gaining momentum. Median age of inventory was down 20% in April over last year, while listing views were up 32%, reflecting growing interest in buying a home.
Read about how teachers in Texas can apply for Texas Teacher Home Loans here.
Georgia ranks third on our list, and its best county to raise a child for economic success is Fayette County, in the southern suburbs of Atlanta. Fayette County's housing market is hot by every measure. List prices are growing much faster than the national average (up almost 20% year over year in April). Inventory is also moving fast, with median age at 65 days in April, down 20% over last year. And a lot of people are checking out the listings, as views per listing are up 77% over last year.
Click here to get real time mortgage rates.
California rounds out our top states with the fourth-highest percentage of households with moms and kids. California also ranks No. 1 in the total number of such households. No other state comes close.
Colusa County, in the more affordable Central Valley of California, scores in the 85th percentile of all counties nationwide for income mobility for children.
The median list price in April in Colusa was $236,000, up 4% over last year. The median age of inventory in April was slow for California at 93 days, but the days on market were down almost 50% over last year as the Colusa market is heating up. Proof of demand also heating up is the average view per listing in April of 150, up 85% over last year.
Hopefully our society (and government) will allow more and more states to follow suit as time goes on. Let Home Loans For All get you approved for your new home then start perusing houses in these top four states for families and see what pops up. Stay optimistic and please do your part for your community so that maybe one day your city will be included in this desired category. How great would that be?