Selecting VA approved homes is relatively simple when you know which properties are eligible. The financing that you can obtain through this program is extremely beneficial and can save you thousands of dollars.
Of course, you may only want to consider using this financing if you can actually purchase the home of your dreams.
Nothing beats the excitement of walking up to the front door of a house you're proud of. Knowing that it belongs to you is priceless. Could you reasonably purchase this type of property under the guise of a VA approved home?
Before you get too far into your home search, you need to know what types of properties are eligible for a VA home loan.
We Specialize in VA Home Loan Approvals
Fill Out The Form Below To Get Help Today!

What Property Types are Eligible for a VA Loan
You may be surprised by the wide variety of homes that are eligible for purchase with a VA home loan. There aren't many types of properties that are excluded from what can you purchase with this financing.
The main guideline is that they must all meet the minimum property requirements.

The minimum property requirements are put in place to ensure that every home is going to be safe and sanitary for the veteran to reside in the long-term.
An objective third-party VA home appraiser reviews and makes sure the home is safe to live in (separate from an inspection).
Many of the requirements relate to serious issues in the home that require immediate attention, such as electrical issues or inadequate heating.
Any glaring problems related to the safety and sanitation of the home require immediate attention, regardless of what type of property you are looking at.
A single-family home will always meet the requirements to be one of the eligible properties for VA loans as long as it meets these minimum property requirements.
However, a single-family residence may not be in your budget or may not match up with your desires.
If you wonder what the VA approved homes might look like, you can find more details on the eligibility of various home types in the sections below.
Condominiums and Townhouses
Condominiums and townhouses are eligible for a VA home loan as long as they are in an approved community or VA-approved project.
You will need to check the list of pre-approved communities to determine if a property is already eligible for financing. If it isn't, you may still have an option.
The local home loan center can submit documentation regarding the property and community to the VA for approval.
This could be a more time-consuming process that requires weeks or months for final approval. The development and association must be willing to cooperate with submitting the necessary documentation to record their organization structure, finances, and policies.
If they aren't compliant with submitting the papers, you may face an interminable wait.
It's best to inquire about a potential community before you fall in love with a condominium or townhome that isn't going to be eligible. Are there love stories about that yet? We need to shoot a movie about that someday.
Manufactured Homes
Surprisingly, manufactured homes (also known as mobile homes) are VA approved properties and can receive financing. Not many lenders are willing to take on this type of loan; just so you know, we warned you that finding a lender will be your primary challenge.
These tend to be riskier investments for lenders, particularly because manufactured homes decrease in value over time.
Once you find a lender, the manufactured home must still meet certain criteria in order to be one of the eligible properties for VA loans:
Must have a permanent foundation so that the home is no longer mobile
Must have proper bedrooms, a kitchen, and a working bathroom
Single wide trailers must have a minimum of 400 square feet
Double wide trailers must have a minimum of 700 square feet
Modular Homes
Unlike manufactured homes, you may find lenders far more willing to issue financing for a modular home. These properties are built in a factory off-site before being assembled and fastened to a permanent foundation.
You will need to do a little research into the background and construction of the home to ensure that it follows HUD building guidelines. This is the #1 issue to make modular homes into VA approved properties.
New Construction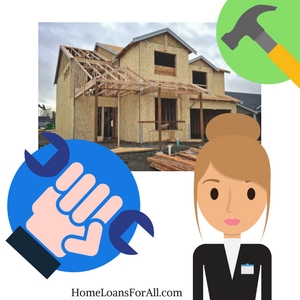 Do you dream of building a brand-new home that you get to design yourself? This isn't outside the realm of possibility with a VA home loan. It will be a lot of work and may require far more paperwork. Though, it could be worth the extra effort to have the home of your dreams.
The first step to building a new construction home under a VA loan is to find an approved lender, builder, and home site.
The VA representative must approve your blueprints and plans for your home in order to move forward. In addition, the builder must be willing to offer a one-year warranty on the workmanship of the home upon completion.
Following all of these restrictions can be a real headache for prospective homeowners who want to investigate all of the eligible properties for a VA loan.
Some families choose to forego obtaining financing for their new construction home this way due to the additional work and time involved.
You may choose to apply for a construction loan with your lender to cover the initial building process.
As long as the final plans for the home would qualify the house as a VA-eligible property. Then you can always refinance the completed construction loan into a VA mortgage at this point.
It saves you the time and hassle of finding a builder who is willing to issue the warranty and it eliminates the need to receive VA approval on each step of the process.
Vacant Land
Vacant land is not eligible for a VA home loan unless it going to be the site for a new construction home financed with a VA loan. Additionally, you may not use this financing to purchase farmland.
The exception to the farmland rule is if there is a home on the property that you intend to use as your primary residence. You are can own farmland if it is a recreational hobby near your personal home.
However, you may find it more difficult to secure financing with a VA loan if the farm is fully-functioning and you have every intention of keeping it that way. If you seek farmland, call a USDA representative. They love farming properties. No wonder, they call themselves United States Department of Agriculture. They give out loans for properties in the suburbs.
Co-ops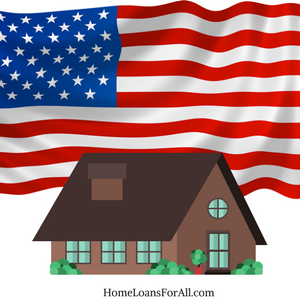 Have you ever considered joining in with others to pay for and maintain one large property? These are commonly referred to as co-ops where no one person owns the land or residence entirely.
Instead, you purchase a share in the property, and everyone pitches in to take care of it over time.
Because you are not actually purchasing a property where you will have the title, a co-op is not considered to be eligible for a VA loan.
Foreclosures
You can purchase a foreclosed property with a VA loan. Many people are turning to these types of homes because they hold the potential to save you large amounts of money on the original list price of the house.
It can be even easier to purchase one of these eligible properties if it was a VA-financed home prior to the foreclosure.
When you use a VA loan, the Department of Veterans Affairs agrees to guarantee a portion of the loan.
This offers more security to the lender and allows them to offer more benefits to borrowers, including lower down payments and interest rates. However, a foreclosed property tends to wind up in the hands of the VA who subsequently needs to sell it quickly.
They reduce the price of the home for a quick sale to help their agency and the lender to recoup the costs from the missed monthly payments.
If you purchase one of these VA-foreclosed homes, you may be eligible to receive the financing for the property. Be aware that there is some risk to purchasing a foreclosed home.
It should be noted that foreclosed properties often require a greater degree of renovation or hard work in order to prepare them for a move-in date. This is ideal for someone who is considering purchasing a fixer-upper.
You may also qualify to purchase a home through the HUD Homestore with the help of a real estate professional. Some of these properties will also be considered for VA approval.
Frequently Asked Questions about VA Approved Homes
Do townhomes need to be VA approved?
Yes, townhomes do need to be VA approved in order to qualify for this type of financing. If they are not already in a VA-approved neighborhood, you may work with the association to submit the necessary documentation for possible approval.
Can you use a VA loan to buy land and build a home?
Yes, you may use a VA loan to purchase land and build a new construction home. You will need to use an approved lender, builder, house plans, and building site in order to qualify. Keep in mind that your builder must be willing to offer a one-year warranty on the home upon completion of the work.
Some people choose to obtain a construction loan to build their home. When the construction is over, they may refinance this construction loan into a VA mortgage.
Can you buy a mobile home with a VA loan?
Yes, you can buy a mobile home with a VA loan if it meets all of the criteria. It must have adequate living space (400 square feet for a single-wide home and 700 square feet for a double-wide) and have bedrooms, kitchens, and bathrooms. It will also need to be on a permanent foundation so it is no longer mobile.
Conclusion
There are several ways to go about making the most of a potential loan through the VA program. Most homebuyers find that the regulations regarding VA approved homes are rather flexible, allowing them to truly search for the house of their dreams. Keep these guidelines in mind while you're shopping or browsing the online listings to ensure that your top choice will qualify you for this advantageous loan program.
We Specialize in VA Home Mortgages, Get Pre Approved Today – Click Here.
Looking for VA homes in Indianapolis? Check out this article!