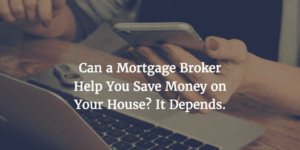 As one of the major steps in life, buying a home is a dream for many. If you're in the process of arranging a mortgage to purchase a house, you can typically follow two paths. You can either work directly with a lending institution such as a bank, or explore working with a mortgage broker.
Mortgage brokers function as an intermediary between you as the borrower, and the lender. Their services can be very useful, as they take care of all the research needed and find good options that match your conditions. Although brokers charge you for their work, they can even save you money.
However, working with a mortgage broker does not automatically mean you will pay less on your mortgage. It's still key that you get informed about the mortgage process and verify important details about the broker you have chosen. That's how you can ensure that you will benefit from working with an intermediary.
Here are the differences between borrowing directly from a financial institution and working with a mortgage broker. You can also get useful tips on how to get the best mortgage rate and see what your lender looks for when approving your loan.
Working With a Mortgage Broker vs. a Lending Institution
You can obtain a mortgage by directly negotiating with a lending institution of your choice.
To choose the best price and conditions, you need to do detailed preliminary research and compare numerous lenders. Instead of going through hard credit inquiries with each, it's best to provide the lending institution with a copy of your credit report. That's how they would be able to assess which loans you can go for. You will also need to undergo the pre-licensing approval process with the lender.
As the borrower, you need to verify that the conditions you're offered are satisfying before you sign the papers. Make sure you understand the terms of the mortgage you are opting for in-depth.
If you decide to use the services of a mortgage broker, you will be spared many of the tedious tasks of shopping for a mortgage yourself. The broker will research the best matching rates and assess your finances. They will also be in charge of going through the pre-licensing approvals, which saves you time.
It is often easier to get your questions answered by your broker rather than by a lender. The broker works for you and gets paid only when you sign the contract, so they are more accessible. They may also be able to get you a lower price. they have access to wholesale rates from lenders and may get some fee waived due to the volume of their work. However, you have to make sure you select the right mortgage broker, so that you can use the benefits that such a partnership can offer.
How to Choose the Right Mortgage Lender
Not all mortgage brokers can provide you with the same quality of services. Before you start a partnership with an intermediary, it's a good idea to check their credentials and history.
You need to work with a mortgage broker who is duly licensed with your state authorities. You can check the status of their license via the National Multistate Licensing System (NMLS). To get licensed, most brokers need to obtain a surety bond. This is an extra layer of security for you, since it can provide a compensation if you are harmed by any unlawful actions of the broker.
Besides checking their licensing and bonding, make sure you review their portfolio to see the lenders they're working with. See what previous customers share in their reviews as well. Last but not least, verify the fees you will be charged for using the brokering services. In most cases, the commission is 1-2 percent of your mortgage amount.
Related Articles: