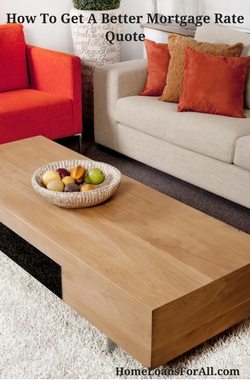 Are you one of those Americans that is tired of renting your home from a landlord who may or may not have your best interests at heart? Well, you are not alone in that way of thinking. Millions of Americans dream of owning their own home. It's no surprise that anyone would want to stop paying a monthly rent check and trade it in on a mortgage payment instead. And in doing so, all home buyers want the very best mortgage rate quote they can get.
Buying a home is a daunting task for even the most market savvy consumers and for a first-time home buyer it can be downright scary. One of the most commonly asked questions from home buyers is "how do we get the best available mortgage rate quote"? Comparing mortgage rates can certainly be a good start. While there is not any one answer to the question, a smart buyer can come to the table prepared if they take these tips to heart.
Find and compare mortgage rates
Tips For Getting The Best Mortgage Rate Quote
It may not seem like a single point can make that big of a difference to the total cost of a home loan but, believe it or not, even a single percentage point can make a huge difference and there are several factors that can make a very big impact on your rate.
First, and most importantly, a buyer's credit score is going to impact their mortgage rate the most. According to FICO, the score all lenders consider when reviewing an application, the best rates are going to those individuals with a score of 720 or higher. While it is possible, at least in theory, to get a home loan with a credit score of 500, you will have to come up with at least 10% of the asking price as a down payment. To get approved for an FHA loan you'll need to have a 3.5% down payment and a credit score of at least 580. There are other mortgage loans that do not require any down payment.
Your debt-to-income ratio is going to be the next thing that lenders will take in to consideration. While it may not seem like something everyone would think of, lenders want to know whether you're going to be bringing in enough money every month to make your mortgage payment. If you are trying to buy a home and you are looking at a mortgage payment of $1500, lenders will want your monthly income to be upwards of $3000 to make sure that you are going to make every payment on time.
The debt-to-income ratio brings up the next point lenders will be looking at. Your employment history and income stability. In an ideal world lenders expect a prospective buy to have at least 2 years of employment with their current employer to be regarded as the safest bet. If you are a self-employed mortgage borrower you can expect lenders to be very strict when it comes to verification of your income. Be prepared to fill out an IRS Form 4506. That form is going to allow lenders to delve into a full transcript of your tax returns for the last 2 years.
The next factor that lenders will take into consideration is the down payment. While it is possible to only put 5% down on the purchase price, lenders tend to consider a 20% down payment to be a far lower risk loan which will result in a much better mortgage rate. In terms of bottom line, think about it in terms of your monthly payment. The larger your down payment is, the lower your monthly rate will be.
Your cash reserves will also play a large factor in your mortgage rate as well. Lenders usually define cash reserves to be the number of months' worth of loan payments you have saved in cash. That would include the amount of money you have saved in checking accounts, savings accounts, certificates of deposits and possibly even cash bonds. Lenders use a standard requirement of at least 2 months' worth of payments saved in advance to consider you for a loan. If you're considered high risk the requirement may be larger though.
Mortgage Rates and Amortization Period
For your best rates, you will also need to take into consideration how long you intend to carry the loan. Think about in terms of time you intend to spend in the home. If you are buying a house and intend to stay in it forever, a fixed-rate loan would be an acceptable choice. If you only intend to stay in the home for a few years though before you sell it, you may consider a hybrid 5/1 mortgage loan instead. Shorter term loans will yield a better rate than longer termed loans. You can play around with a mortgage rates calculator to get an idea of what your mortgage payments could be.
Keep in mind that while you don't necessarily want to call every financial institution in your area, you also don't want to sign a loan with the first lender you speak to either. While not everyone loves it, contacting multiple lending institutions can save you big money on your mortgage payments so remember that you may benefit from shopping around to find the lender that best fits your loan needs.
Once you have applied for your loan do your best to keep your finances as stable as possible. It seems like a no-brainer there but it may be more difficult to accomplish than you may think. Try to keep your expenses as low as possible and avoid any other large purchases until you have closed on the purchase of your new home.
Keeping these tips and tricks in mind you will find that getting the best available mortgage rate quote won't be as hard as you once thought. Never sell yourself short and be smart when you consider which lender will be your best choice and soon you will be opening the door to you brand new home with an excellent rate.