Why Home Loans For All
Shop and Compare Mortgage Rates from Multiple Lenders
FHA-insured Mortgage Financing
Home Loans For All Approved Lenders work with 580+ Credit Scores
Direct Access to the HUDHomestore and Real-Time Mortgage Rates
FHA vs Conventional Loan Comparison Chart
First Time Home Buyer Programs and FHA 203K Loan Programs Also Available
Tools Including a Mortgage Calculator and an Informative Mortgage & Real Estate Blog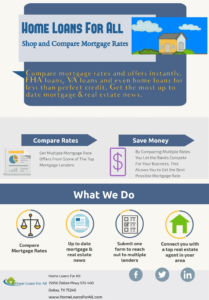 At Home Loans For All our mission is to provide every potential buyer with as many mortgage options as possible. Our goal is to take all the stress from the sometimes daunting task of finding the right lenders and the best mortgage rates. Our unique system allows consumers to get multiple offers from several lenders instantly and by tapping into our massive network of mortgage professionals. Combined with our knowledge base of the latest up to date mortgage and real estate news, our blog helps keep consumers informed.
At Home Loans For All our lenders are experts with every mortgage loan product available and have helped in just about every unique situation that could arise.
With products ranging from FHA and Conventional loans to VA loans and even HUD Homes, you can be sure our network of lenders can get it right every time.