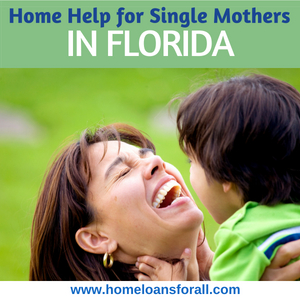 Buying a home isn't easy for anyone, but you know what makes it even harder? Trying to buy a home as a single mother. Studies have shown that being a mom is an amount of work equivalent to two and a half full-time jobs, and adding the stress of trying to buy a home on top of that is enough to break anyone. So, here is some information on Florida housing assistance for single mothers!
We'll cover state and federal programs that are designed to provide housing assistance for single mothers in Florida, as well as what we consider the three best home loans for single mothers with bad credit, low income, or who just don't have the money to make the massive down payment upfront.
And if you want to see if you pre-qualify for a Florida home loan, you can just click the link below!
We Help You Qualify For A Florida Home Loan for Single Mothers
Fill Out The Form Below To Get Help Today!

Florida Housing Assistance For Single Mothers
If you're having trouble securing a home loan, here's some Florida housing assistance for single mothers that will help you find whatever you need to close that gap.
Improving your credit score
"Bad" credit is the number one problem that keeps most people from purchasing a home. We're saying "bad" in quotes because you can have pretty good credit and still be refused a home loan! Most conventional mortgages require a minimum credit score as high as 700, which is fine for upper-middle-class folks but not so good for single mothers trying to make it on their own.
We have a whole article on improving your credit score which you can read by clicking here. A lot of people think you need to hire an expensive credit agency to help you boost your credit score, but there's nothing an agency can do for you that you can't just do by yourself.
Using soft pull credit cards, paying your bills on time, and paying off any existing debts at least a month before applying for a new loan are all great ways to get that credit score up – and they're all things you can do without much extra effort.
Finding a co-signer can also help you lock in those housing programs for single mothers with bad credit in Florida. If you get a trusted friend or family member to co-sign a loan with you, it means that you can apply for the mortgage as though your credit score was as high as theirs.
This means that you're not just more likely to get accepted – you'll also get better terms on your loan after you are.
Down payment assistance
The second most common issue keeping Florida single mothers from buying a home is the down payment. Making the regular payments each month is one thing, but paying thousands of dollars upfront is another. Fortunately, Florida housing assistance for single mothers is available to help make that initial payment.
The Florida Housing Finance Corporation, or FHFC, offers three different down payment assistance programs that you can take advantage of. All of these must be paired with a mortgage received from the FHFC itself.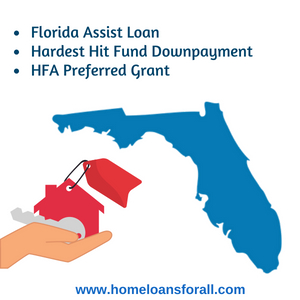 The first program is called a Florida Assist Loan, and it provides up to $7,500 of down payment and closing cost assistance in the form of a zero-interest deferred loan that you don't have to pay back until the rest of the mortgage has been paid off.
The second program is the Hardest Hit Fund Downpayment [sic] Assistance Program. This program offers more money in most cases than the Florida Assist Loan, but it has limited availability. You can only apply for Hardest Hit assistance if you're buying a home in Volusia, Duval, St. Lucie, Pasco, Hillsborough, Orange, Polk, Brevard, Pinellas, Osceola, or Clay county.
Finally, the HFA Preferred Grant gives borrowers 3 percent of the cost of the home in down payment assistance. This assistance never has to be paid back, which is a significant advantage over the other two programs, but it's not enough to cover the full down payment even on the cheapest FHA loan.
Tax exemptions
Need to find some extra cash in order to afford your loan payments? A Florida homestead tax exemption allows you to withhold a certain amount of money from your property taxes if you live in a home that you are paying off. The Constitution of the State of Florida allows you to claim this exemption on the first and third $25,000 of the home's value.
To learn more about the kind of tax exemptions you can get from a Florida home loan for single mothers, click here to read our long-form article on the subject.
Home Loans For Single Mothers In Florida
Of course, the best Florida housing assistance for single mothers you can receive is a good home loan. But the expensive down payments, high minimum credit requirements, and upper-middle-class income limits on conventional mortgages price them out of what most Florida single mothers can afford.
Here are three federally-offered housing programs that we think will be much better for single mothers with bad credit in Florida.
USDA Home Loans For Single Mothers In Florida
USDA Rural Development home loans are offered to single mothers who are planning to move into rural areas of Florida. The US Department of Agriculture (who pays out these loans) estimates that about 97 percent of land in the country is eligible for these types of loans, so even if you think that the home you want to buy is too close to a major city, that might not be the case!
You can check property eligibility by state on the USDA's official website here.
USDA loans offer 100 percent financing in many cases, which means that you won't have to make any kind of initial down payment on the home. However, you will still have to pay the amount that you would pay upfront with a conventional mortgage – it just gets folded into your monthly payments instead.
That makes USDA loans a great option for any single mother in Florida who knows she can make monthly loan payments but can't save up to pay thousands of dollars all at once.
Mortgage insurance on a USDA loan is also significantly cheaper than the insurance you have to pay with other loans, making USDA mortgages overall a great way to save money on a house.
VA Home Loans For Single Mothers In Florida
Single mothers who are current or former members of any branch of the United States military may be eligible for a loan insured by the Department of Veterans' Affairs, more commonly abbreviated to "VA loan."
The major benefits you get from VA home loans for single mothers in Florida. The first is that you won't have to make a down payment, no matter what your credit or income looks like. This is because down payments are seen as a way to offset risk, which isn't necessary when your loan is insured by an organization that is backed by the power of the US treasury.
The second major benefit of a VA loan is low-interest rates. This means that each individual monthly payment will be a lot cheaper than it would be on a conventional mortgage (or, in some cases, even cheaper than the payments on an FHA loan.)
This allows single mothers in Florida to stretch their income farther even if they don't make very much.
FHA Home Loans For Single Mothers In Florida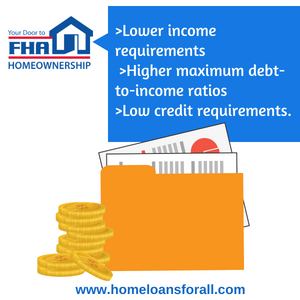 The Federal Housing Administration insures more home loans than any other organization in the United States, and about 30 percent of all US mortgages are FHA loans.
The biggest benefit of choosing an FHA loan over any other type of mortgage is the lower down payment – since there's no need to use the down payment to offset risk in the way that a traditional home loan does, down payments on an FHA loan are frequently as low as 3.5 percent of the total value of the home. This is how FHA understands Florida housing assistance for single mothers. (to tell you a secret, not only Florida moms get this support!)
As long as you have a minimum credit score of 500 or higher, the highest down payment you might have to pay is 10 percent, which is still only half of the down payment on a conventional mortgage.
If you're looking for a Florida mortgage that combines the best of both worlds by having low minimum credit requirements AND a low down payment, an FHA loan is the best option for you.
Conclusion
We hope that this comprehensive guide to Florida housing assistance for single mothers has helped you on your home buying journey. No matter how difficult it gets, remember that there are lots of programs out there that can help you buy the home of your dreams. Any stress you experience during the process will be well worth it in the end!