Flipping and refurbishing houses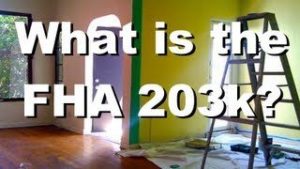 has become all the rage over the past decade. Almost everyone has become an expert on mortgages, refinancing, and remodeling. Just scout out an old house in a promising neighborhood, estimate what it will cost to fix it up versus its potential resell value, and buy it, right? Wrong. Welcome the 203K Loan.
Chances are, even though you know jumbo loans cold, have HUD, Home Depot, and Harbor Freight on speed dial; you haven't heard about a 203K loan. It's officially known as Rehab Mortgage Insurance; but that's putting the cart before the horse. Simply, it's an insured home loan. So suddenly, you have the ability to buy that spec house knowing that your pre-approved loan is going to come with some extra money to help you fix it up; given that the restoration costs are at least $5,000. Spending that is a piece of cake these days, probably on a good set of new kitchen cabinets and countertops.
Even better, it's an FHA backed loan that is insured, so the lender is more inclined to approve it; especially if you have done your homework and have all the paperwork showing the remodeling estimates. Remember, the 203K loan is designed to cover the present value of the house plus the cost of the rehabilitation, or 110% of the appraised value of the property after rehabilitation; whichever is less.
The kicker is that you can acquire the 203K loan as refinancing for your current dwelling; and you can even convert your property to multiple attached single-family units. That's right, you can build duplexes and condominiums with this loan, even if there is only a foundation and slab showing at time of underwriting. That's exciting for the seasoned contractor and weekend carpenter alike!
This loan was designed to help the average homeowner. You can even search for homes that need work on the government's HUDHomestore.  As we all know, repairs are costly; and putting your house on the market is often thwarted by not being able to modernize it properly. Here is a way to either get out from under an aging property and move forward, or feel refreshed in the home you plan to stay in. It's a win-win situation for the lender and the loan recipient. It's good for communities, and it's good for your peace of mind.
203K Loan Options
There are some minor variations of this loan, such as the 203(b); however, the 203K loan is the full version that covers all aspects of rehabilitation financing. If you are interested, you can contact an FHA approved lender and explore all of your options. Also be sure to check out other options like HUD Homes. HUD requires that properties financed under this program meet certain basic energy efficiency and structural standards; but that's part of your plan anyway, right?