How To Find A Bank Loan For House As A First-Time Home buyer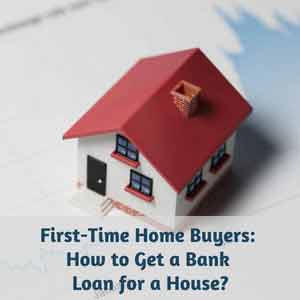 Buying your very first home with no money from a previous house? You must be stressed by the deadlines and research for viable mortgage lenders. You can relieve yourself of an overwhelming headache if you follow the ideas in this writing.
An exciting journey awaits you as a first-time. Applying for a mortgage and navigating the ever-changing housing market is a nerve-wracking process. But with the right information at hand, your experience can be more rewarding than you think. You probably have no or little idea concerning the mortgage process. We totally understand you if you are perplexed. We are here to help you see that. While a mortgage loan officer can give you direct answers you might be having, there are practical guidelines you should follow to put your leg on the right path. Are you ready to buy a house? Let's give you a jump start.
Borrow cautiously
First things first- plan your move by determining how much bank loan for a house you can afford. With a good credit score, you can still qualify for a mortgage that's above what you can afford. Taking a loan you can finance goes a long way in preventing financial crises. Do you need advice on the available mortgage rates in Canada? A mortgage calculator can help you calculate the amount of loan that suits your pocket.
Check your credit portfolio
Credit score affects almost any aspect of your life. Before you begin hunting a mortgage, ensure that you understand your credit rating. This is your financial reputation and your lender must use it to determine your credibility as a borrower. You don't expect an institution to trust you with thousands of money without knowing if you can repay it in time. Conventionally, you need at least 620 points on your credit. You can check this from credit reporting agencies.
What to do if you have poor credit
It takes time to build good credit but you might not have the patience to wait for that. This doesn't mean you should give up on home ownership. Don't let a poor credit rating lock you out of the housing market this year. Here are some tips to help you face the mortgage journey with low credit score.
Talk to your lender about your credit
Discuss your current credit standing with the lender. Your credit report might be having errors or it could be due to identity theft. Ensure that your payment history has been recorded properly. You will need proper documentation to verify your credentials.
Fix all credit score errors
After reviewing the credit report, make sure that every detail is accurate. Sometimes, the balances might be slightly off if some of the recent payments haven't been recorded yet. In case of an error, send a dispute letter to your providers to have the errors deleted.
Consider mortgage option for poor credit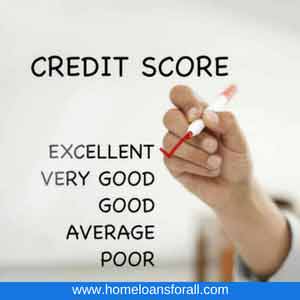 One of the options is making a huge down payment. By putting a large sum of the security deposit, your lender will stop perceiving you as a risky borrower. It shows that there are little chances that you might walk away from your obligations. Perhaps you don't have that cash at hand; you can liquidate some of your assets like a retirement account. Alternatively, you can use gift money as a down payment but you will be limited to the type of mortgage you qualify.
Secondly, you can apply for a high-interest mortgage. This will compensate for the low credit score. Meanwhile, work on building your credit in the next few years so you can refinance your home at a lower rate. Note that there is no guarantee that you will land on a low-interest mortgage when you are ready to refinance.
Thirdly, consider an FHA loan. This is a loan that allows you to use a co-signor who already has their own home. If none of these methods work for you, maybe you should consider renting a cheaper apartment and start rebuilding your credit score. After a couple of years, you will be ready for a mortgage. Pay close attention to your finances if you really want to improve your score.
Have the documents ready
There are thousands of mortgage providers out there. Compare the rates and see which one appeals to you. As you get ready for a mortgage, have the proper documentation at hand like national ID bank statements, pay stubs, liabilities, tax returns, investment statements, among others. These are the proofs that indeed you have a good source of income and that your financial habits are up to snuff. Your lender has to review this information to check if there are suspicious deposits in your accounts. If a huge sum of money has been deposited recently, you have to explain it and prove its origin. For example, you need a gift letter to verify that you have received your down payment from friends and family.
Tips for self-employed first-time home buyers
Self-employed people need to go through a financial audit and give out sufficient documentation proving that they can afford a mortgage. It is important to find out from a lender what information you could be missing as you jump through the hoops. Follow the rightful procedures without rocking the boat if you want to get approval.
Pre-approval and pre-qualification
A pre-approval on a mortgage is an essential aspect of the entire mortgage journey. It is a thorough verification process that allows buyers to see how much they can lend you. The pre-approval will validate your seriousness and commitment to paying the home loan. However, you shouldn't confuse this with pre-qualification which is an estimate of the possible amount of loan you can get. Getting a pre-qualification doesn't necessarily mean that you have been pre-approved. A situation can arise and change everything in your documents and have you denied a pre-approval. But it still helps to have a pre-qualification so you can have a clear idea of the budget and the negotiation power when the time comes to make an offer.
In summary
A home-buying process is a big step and comes with more responsibilities. You, therefore, need to be ready financially. Understanding the mortgage process is an important part of getting ready. Get your documents together, have your credit portfolio in check, and find a pre-approval. Then, you can start hunting for your dream home. Check out how much mortgage you can afford.