How exactly does a mortgage consultant help?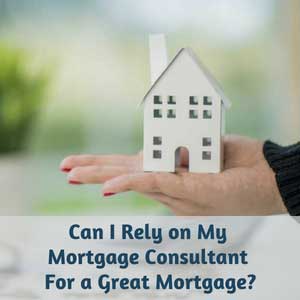 Working with a specialized mortgage consultant is warranted since you will be walked through various lenders and mortgage rates. This will help you to choose a rate that fits into your particular financial situation. Conversely, if you go straight to the bank, you will be given a single set of mortgage terms and interest rate.
Do you want to know how much you can afford for a mortgage? Check it out now.
Taking a mortgage is always the easiest way to own a home. Whether you will be going to a private lender, a bank, mortgage broker, or a building society, you are likely to need a mortgage consultant along the way. An advisor will work with you and on your behalf too during the application process. Do you want to know their exact responsibilities? Read on.
The basic role of a mortgage consultant
In a nutshell, a mortgage advisor helps you to get the right mortgage. They identify your best options based on your financial position. They also deal with financial institutions, real estate agents, financial consultants, and private lenders.
Basically, a typical day of mortgage consultancy involves talking to clients, doing financial assessments, prepping application documents, and sourcing the most cost-effective mortgages. It is their duty to ensure that you understand completely the various types of mortgages on the market. Feel free to ask about anything that seems unclear especially concerning repayment terms before you kick-start the application. Your consultant works hard to see that the purchase targets are met and updates you with the current products or legal changes.
What's the cost of hiring a mortgage consultant?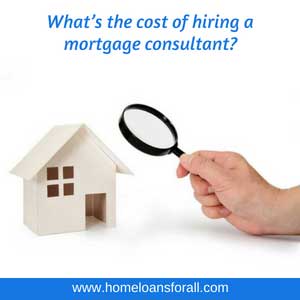 These professionals are not like the loan officers you might be used to. They are independent operators, meaning that they don't work for particular real estate companies or mortgage lenders. They have their own licenses and must be paid for their services. A mortgage advisor can ask you for a payment or the lender. The cost of their service may not exceed 2% of the loan. If you are responsible for paying them, you need to provide the money in advance or it will be included in your loan payments. Through the lender's credit, a mortgage advisor can give a zero-cost loan but your interest rate will be increased. Nonetheless, all these details must be explained to you. Don't leave the office without knowing what you are in for. If you think there are hidden charges, speak out so you don't stay in the darkness.
How they work
Very few mortgage consultants work for particular institutions or individuals. In such cases, they only sell products from their employers. Their job is office based so you have to find them rather than them finding you. However, the vast majority are self-employed, commonly referred to as independent mortgage advisors. You might find them in their offices, at home, or they can travel to meeta client. Their products encompass the entire mortgage market so you can expect to compare rates from all providers across the region of your interest.
Generally speaking, independent advisors have more experienced than the employed advisors. An independent professional works harder to source good rates for clients because they depend on their reputation.
Qualities to look for in a mortgage consultant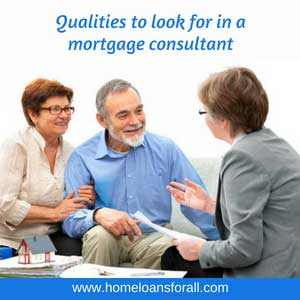 There are some essential skills a consultant must possess. One is excellent communication, both oral and written. Their duties entail explaining difficult financial terms in a lay man's language. They must tailor their speech articulately when switching between colleagues and clients.
Even though academic qualifications are not that important, they should demonstrate a greater ability to grasp information and interpret it quickly. those who are under internship or training must meet the industry requirements and have excellent mathematics and IT skills.
Lastly, proper customer service is essential. This job is about meeting customers every day so the consultant needs to carry themselves with the proper attitude and be a problem solver. Body language is key in addition handling confidential information with discretion.
Can you trust the recommendations of a mortgage advisor?
If you are a first-time home buyer you may not know exactly who to hire: a real estate agent or a mortgage advisor. If you hire a real estate agent before getting pre-approved for a mortgage, how will you know you can afford a particular house? Moreover, if you happen to find a dream house without seeking professional advice, you will not be in a position to make a valid offer without a pre-approval.
Our best advice is to hire an independent mortgage advisor before you start hunting a house. They will guide you through the acquisition of the most suitable home loan. Do you still doubt if there is an ulterior motive behind their counsel? It's okay to be suspicious but higher chances your consultant has zero incentives from the mortgage lender.
Conclusion
Since your advisor takes you through a plethora of interest rates and fees, are these the only criteria to use when choosing mortgage? The most significant factor is the interest rate. Don't pay too much attention to the loan fee. A mortgage is more than just the charged fees. An experienced mortgage consultant can tell you lenders charge almost the same rate; it's only that some confuse you with jargons and APR fees. Since national mortgage lenders face stiff competition, they also present highly competitive rates. The type of mortgages and terns they can provide are also limited and more often than not, they only quote in-house rates.
However, a mortgage consultant has a broader access to larger pools of mortgage sources. They also know the current special deals like free appraisals and whether there are hidden costs of those special offers. Don't get confused by lenders who advertise free home security. They come with hidden costs too which you have to pay to the security company. Are you aware that there are no free things on earth? Forget about the over-hyped sales pitches on websites and TVs. Ask the experts- mortgage consultants. You want your loan to be processed quickly, effectively, and without any surprises or hiccups. Check out how much mortgage you can afford.