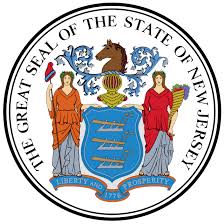 Owning a home gives you a sense of security and stability you just can't get from renting an apartment or a duplex.
You're not beholden to anyone – you can keep pets, paint the walls pink, play your music as loud as you want.
It's the best place to raise a family – and it's no wonder that for many, home ownership is seen as the ultimate goal of the American dream.
There are practical considerations too – a home is a long-term asset whose value can appreciate over time, making home ownership a solid investment.
Get Pre Qualified for a New Jersey FHA Loan – Click Here.
But as we all know, home ownership is also expensive and complicated, which is why it's important to find the mortgage loan program that's right for you.
Many New Jerseyans are looking at Federal Housing Administration Loans, or FHA Loans.
We've compiled a handy FAQ about this common type of loan so that you can decide if it's the right choice for your family.
What is an FHA Loan in New Jersey?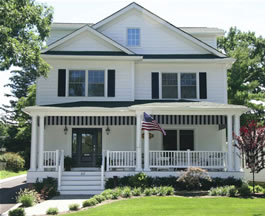 An FHA loan is a housing loan that is insured by the United States Federal Housing Administration, from which it takes its name.
These loans are still issued by a private bank or lender, but they're protected by a promise from the government that if you can't pay back your loan they will reimburse the moneylender for you.
Lenders who are partnered with the FHA in this way are willing to give a better deal on a loan than they would otherwise because the money is protected by the promise of the government and the power of the US Treasury.
However, they can be more expensive than a conventional loan with a large down payment, which is why they mostly appeal to applicants in New Jersey with low credit scores or low income.
What are the different types of FHA loans in NJ?
When you hear someone talk about "FHA loans," they're usually talking about a fixed rate mortgage. But this is only one type of loan that's ensured by the Federal Housing Administration.
In New Jersey, there are three types of FHA loans:
A 5-year adjustable rate FHA loan in New Jersey. This type of loan starts at a lower interest rate than the more common fixed-rate option and remains at that same low rate for five years, giving the homeowner a chance to settle in and set money aside before making larger payments.
The starting interest rate for a 5-year adjustable rate mortgage in New Jersey is usually 1 percent lower than the fixed rate.
This option appeals most to low or moderate income families who have never bought a home before.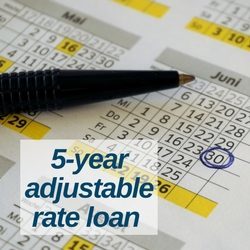 A fixed rate FHA loan in New Jersey. This type of loan has a fixed interest rate that remains steady for the duration of the mortgage – a period of usually either 15 or 30 years.
The only change in your payments during this time will be from slight deviations in insurance or property taxes.
This option appeals most to buyers who want a home but haven't been able to save up money for payments – usually recent college graduates or newlyweds.
An FHA condominium loan in New Jersey. This type of loan is pretty straightforward – it's an option for buyers who are purchasing a condominium unit instead of a traditional house.
What advantages do homeowners have with an FHA loan in New Jersey?
The US Federal Housing Administration is the largest mortgage insurer in the world and approximately 30 percent of all home loans in the country are FHA loans.
This is because these types of mortgages come with several advantages:
FHA loans in New Jersey require a greatly reduced down payment. This is the biggest advantage to choosing an FHA loan over other types of mortgages.
The usual down payment on a home is twenty percent of the total price, but in New Jersey an FHA mortgage can start with a down payment as low as 3.5 percent.
This makes this type of loan the best choice for people who have steady work and can make regular payments but who haven't saved up enough for a large up-front deposit.
The requirements for FHA loan approval are much more flexible.
In New Jersey, applicants for an FHA loan need to have worked for the same employer for at least two years, be able to make their down payment, and have a credit score of at least 620.
That's it – there's no minimum income requirement, and 620 is much lower than the 700 credit score the state requires for conventional mortgage applications.
In many cases, applicants that would normally be turned down will get accepted for an FHA loan because the lender knows they'll make their money back from the government even if the homeowner defaults.
FHA loans also benefit the national economy by stimulating the real estate market, expanding the tax base, and creating jobs.
But for most of us the main benefit of an FHA loan in New Jersey is that it's cheaper upfront and more accessible than traditional mortgages.
What are the disadvantages for an FHA loan?
FHA loans offer many attractive advantages, but they come with disadvantages as well, which is why it's important to see if you are the type of person best suited to benefitting from this type of mortgage:
Buyers have to pay an FHA funding fee up front. Though this is still lower than a typical down payment on a home, the Federal Housing Administration charges a fee that's approximately 1.7 percent of the total mortgage.
This is how the government protects its investment – it's basically an insurance premium.
FHA loan recipients cannot cancel their insurance until they've paid off the whole mortgage.
Conventional home loans usually let recipients cancel private mortgage insurance payments after they've accrued a certain amount of equity.
In practice, this means that the FHA loan payments will probably be higher than those of conventional mortgages especially as you get to the end of the loan term.
Interest rates are often slightly higher for an FHA loan in New Jersey. This is how the lender makes up for the small up front payment.
In short, think of an FHA loan as having slightly larger monthly payments in exchange for a much smaller down payment.
What type of properties qualify for FHA Loans in NJ?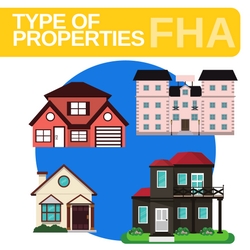 In New Jersey, many types of properties qualify for FHA home loans:
Townhomes
Multi-unit properties
Manufactured homes
Single-family homes
Condominium units
These properties must be at least 400 square feet and have been constructed after June 15, 1976.
They also have to meet rigorous safety standards – a government employee will appraise the house beforehand to make sure these standards are met.
The complete 21-page checklist these appraisers go through is detailed in Chapter 3 of the Department of Housing and Urban Development's Handbook 4150.2, which can be found here.
In brief, they will disqualify a home with:
Foundation cracks

Loose handrails
Structural concerns
Holes or leaks in the roof
Low water pressure
No hot water
Insufficient space
Faulty HVAC system
Among other concerns.
The property must also cost less than the maximum lending limit for an FHA loan in New Jersey, as described on a county-by-county basis here.
How important is credit when applying for an FHA loan in New Jersey?
Credit is a major concern whenever you're applying for a loan, but one of the major benefits of FHA mortgages is that they have much lower credit requirements.
In New Jersey, most FHA Underwriters require a middle credit score of 620, as well as three open trade lines on your credit report that have been there for a minimum of 12 months.
However, this credit limit is not actually set by the federal government. If you "shop around" you may find FHA-partnered moneylenders that will accept credit scores as low as 580. However, these lower credit requirements usually mean a higher down payment.
Also, some FHA lenders in NJ may consider "additional forms of credit" like long-standing accounts with your phone company or utility services in place of a FICO credit score.
What are the requirements for an FHA loan in New Jersey?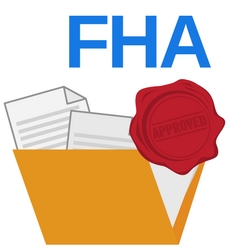 As of 2018, these are the typical requirements for an FHA loan in New Jersey:
A middle credit score of 620 or two forms of alternative credit.
A property that has been appraised and meets the requirements of HUD Handbook 4150.2
A property that is worth less than the maximum loan limits described here.
A debt-to-income ratio of 50 percent or less
Two years of steady employment history
Ability to make a down payment of at least 3.5 percent
FHA Lenders in NJ
FHA Lenders in NJ can set their own standards for an FHA mortgage in New Jersey, but this is what you're most likely to see.
It will often be worthwhile to spend time looking around for a lender that can work with your specific needs.
How do you receive an FHA loan in New Jersey?
FHA loans are insured by the American government but are originated by private moneylenders.
Most likely your local bank or mortgage company in New Jersey will have some kind of FHA loan program in place.
It's often recommended to shop around several different lenders to find the one that has the best rate and the requirements that work best for you – the lowest possible down payment, for example, or maybe the most flexible credit scores.
Once you decide on a FHA lender in NJ, you will apply for the FHA mortgage just as you would for any other loan.
Your representative will then check your credit score, income, debt, and more to make sure you fit the lender's requirements and the federal requirements for this type of loan.
What are the FHA loan rates for New Jersey?
The real estate market is in a constant state of flux, and as a result, loan rates will change frequently – sometimes even on a daily basis! What's more, different lenders offer different rates for FHA loans in New Jersey.
As a result, we can't give you an exact number for what the loan rate will be where you live. This is why it's best to do some research before applying to a specific moneylender.
Do you have to be a first-time home buyer for an FHA loan in New Jersey?
FHA loans often appeal more to first-time home buyers than to other customers for the reasons we've listed above.
However, despite the common misconception, you do not have to be a first time buyer to be eligible for an FHA loan in New Jersey. That is not one of the federal requirements.
What is the maximum income limit for FHA loans NJ?
This is another popular myth with no basis in reality – there is no maximum income limit for FHA loan applicants in New Jersey.
However, FHA loans are usually a better investment for low-income families who are willing to accept greater ongoing payments in exchange for a lower down payment.
Get Pre Qualified for a New Jersey FHA Loan – Click Here.