Buying a home is an exciting and monumental time of your life. Especially for first time home buyers. It's also a huge investment and responsibility. You want to make sure you've gone through every step carefully, twice.
It's crucial to ask the right questions and be at the top of your game in the beginning, to middle, to end.
However, there's an important step that people tend to ignore – the final walk through.
The main purpose of a final walk through is to make sure the home is in the same, good and working condition you, the new homeowner, agreed to buy.
Although it might feel like an inspection, it's not. Inspections were already taken care of before any contracts were written up. It's also not a time for negotiation. If you wanted to discuss any damages or issues, this should have been brought up during the real home inspection.
If the buyer and seller agree to repair any rooms, structures or appliances, this is the time where the buyer will observe to see those changes.
Before moving into a new home, it feels like you're in a time crunch. You run a list through your head of all the things you need to do, such as rent a truck, clean out your fridge, buy new hand towels and about 428 other things to do. This is not the time to go into panic mode.
However, doing a final walk through of your home is one of the most important things to do. Many people feel tempted to skip this step because they are overwhelmed with preparing for their move. They're thinking, "I've already seen the home. It's fine!" Well, what if it isn't?
Budget an hour of time to walk through your home and you will feel more relaxed and confident your home is properly working and ready for you to move in. The last thing you want is to move in your fancy new sound system into a flooded basement. Not only do you delay setting up your equipment, you now have to inspect the problem and call for assistance if you cannot fix the problem yourself.
Walking through your home gives you the opportunity to check if everything is working accordingly. If you notice something is acting strange or a faucet is leaking, bring this to the seller's attention. This wasn't an issue during the inspection, so it shouldn't be happening now. If any repairs are needed, withhold the amount of money it would cost to fix the issue from the seller's proceeds.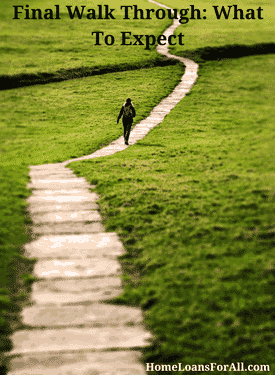 Have a different opinion of a final walk through now? Good.
Before heading over to your new home, be sure to bring the following with you:
Contract – You can refer to this document to verify all damages or issues have been repaired according to the terms of agreement
Notepad – Use this to document, record and take notes of your walk through
Camera – Take pictures for proof and documentation about repairs that haven't been taken care of or any damages
Inspection summary – It's always a good idea to double-check that all repairs have been completed
Your agent – Don't forget to bring them for the final walk through. They have been with you throughout the whole process They can answer any additional questions you may have. It's also another set of eyes to spot out any issues
Cell phone and charger – Nowadays people don't leave the home without it. May need it to call the seller or repairman. Use the charger to test if electrical outlets are functioning
Now you're probably thinking, "What should I even look for? How do I test if my home is working properly?"
Final Walk Through Checklist
Here is a final walk through checklist of things to do during your final walk through:
Turn on and off every light
Run water – sinks, showers, bathtubs, etc. and check for any leaks and if water drains properly
Test all appliances and fans
Check garage door – opens and closes
Flush toilets
Inspect walls, floors, ceilings – look for any cracks or molding
Check for missing cabinet knobs or cracked outlet plate covers
Run garbage disposal and exhaust fans
Test air conditioning and heating
Open and close all windows – hinges are intact, have blinds, screens and knobs
Test the security system
Make sure all other remains are out of the home
When walking through your home, figure out if the home has been vacant for a long period of time or not. This is important to consider prior to moving in for several reasons.
If the home sits by itself for a long period of time, problems can arise. A home needs constant care and attention, just like a car or child. Would you leave your car in an empty parking lot over the weekend? Would you leave an infant unattended for five minutes? No and no. A vacant home can develop issues depending on the duration of time. For example, if the water isn't running for a while, the water pipes can "forget" how to pump water to the final destination. Water needs to be run on a regular basis to ensure quality water is being used.
A vacant home can collect debris as well. The home is not being cleaned regularly, meaning, dust can collect, bugs can creep in or things can start to smell. During your final walk through, be conscious of these factors so you can treat the problem as soon as possible.
However, if the seller is occupying the home until your move in day, take advantage of their presence. During your final walk through, have the seller accompany you through the home. This gives you the opportunity to ask any last-minute questions. The seller knows every inch and quirk of the home and can tell you anything.
Some great questions to ask the seller include:
What's something you've always wanted to improve but never got to it?
What are the neighbors like?
Is there an appliance or fixture that needs more attention than others?
The seller will be more than willing to answer any questions, so why not fire away? You want to know absolutely everything there is to know about your new home. And who better to ask than the old tenants themselves.
Be sure to schedule your final walk through before your closing day. If something unexpectedly breaks or repairs are still needed, you'll want enough time to diagnose and treat the problem appropriately.
As you can see, the mortgage process doesn't end when you sign the papers or get your loan approval. It carries onward to the final walk through and beyond. A final walk through is a vital component during your home buying experience. You don't want to jeopardize yourself by skipping out on an opportunity to spot out any damages or concerns. You want to walk through excited, pleased and satisfied with what you see. This was a big investment, and it should live up to your highest standards and expectations.