Sources of down payment for first-time home buyers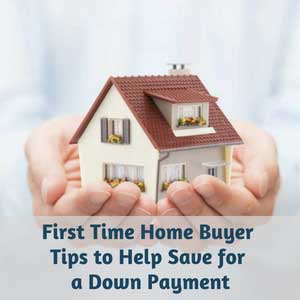 Two years ago a young couple in Ottawa bought their first home 2 years after graduating from college. Even though the house had a neglected front yard and some leaking pipe, they spent about a year fixing the mess. They managed to convert the basement into an income-generating area. The neighbors still don't understand how a couple in their mid-twenties could own a home so early. Yes, it is possible with a double income and affordable home price in places such as Vanier and Hinton burg, and Gatineau. The young couple had been saving money since they were 18 years. And when the time came to consider home ownership, the down payment was within their reach.
How much to save
Thinking about how to accumulate cash for a down payment? Relax. It may sound like a legendary thing but as long as you are determined and patient, it is very possible. You don't need to give up all the pleasures of life; it is the small things that matter. Conventionally, you need at least 5% money down or 3.5% for FHA loan but the amount may increase with extra costs on the table. If you want the lowest interest rate and avoid extra costs like private mortgage insurance, consider at least a 20% down payment.
With 20% money down, you will have a profound home equity right from the word go and won't incur extra costs. This is not an easy task. We are talking about $60,000 for a home value of $300,000. Note that the down payment is exclusive of closing costs and other related costs. Luckily, this amount doesn't get lost because you can have it back after selling the house plus added equity. But the 20% rule is not a hard rule. You can still choose a lower amount depending on your circumstances. Consider both the short-term and long-term Implications to make an informed choice. But how do you accumulate tens of thousands for a home purchase? Keep reading for more first-time home buying tips.
Pay down credit card debts
Bad spending habits can result in huge sums of money piled up on your credit. If you are trying to save while still having debts on your credit cards, you might be doing some zero work. It gives a false sense about your financial position. The best thing to do is to pay off your debts and then start saving. Your credit card balances should be the first bills you pay on your payday. You should actually automate your payments to stay debt-free.
Define the savings goals and have a plan
A down payment should not scare you because there are many lenders who accept less than 20% money down. Check if your province provides first-time homebuyer forums that offer smaller down payment options and low interest rates. When deciding on the amount of security deposit to save for, consider the type of house you need and the relative price in the area of your choice.
Save in more than just your regular savings account
Traditional savings accounts no longer exist these days. You should transfer your future home deposit to an interest-earning account. And when you are ready to commit to a serious saving plan, you can transfer your funds to a robust certificate of deposit account. You will not access this money for a period of time but you will be gaining a compounded interest rate f say 2.5%.
Save your bonuses, tax returns, and raises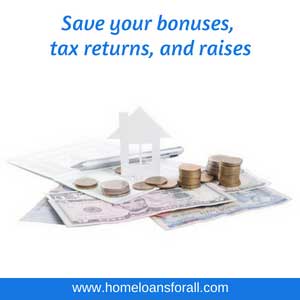 Every time you get a bonus or a raise is a tempting opportunity to inflate your spending habits. Rather than upgrading your lifestyle with a better car or posh apartment, put the money straight to the savings account. Maintain a simpler lifestyle and your savings will gradually increase without feeling a penny pinch. Fuel your saving momentum and keep your savings plan on point. You can even break down the savings plan into daily contributions. Suppose you need $40,000 down payment for your first house in Toronto. If you want to own a house in five years time, you need to put aside $8,000 per annum or $667 per month. This translates to $23 per day! Understanding what you need to save on a daily basis will help you to make smarter decisions. Saving small and gradually is absolutely fine. A home might seem way out of reach but you can get the ball rolling if you save gradually for the future.
Tap your Individual Retirement Account
Your IRA can help you a great deal when it comes to purchasing your first home. The taxation laws allow people to draw up to $10,000 for down payments of their first home. If you are married, the two of you can take a double amount and increase your mortgage approval odds. But you might be charged a penalty for withdrawing from the IRA depending on the type of IRA.
Get a monetary gift
There are family members who really love you and might be willing to help. Don't miss on such opportunities to raise your down payment. The tax laws allow several thousands of dollars as gifts without consequences on the recipient. The monetary gift can come from anyone and not just your relatives.
Start a side hassle
If your current boss has refused to give you a salary rise, getting a second job can help you to raise extra money. It makes sense for a young couple who are not fully established in their professional fields.
Special Programs
There are several programs for those who are struggling to save money for their down payment particularly the young couples. Many homeowners from all income levels and professions have taken advantage of government-sponsored programs and state agencies to acquire properties. There are also other non-profit making and community organizations that assist first-time home buyers to put money down.
Summed up thoughts
When buying your first home, consider an owner-occupy home. You may not afford the most gorgeous and updated house in the city but if you start saving for a down payment today, soon you will become a homeowner. Make sure you have paid off your credit balances, boost your savings, and look for more ways to raise income. After finding the extra bucks, invest them to generate more money because you'll need it for monthly installments. Good luck saving for your future home! Check out how much mortgage you can afford.