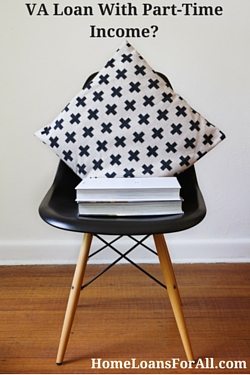 During the last recession the U.S. economy lost over 7 million full-time jobs. Thankfully today, all of those jobs, and more, have been recovered. Part-time employment has also gone up, and many of these workers come from a military backgrounds. This means that they are eligible for a VA mortgage. And veteran part-time workers if they really want to save a lot of money, need to stop renting and buy a home. It is one of the best investments you can make. Of course, qualifying for a VA home loan with full-time income is much easier. Although getting approved VA loan with part-time income can certainly be done if you know what to look out for.
What usually happens when someone applies for a VA loan with a part-time income, is that lenders have to make sure that you have a reliable enough income to ensure you will be able to continue making mortgage payments, well into the future.
If you're denied you should definitely re-apply, as each different mortgage lender varies and, just because you're not approved by one or two doesn't mean that you won't be approved by others. Although among all the different banks, in general, they have the deciding factors. Here are some things to remember and take into consideration when planning to and when you make the leap to obtaining a VA loan with part-time income.
Getting Approved for a VA Loan Requires A Reliable, Part-Time History of Work
When someone applies for a VA mortgage and wants to use part-time income to try and qualify, one of the most important factors is that your income is reliable. Which means that you need to have a good track record of working and preferably keeping your jobs.
There are a number of ways to make your VA loan income verification to appear more reliable.
If you can provide evidence of two years of employment this has a huge effect. Depending on the lender, they will either require proof of two-years part-time work with the same company. However, many lenders won't mind if the employment was with a few different employers but in the same industry/field.
If you don't have two-years work history, it's not the end of the road just yet. You might still be able to offset this with a compensating factor, like having financial reserves saved up or a low debt-to-income ratio. You also now have the option to make down payments on VA loans, which many military borrowers have decided to do.
The next thing that lenders will look for is if you have a stable history of number of hours worked per pay period. Like for example, if your paycheck shows that you worked for 25 hours over a period of two-weeks, and your following paycheck has you working for 50 hours, your lender will probably have a problem predicting your future income potential. As a general rule, most lenders like to see a consistent period of employment, as compared to hours which are all over the place. When it comes to VA mortgage loans, lenders who are VA-approved will be looking at your whole financial picture, instead of a checklist. This is one of the main reasons why VA loans differ so much from regular home loans.
How To Make Your Part-Time Income Count
When it comes to that time of the year for you to pay your federal income tax, it really doesn't matter what kind of income you're bringing in, if you are earning money, there will be taxes that you are required to pay on it. It's helpful to know that mortgage lenders don't see things in the same way. The fact that you earn an income doesn't mean that you'll be able to then use it to help get a VA loan approved. The only way you can use part-time income for a loan application is if your mortgage lender feels confident that your income will continue coming in for a reasonable period leading into the future. Only if the income is verified in this way and appears stable, can it then be used.
This can be quite a frustrating experience for borrowers who are working part-time jobs in the hope that this will help fulfill their dream of owning their own home. And these same rules apply to self-employment income, commissioned work, and even overtime income. Unless they are provided with a history and actual proof of continuance, it's highly unlikely that they'll allow that income to be used when applying for a mortgage loan.
If you're unsure a quick call to your lender will inform you whether your part-time income can be used to get approved for a VA loan or not. And please remember, if they don't it doesn't mean that all the other lenders won't either. Just keep contacting other mortgage lenders until you've exhausted all the options. It's not going to cost you any extra money. But it may take some time, and if this turns out successful in the end, that time will have been well spent.
Ready to compare VA mortgage rates? Click here