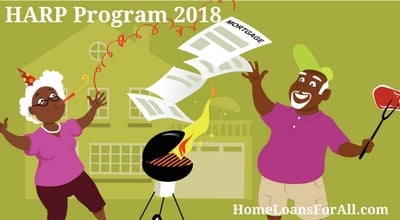 The FHFA's (Federal Housing Finance Agency) Home Affordable Refinance Program was scheduled to end next month. September 30th to be exact. Fortunately for many homeowners  that isn't the case anymore. Introducing HARP 2018
The FHFA made an announcement on Thursday that the now HARP 2018 program is being extended through Dec. 31, 2018, which will add an additional 15 months to the program's already extended lifespan. The now extended program will allow Fannie Mae and Freddie Mac to implement some new streamlined refinance offerings. This will be targeted towards borrowers with high loan-to-value ratios.
Get Help Pre Qualifying for a Low Credit Home Loan – Click Here!
The FHFA said Thursday that the new HARP high-LTV refinance program is going to unveil in October, but the program is still being modified slightly, which makes it necessary to extend the HARP deadline through all of 2018.
The FHFA said in its announcement Thursday that they are going to establish an eligibility date which will make the new refinance program available for loans originated on or after Oct. 1, 2017.
Under the new changes, the government sponsored enterprises (Fannie and Freddie) will "modify the structure of future risk-sharing transactions to accommodate the High Loan-To-Value Streamlined Refinance program by allowing the recently refinanced loans to return to the reference pools in place of loans that prepaid," the FHFA said. The first rule to eligibility is that your loan must be a conventional loan mortgage backed by Fannie Mae or Freddie Mac
The FHFA says that this change will help preserve credit loss protection on the mortgages without undoing the protection paid for via CRT transactions.
The FHFA also stated that the changes to the HARP 2018 High Loan-To-Value Streamlined Refinance program "will appropriately balance continuing to offer assistance to underwater borrowers with protecting taxpayers."
The HARP 2018 refinance program is a great way for homeowners that may be upside down or have lost their equity to refinance their mortgage. By doing this it will generally put them back into better financial mortgage shape. This could make all the difference in the world when it comes to ensuring you can make your mortgage payment and avoid possible foreclosure.
Related Articles:
HARP Loan Program Guidelines 2017