What is a Florida VA Loan?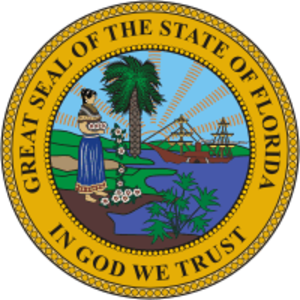 Obtaining a Florida VA Loan can mean substantial savings when you purchase your next home. If you've spent any time researching mortgages, you likely know that not all loan programs are created equal. Military Mortgages have much more favorable terms when compared to conventional mortgages offered by private lenders.
A VA loan is a mortgage offered by private lenders but guaranteed in part by the federal government.
The backing of the federal government makes private lenders more likely to issue financing to individuals and families who don't qualify for conventional loan products.
Eligible service members can qualify for a Florida VA loan based on their commitments and specific duties within the armed forces. Most people value these military mortgages because of the advantageous program.
These loans are also one of the best around if you're a Florida first responder who also served in the armed forces.
Pre-qualify for your Florida VA Home Loan Today. Click here!
Florida VA Loan Benefits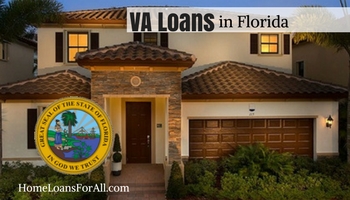 To see exactly what you could gain from a military mortgage, you can take a look at these detailed benefits below.
Saving up for the down payment on a home can mean that you will need to wait years to come up with enough money. In the past, private lenders typically requested a twenty percent down payment for a conventional mortgage program. With a VA loan in Florida, most lenders are willing to waive the down payment because of the guarantee from the Department of Veterans Affairs. This equates to substantial savings that could equal tens of thousands of dollars.
No Private Mortgage Insurance
When homeowners have a down payment of less than twenty percent, most lenders will require them to keep private mortgage insurance (also known as PMI). This fee is designed to help provide protection in the event that you default on the mortgage. The average fee usually equals anywhere from 0.3 percent to 1.5 percent of your loan value annually. VA loans do not require private mortgage insurance, which makes homeownership more affordable on a monthly basis.
No Penalty for Paying Off the Loan Early
Experts agree that you can save significant amounts of money in interest by paying off your loan early. Depending on the specific terms of your mortgage, this prepayment could result in penalties and additional fees to make up for the lender's lost revenue. Importantly, a VA loan in Florida doesn't charge any penalty fees for paying off a loan early or making extra payments.
Loan Assistance Available from the VA
Do you think you may have some difficulty making ends meet in the coming months? The Department of Veterans Affairs has representatives available to offer loan assistance programs to prevent a possible foreclosure. If you feel that you may be in danger of losing your home, don't hesitate to reach out for loan assistance.
Veterans in Florida Eligibility
Only service members, veterans, and their spouses may qualify for a VA loan in Florida. There are strict criteria regarding your service commitment in the armed forces. They will render if you are eligible for a Certificate of Eligibility. You must qualify for this certificate in order to receive a military mortgage from any lender.
For details on the service requirements for a VA loan in Florida, you can view the criteria here.
A Certificate of Eligibility is the first step toward making the final purchase of a new home. Once this is obtained, it's time to find a property that will qualify for financing through this government-sponsored program. Many of the most common types of properties will qualify, including:
Single-family homes
Condominiums in VA-approved projects
Manufactured homes or lots
However, many homeowners are surprised to learn that they aren't limited in the types of properties they can choose. Many lenders will also issue military mortgages for some of these less common scenarios:
Building a new home
Renovating a recently purchased home
Installing energy-efficient features or improvements
Also, you may apply for a Florida VA loan to refinance your current property at a lower interest rate. This allows you to take advantage of the significant benefits associated with VA loan rates in Florida, even if you purchased your home some time ago.
Loan Limits by County in Florida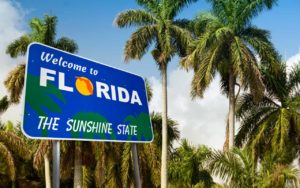 The specific amount you can borrow for a mortgage will ultimately be determined by your lender. Your pre-approval amount depends upon your credit history, income, debt, and the overall consensus on what is affordable for your unique financial situation.
However, there are some limits to what a VA loan in Florida can allow you to borrow without a jumbo VA loan.
These amounts are based on the cost of living for each county, but the VA loan limits in Florida are typically around $453,100. It is not a guarantee that you will be approved for this full amount, but this is the maximum that a lender will consider while still maintaining the benefits of the program.
Besides, a military mortgage that exceeds these VA loan limits in Florida will require some type of down payment.
There is one major exception to the standard VA loan limits in Florida though. Monroe County has a substantially higher limit of $529,000.
VA St. Petersburg Regional Loan Center
Homeowners who want additional information regarding a military mortgage can reach out to their regional loan center. Trained representatives are available to answer questions regarding eligibility, the application process, and the first steps you need to take to receive a VA loan in Florida.
Also, your regional loan center is equipped to help connect with your loan assistance programs if your home is at risk of moving into foreclosure.
Service members who are applying for a Florida VA loan will want to refer to the St. Petersburg regional loan center. This office is responsible for 2.3 million veterans, including those located in Florida, Alabama, Mississippi, Puerto Rico, and the Virgin Islands.
Florida Home Prices
Can you actually afford to purchase a home? This is a question many potential buyers find themselves asking throughout the purchase process. You can determine affordability at a quick glance. Take a look at the median home prices in your area.
Florida is seeing tremendous growth in its real estate market which is consistent with home prices in the rest of the country. Over the past few years, home prices have increased by almost eight percent. While they continue to rise, the current median list price is roughly $284,900 with a square foot price of $160.
Some cities will have a lower median list price, including Jacksonville. The current median list price among all properties in Jacksonville is close to $176,000 with a square foot price of $108.
By comparison, the median list price in the major city of Miami is significantly higher. The current median list price of all homes listed in Miami is around $454,000 with a square foot price of $414.
Regional Benefit Offices
Clearly, the regional benefit office may be able to connect you with other programs and services available in your local area. They may be able to offer more information regarding the loan process and eligibility requirements as well.
St. Petersburg Regional Benefit Office
9500 Bay Pines Boulevard
St. Petersburg, FL 33744
Florida VA Loan FAQs
I have bad credit. Can I still get a Veterans Loan in Florida?
Yes, applicants with low credit scores may still qualify for a Florida VA loan. This type of military mortgage has no minimum required credit score. Moreover, lenders are able to issue loans at their discretion and still receive the guarantee offered by the federal government.
Get help with your home loans for bad credit by reading our article here.
If you can find a lender who is willing to work with your credit, you can qualify for a VA loan in Florida.
Can a surviving spouse receive a Florida VA loan?
Yes, a surviving spouse who meets all of the criteria may receive a VA loan in Florida. You must be an unmarried surviving spouse unless you are over the age of 57 and remarried after December 6, 2003. You must also meet one of the following requirements:
Must be the spouse of a veteran who died while in service or from a service-connected disability
Or Must be the spouse of a service member who is missing in action or a prisoner of war
Or Must be the spouse of a totally disabled veteran whose disability may not have been the cause of death
What is the VA loan rate in Florida?

The VA loan rates in Florida will vary based on your personal credit history and financial factors. Lender's preferences and rules can also affect the rates. Mortgage rates are constantly fluctuating; and it's OK. So, check with your lender to see what the current Florida VA loan rates are today.