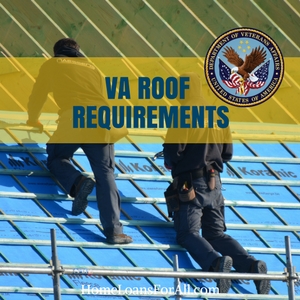 When you purchase a home using a VA mortgage, every eligible property has to pass the VA appraisal and inspection process. The Department of Veterans Affairs has a list of minimum property requirements in place to help protect veterans from purchasing a financially draining new home. All of the standards relate directly to the safety and sanitation of the property rather than to cosmetic standards. The VA roof requirements are a subsection of this appraisal, allowing you to take a closer look at what happens to be on top of your new home.
There are some unique roof requirements that apply to VA loans, even though this may not always be the case with conventional mortgages. The VA roof requirements are much more stringent in order to protect the veterans who are considering purchasing these properties. A private lender with a conventional mortgage might be able to overlook some of the more minor issues that would derail a VA loan.
Get Help Pre Qualifying for a VA Low Credit Home Loan – Click Here!
To prevent a potential holdup with your financing, it might be necessary to take a closer look at whether your property will meet the VA roof requirements or not.
What is on the VA Loan Roof Inspection Checklist?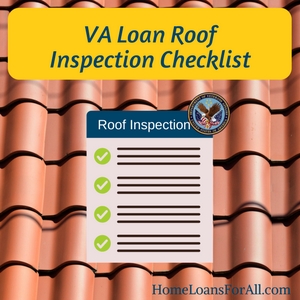 Your appraiser has a long list of items they are required to look for during the walkthrough of your property. The roof is simply another item on their list. What exactly is included in their VA loan roof inspection?
The exact specifications for the roof are found in the VA Pamphlet 26-7, specifically in the Lender's Handbook in Chapter 12 under the Minimum Property Requirements. Appraisers are really evaluating the roof for two very specific criteria. Does it prevent the entrance of moisture? Does it provide reasonable future utility, durability, and economy of maintenance?
There are no other specific criteria that show specifically which roofs will pass a VA home inspection. Some of this the appraiser will have to consider to determine what constitutes an issue with your unique property.
Prevent Entrance of Moisture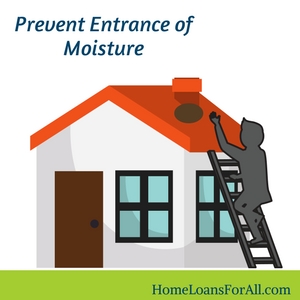 All homeowners would agree that the roof's primary function is to keep the elements at bay. You wouldn't want to purchase a home that already has extensive water stains on the ceiling from an active leak. The ceiling might be bowed from the weight of all the water or it could just be small brown patches that indicate some moisture was recently there. Either way, the appraiser takes this entrance of moisture very seriously.
The roof on a particular home should be able to prevent moisture from entering your living spaces without much effort. If the room is already demonstrating that it can't handle a rainstorm, the problem will worsen over the coming months or years. This can devolve into an expensive issue not too far down the road. This brings us to our very next point.
Provide Reasonable Future Utility, Durability, and Economy of Maintenance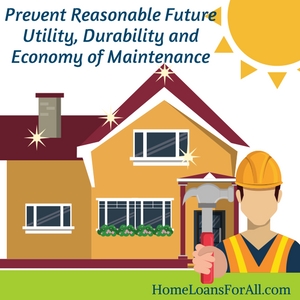 An appraiser wants to see that the roof on your new prospective property is likely to withstand at least two years' worth of daily wear and tear. That means that most of the shingles should be in place with no leaks on the inside. Any other signs that the roof could be in disrepair are also red flags to an appraiser, including sagging.
This standard is to protect you as the home buyer from purchasing a home that already needs an expensive repair upfront. This can help to protect your financial interests long-term. So, you can avoid shelling out for a roof that costs thousands of dollars immediately.
You may be able to have the roof replaced and still move forward with the financing for this property. Keep in mind that if the property has more than three layers of shingles, they must all be removed and replaced before the replacement.
These are the standards for the VA loan roof inspection. However, remember that the home needs to comply with local building standards first and foremost. Any extra standards imposed by the VA should be secondary to these codes.
How Can I Get the VA Roof Certification?
If the appraiser notes anything odd about your roof, you may be asked to get an additional VA roof certification. These are not always necessary. BUT you might want to consider getting one if you believe that your financing might otherwise be derailed by the roof. They can recommend more detailed repairs and a future course of action for the property.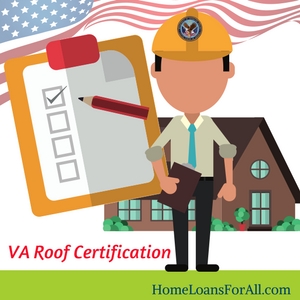 A roof certification is a detailed inspection of the current state of the roof by a licensed specialist. This is different than your home inspector and appraiser. They do not typically have the experience and know-how to issue a thorough VA roof inspection. These experts look at the condition of the roof, including any movement, the soundness of the flashing, and even the gutters and downspouts.
When there are no repairs needed, they are generally asked to estimate the remaining lifespan of the roof. For a VA loan, the lender wants to see that it should last a minimum of two years.
Who Issues the Roof Certification?
A professional roofer will issue your roof certification. They might be able to issue this guarantee immediately, as long as there were no repairs necessary to the property. On the other hand, the company should be able to issue a roofing certification after they perform any of the repairs.
This certification should be good for two to five years, depending on your area and the lifespan of the roof.
VA Roof Requirements
Passing a VA loan roof inspection doesn't have to be difficult or worrisome. Those VA roof requirements are to make sure that you purchase a home that is safe for the years ahead. Consider the inspection and the guidelines set out in the VA pamphlet 26-7 as an excellent lens through which to view potential properties. After all, would you really want to purchase a home that didn't meet the VA roof requirements?
Take a look at some other Common VA Appraisal Problems by reading our article here.