Before the last housing bust, it was easy to secure a mortgage loan with bad credit. This has been blamed for much of what blew our economy to smithereens. To avoid the next financial disaster, banks are taking the time to thoroughly check your credit when you apply. There is no need to lose heart, however, if your credit is not perfect. Here are 6 tips to fix your credit when buying a home.
6 Tips To Fix Credit When Buying a Home
Tip 1: Pay off old collections
The first step to fix your credit is to pay off any collections or judgments as quickly as possible. Make sure you then contact those creditors and request that they report those accounts as paid. Lenders make human decisions; so even a judgment that has a few years before it drops off your report will look better if it says paid next to it on your credit report. If paying off collections and other negative items just isn't financially possible……..mortgage preparation/credit restoration is an excellent option to fix your credit, bring your scores up quickly and have you mortgage loan ready in a very timely manner.
Tip 2: Payment history
Paying bills, especially credit cards and other revolving credit accounts on time and regularly, shows responsibility. That's what lenders want to see: Not only your ability to pay the loan back, but your willingness to do so. Get those over limit and past due accounts shored up as soon as possible. Then, keep paying all your bills on time, including your utilities. If you go on vacation and your cell phone company hits you with a $1,000 roaming charge, haggle or settle with them; don't walk away from that bill. It will only continue to haunt you. If your cable company makes you angry by raising your rates or changing your channel package, don't shoot yourself in the foot by not paying a $200 bill.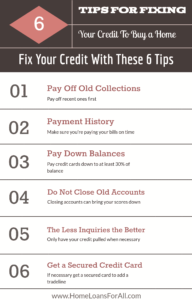 Tip 3: Pay down balances
Reduce your credit card balance to 25% or less of your credit limit on every card. On most free credit score websites today, they will show you with color graphics when you are hitting the "red line" on your optimal account debt. Don't apply for new lines of credit. Nothing dings your credit faster than inquiries from financing companies; especially when you already have high balances. It makes you appear as if you are "fishing" around for money you don't have or can't pay back.
Tip 4: Do not close old accounts
Closing your credit card accounts won't fix the problem. It is only like chasing your tail, because your high open balances then reflect as a higher percentage of your overall credit availability. Consequently, if you have an old credit card that you laid aside early in your plan to improve, break it out and use it in small purchases that you can pay off by the end of every billing cycle. This will show up on your credit report as responsibly handled credit.
Tip 5: Don't let anyone pull your credit
Don't make major purchases on credit, even if it is some "90 Days, Same as Cash" mumbo jumbo at the warehouse store. That big screen TV looks nice, but leave it on the shelf in the electronics department. You can wait until you are in your new house to pick up all the goodies to go with it. Don't listen to the dealer when he tells you it will cost you more to fix your car than it is worth; right after he sees you looking at the latest luxury models on the lot. Take your keys, thank him for the free diagnostic tests, and truck on over to the guy your friend at work knows who charges a third of the price for the same repairs.
Tip 6: Get a secured credit card (if necessary)
Other little things, such as getting a secured credit card, or subscribing to a credit update service, can be helpful; but they aren't really necessary. Secured credit cards are for people who have fallen completely off the credit radar. If it's been months since you had an active credit card, all your accounts are in collections, or you have recently come through a bankruptcy; then by all means, use a secured card to get a foothold. If this is the case, however, be prepared for the journey back to functional credit to be a long one. Where there is a will, there is a way. Be patient. Be vigilant.
Conclusion
Remember, a reputable lender will be on your side. They want you to win the credit battle, because they want you to qualify for the loan. It's how they make their living. So, they will gladly tell you which credit card to pay off soonest if you can't pay them all. Regularly checking with your lender as you move through the process of credit repair to fix your credit will help speed the process. Feel free to call them if you have any question about any decision regarding your credit…..like the telemarketer on hold trying to sell you a timeshare! Home Loans For All only partners with lenders that will be there for you and more than happy to keep giving you credit advice every step of the way. We hope these tips to fix credit have helped.