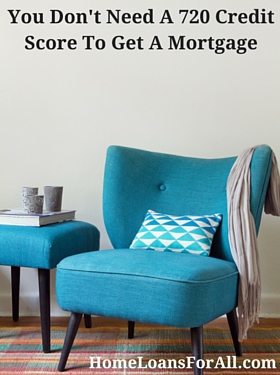 If you're considering buying a home, your credit score is really important. Banks and lenders will use your credit score to decide how worthy of credit you actually are. But it doesn't need to be nearly as high a score as people often assume. Although this does affect your mortgage rate, and if it's really low you actually might not be eligible, however, you don't need a 720 credit score to qualify.
What Exactly Is A Credit Report?
Your credit report is a type of record that explains in detail the kinds of credit you regularly use, for how long, and how often you pay your bills on time. On the flip side, it also explains in detail if and how many payments you've been late on, missed entirely and if you have any accounts in collection. Basically a history of all the credit you've used and even takes a note of if you've been looking for any new places to get credit. Apart from that, your credit report will have information on where you currently live, and if you've been sued, or if you have filed for bankruptcy.
Where Can I Get My Credit Report?
You can always try going to the big three credit bureaus or you can visit our partner by clicking Check Your Credit Scores FREE!
They have files on millions of people. And lenders before making any credit decisions will pay them for these credit reports, saving them countless millions in the process, by helping them tell if an applicant will or won't likely be able to pay back a loan. And don't think that this is anything personal. Any person that applies for new credit cards or other types of financing is checked up on from one or more of these credit bureaus. A compilation of your credit report is provided when your lender asks for it. Containing all the information from lenders, you and from any court records.
To get your credit report, you must provide all your details, including your Social Security number. You may need to include your previous address if you've moved in the last two years. To make certain that there are no inconsistencies in your reports, it is advised that you check your credit report from all three credit bureaus just as lenders do.
In today's financial world and in the world of mortgage, these three credit bureaus are the only ones that matter. In fact they are collectively known as "the major credit bureaus". It's important to know that your lenders will typically come back to you with multiple scores, which can be quite confusing to know exactly which "score" you need to review.
But if you're looking to mortgage a home, the scoring system looks like this:
TransUnion – FICO Risk Score 04
Equifax – Equifax Beacon 5.0
Experian – Experian/Fair Isaac Risk Model v2
Each time a mortgage lender checks someone's credit, it's actually checking the scores for these products. Takes the median of the three (the middle one), and this is your credit score.
Also, if you are applying for a joint mortgage, lenders will automatically choose the lesser of the two middle scores. Credit scores are called often called "FICO scores", named after the Fair Isaac Co.
How Can I Improve My Credit Score?
Luckily if your credit scores are currently low, there are there are some things you can do to bring them up, and quickly.
One of the best things you can do to raise your score is to simply start paying your bills on time. Even payments that are a few days late can have a really negative effect on your score and this effect compounds over time. Older credit problems fade with time and as long as you keep your recent payment patterns in check, the score will keep rising.
If you're really in a financial bind trying to afford paying your bills on time, if at all, then you should seriously consider booking an appointment to sit down with your creditors or an even better option is you go and see a debt counselor/credit restoration specialist. They can be a financial lifesaver, being trained to deal with people in your exact situation. Sure, this may not improve your credit score dramatically in the beginning, but if you do what they tell you to, and you keep it consistent, your credit score will definitely bounce back within a reasonable amount of time. Many people mistakenly believe that by seeking debt counseling and/or credit restoration they would hurt their FICO Scores. But there is no factual data to back this claim up…
What Are Current Mortgage Rates?
Learning the variables involved in getting a mortgage and the ways these variables will affect your interest rate is very important. One of the best places online to find and compare mortgage rates or just to find out how much mortgage you can afford is Home Loans For All. Almost every variable that goes into calculating interest rates and estimated monthly payments is provided here…for free.
What Is An FHA Loan?
This is a mortgage that's insured by the Federal Housing Administration.
The FHA was established in 1934 by congress to help borrowers in lower income brackets get a mortgage. Unlike a normal mortgage, the FHA loans are actually backed by the government. Helping to protect lenders against any defaults, and helping them to offer their borrowers a better interest rates, on what would in normal circumstances be considered "risky loans".
How To Qualify
FHA loans have easier credit qualifying guidelines than most lenders, and relatively low down payment requirements and closing costs. Your down payment can actually be as low as 3.5% of the purchase price, as long as you have a credit score of at least 580. Closing costs will often be added to the loan, so you don't need that much cash to close.
If you ultimately decide to do nothing about your bad or impaired credit, time will often come to be the best healer of a bad credit report. Just know that if you're relying on just time itself, do not expect to be able to finance anything for a while and of course getting your much anticipated mortgage approval will have to sit on the back burner. So long story short, you really do not need a 720 credit score to qualify for a mortgage.
Ready to find a lender? Click here to find and compare mortgage rates.