Columbus, Ohio is a beautiful city and a great place to raise a family. And while, yes, you could probably rent an apartment or find a duplex situation in the suburbs, there's still no better place to raise a family than in a home. It's more than a place to live: it's security, it's the freedom of living on a property that's truly your own, and it's a long-term asset whose value will appreciate over time.
When you have bad credit, this dream of owning a house can seem out of reach. But that's why today we're going to tell you all about the best bad credit home loans in Columbus, Ohio.
Get Help Pre Qualifying for a Columbus Low Credit Home Loan – Click Here!
If you want to find a home loan, you should first understand what it is mortgage lenders in Columbus are looking for when they approve or reject your application. The first measurement they consider is, of course, your FICO credit score. This is a single number that's calculated to represent your history of credit use and how often you pay off your debts If you make regular payments on your bills and existing debts, you will have good credit (which for a home loan is usually 620 or higher.). But if you're utilizing a lot of your existing credit lines and you let your payments fall by the wayside, your credit score will go down.
The second most important factor when you're applying for a home loan is your debt to income ratio. This is pretty much exactly what it sounds like – the percentage of your total gross income that is taken up by paying for your debts on a monthly basis. Most lenders want this ratio to be no higher than 40 percent.
Finding A Mortgage Lender In Columbus With Bad Credit
Are you looking for a Columbus home loan lender that will give with bad credit at a good rate? Well, conventional home loans usually require a high credit score, but the federal, state, and city governments have programs in place with much more lenient credit requirements. Columbus home loan lenders will also look at your application differently if you have a co-signer, participate in credit repair, or rent-to-own before you buy outright. We'll look at all of these options in the coming article.
Government Programs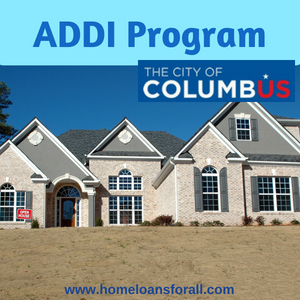 City Of Columbus ADDI Program
The City of Columbus does a lot with community revitalization, subsidised home repair, and subsidized home construction. In most cases, they don't actually deal directly with bad credit home loans. But they do offer the American Dream Downpayment Initiative program, or ADDI. This program is available to first time homebuyers who meet certain income (but not credit) guidelines and receive homebuyer education from a Housing Division Certified Agency. If you are eligible, you may receive up to $5,000 in down payment assistance.
Down payment assistance is not the same as an actual bad credit home loan in Columbus, it's true. BUT bad credit loans, especially if said credit is below 500, often come with larger down payments in order to offset the risk. So something like the ADDI can help you afford a loan you might otherwise be eligible for but be unable to pay.
The state of Ohio also offers some down payment assistance programs that might be worth looking into, and you can read all about them here. As well as the Ohio Heroes program, which we wrote about in detail here.
Federal Programs
If you're looking for an actual bad credit home loan in Columbus, Ohio and not just down payment assistance, it's time to start looking at the useful mortgage programs that are insured by the federal government.
(Looking for home help for single mothers in Ohio? Read about those programs here!)
FHA Loans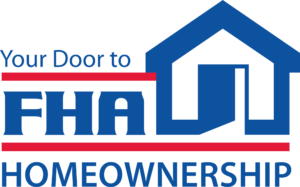 This is a type of bad credit home loan in Columbus that is insured by the Federal Housing Administration. There's a popular misconception that says these loans are only for first-time homebuyers, but they're actually available to anyone!
FHA loans in Columbus, Ohio give us the "best of both worlds" by combining lenient credit requirements with low down payments. If your credit score is 580 or higher, you will only have to make a 3.5 percent down payment on this type of home loan. If your credit score is below 580, you may have to provide alternative forms of credit (like proof that you pay your utility and phone bills on time) and will likely pay a larger down payment. The highest this down payment will cost is 10 percent of the home's value – a far cry from the 20 percent down payment asked by most conventional loans!
VA Loans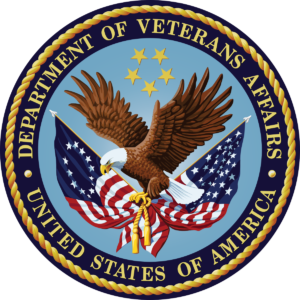 This is a type of bad credit home loan in Columbus that is insured by the Department of Veterans' Affairs. They are only available to veterans and eligible members of the armed services. VA loans have no minimum credit requirement, no down payment, and no expensive private mortgage insurance. So they're not only more accessible, they're a lot cheaper too!
First Time Buyers In Columbus With Bad Credit
First time home buyers in Columbus who have bad credit should look first and foremost at the FHA home loan program. This program has a very low down payment, so if you haven't had time to save up some money for closing costs it's very beneficial. And there's no minimum credit requirement, so as long as your credit's not in the "disaster area" below 500 you should be fine (and even if you are, you may be able to provide alternative forms of credit if you can find the right Columbus home loan lender that will give with bad credit at a good rate.)
The Columbus, Ohio VA loan is actually better than the FHA loan because it doesn't require you to pay expensive private mortgage insurance, but VA loans aren't as readily available to most home buyers. However, if you can take advantage of the program, you definitely should!
Cosigner on a Columbus Home Loan
Still can't give up on that conventional home loan in Columbus? Well, even if you have bad credit, you might be able to score a loan with better terms if you can find someone who is willing to co-sign said loan with you. The co-signer's credit will be considered along with yours, giving you a better chance to get accepted and better terms if you do. However, they're also tying their credit to your property and assuming a certain amount of responsibility for the loan, so make sure that your co-signer can trust you and that you can trust them.
Rent To Own Options in Columbus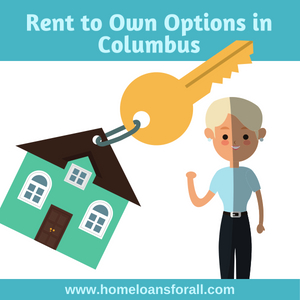 If you've exhausted all your options for finding bad credit home loans in Columbus, you'll need to start looking at other options. One option for those who still want to buy a house in the future is a rent-to-own contract, which is lets you find a place to live while you repair your credit and save up for a full-fledged home loan.
Rent-to-own contract are rental contracts and come with more lenient credit requirements than a full home loan. However, you will have to make an additional payment up front called a potential options fee, which works similar to a down payment or closing costs on a mortgage. After that, a portion of your rent payments will be put towards the principal of the property you want to buy.
Once the lease is up, you will be able to buy the home outright. This will require you to seek out additional financing.
Bad Credit Mortgages In Columbus After Bankruptcy
Filing for bankruptcy will impact your credit score will be in a major way. Few things cause more damage more quickly to a credit score. Filing for bankruptcy also makes it more difficult to get another loan in the future, because conventional loans require you to wait seven years before you can apply for another mortgage.
However, bad credit home loans in Columbus have much more agreeable waiting periods. VA loans only require a two-year wait and FHA loans only require three years. If you take time to rebuild your credit during the short wait, it will be easy for you to get a Columbus bad credit mortgage with good terms.
How To Improve Your Credit Score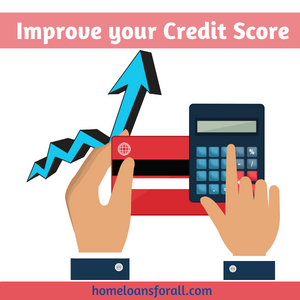 Improving your credit score when you have bad credit in Columbus, Ohio can take a lot of time and effort. But – and this is important – there is nothing that a credit repair agency can do for you that you can't already do on your own. We have more information on this topic in our full article here, but basically there's two things you should be doing if you want good credit: paying your bills and getting rid of your existing debts.
Paying your bills in full and on time every month has a huge impact on your credit score if done regularly. It demonstrates to moneylenders that you are a responsible debtor and a stable financial investment. And since bill payments are one of the biggest things that gets looked at when your credit score is being determined, it's just good sense that regular payments = good credit.
Paying off your existing debts and lowering your overall credit utilization improves your credit score and lowers your debt-to-income ratio, allowing you to more easily secure a bad credit home loan in Columbus.
Conclusion
Bad credit home loans in Columbus are easier to find than you might think! Don't give up even if you face a few rejections. Remember: home loans are for everyone, not just those high income buyers who can afford the best terms. Everyone deserves to live in a place that they can call their own.