Trying to buy a home with bad credit is one of the most stressful things in the world. Owning a home provides a sense of freedom and security you just can't get from an apartment. Plus, a home is a long-term asset and its value will appreciate over time. But you can't buy a home without a mortgage. Today, we're helping out our friends with low credit with the best bad credit home loans in Fort Worth.
The reason your credit score is so important to Fort Worth mortgage lenders is that it's seen as the primary measure of your financial reliability. A high credit score shows that you pay your bills regularly and that you're not using all of your existing lines of credit. That suggests to lenders that you will make regular payments on your mortgage, too, and that they won't lose money.
Get Help Pre Qualifying for a Fort Worth Low Credit Home Loan – Click Here!
But bad credit doesn't have to be the end of your hopes for a home. We're going to go through government programs for loans, down payment assistance, credit repair, and other options that will help you find a bad credit home loan in Fort Worth.
Loans For People With Bad Credit In Fort Worth
Once your credit has been damaged, it can take a long time to rebuild it to a point where most lenders will accept your application for a conventional mortgage. It may be time to start looking into government programs that are designed to help make homeownership a reality for first-time buyers, low-income families, and home buyers with bad credit.
Government Programs
Looking for programs offered by the state of Texas? We have an article on the subject here.
FHA Loans in Fort Worth, TX
The FHA loan program provides you with a bad credit home loan in Fort Worth that is insured by the Federal Housing Administration (but still paid out by a local mortgage broker). These loans are great for Fort Worth home buyers with bad credit because they have no minimum credit requirement and low down payment, as well as more lenient income requirements in general. If you're a first time home buyer looking for a bad credit mortgage alternative, this is our top recommendation.
VA Loans in Fort Worth, TX
VA loans are similar to FHA loans in that they're insured by the federal government, but they have some major additional pros and cons. The biggest pros are the fact that VA loans in Fort Worth don't require you to pay any kind of down payment and waive the private mortgage insurance that you have to pay for the entire duration of an FHA loan. The biggest con? These loans are insured by the Department of Veterans Affairs and are therefore only available to eligible veterans and service members.
Fort Worth HAP
The City of Fort Worth's Homebuyer Assistance Program, or HAP, provides mortgage assistance for first-time homebuyers looking for a home in Fort Worth, Texas. This program has no minimum credit requirement and can be used for $3,000 worth of down payment assistance or for $14,999 of assistance with a bad credit home loan in Fort Worth.
Why would you consider the down payment option? Well, a lot of bad credit home loans in Fort Worth will ask for larger down payments to make up for
You can find full eligibility requirements for the HAP here.
Rent To Own Options in Fort Worth, TX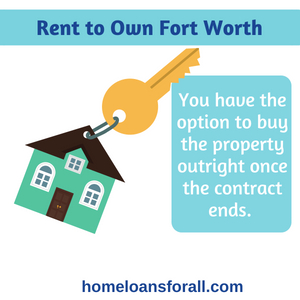 You're unprepared, unable, or just uninterested in applying for a government-insured bad credit home loan in Fort Worth? A rent-to-own contract might be just what you're looking for. This type of contract has the lower credit requirements of a rental contract but allows you to have the option to buy the property outright once the contract ends. One of the requirements is a potential options fee paid upfront. You can start living in the property now! You only need to start rebuilding your credit and save up for the financing to buy the property outright once the rental period has ended. So, if you need a place to live while you prepare for the major commitment of a mortgage, a rent-to-own option might be just what you need.
Cosigner on a Home Loan
If you don't want to rent to own, you might want to find someone to co-sign a bad credit home loan with you. Finding a cosigner is an option that's especially popular with first time home buyers in Fort Worth. People who want to own a house but who may not have had time to save up or to build up a good credit score.
A cosigner's credit score will boost your own. This allows you to apply as though you had better credit. This means better terms, lower down payments, and a better chance of getting accepted. However, the cosigner will be absorbing a certain amount of risk by tying the property to their credit. So, you should make sure that all parties understand the risks involved with this option.
First Time Buyers In Fort Worth, TX With Bad Credit
For first time buyers with bad credit, we highly recommend the FHA loan. It is the best bad credit home loan offered in the city. As long as you have a credit score above 580, you only have to pay a 3.5 percent down payment, and even if you have credit below that number you still won't have to pay as much as you would on a conventional mortgage. First time home buyers in Fort Worth usually have not had time to save up for a down payment. Also, they may not have had enough credit history to build up their score, so this option provides such a buyer with the "best of both worlds".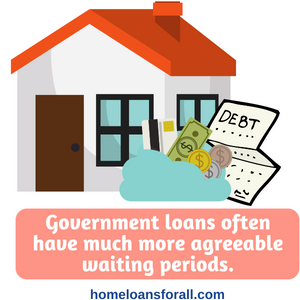 Bad Credit Home Loans In Fort Worth After Bankruptcy
Filing for bankruptcy in Fort Worth will cause serious damage to your credit score. It will also make the process of finding another loan in the future more difficult because of the seven-year waiting period. This much time is required for filing for bankruptcy and applying for a new conventional home loan in Fort Worth.
However, bad credit home loans in Fort Worth like the kind offered by the government often have much more agreeable waiting periods. VA loans only require a two-year wait, while FHA loans have a three-year waiting period. This is enough time to start paying your bills, reducing your lines of credit utilization, and repairing the damage done to your score by filing for bankruptcy.
Assistance Available In Fort Worth, TX
We want this article to be fairly comprehensive, but we only can give a very general idea of what it's like to apply for a bad credit home loan in Fort Worth. If you're looking for some more personalized home loan help, the TSAHC offers a number of useful seminars and can answer any questions you have about the home buying process in the state of Texas. HUD-approved counseling agencies are also helpful if you're thinking of applying for FHA and VA home loans.
Homestead Tax Credit
The homestead tax credit allows you to withhold a certain amount of money from your property taxes. It only works if you live in a home while you're still paying off the mortgage. Also, it only concerns either a flat dollar amount or a percentage of the home's value. This shows that there's assistance available in Fort Worth after you've already found a bad credit home loan. If you want to save as much money as possible, you should always seek out as much of this assistance as possible!
How To Improve Your Credit Score
If you want to improve your credit score, it can take quite a bit of time.  It takes even longer if you've ever had to foreclose on a loan or file for bankruptcy. That's why it's best not to think of credit score as one big activity that you need to undertake all at once. It is rather a series of smaller regular actions to working towards a good credit score. You can do these things even if you're searching for a bad credit home loan in Fort Worth!
Here are the two big things you can do to improve your credit. First, pay your bills consistently, on time, and in full as much as possible. Missing even one payment can hurt your credit quite a bit. Making regular payments, though, can improve it more than you might think.
The second thing you should do if you want to improve your credit is paying off your debts. You don't have to do them all at once. One at a time is a good pace for building up your credit score. This means that you will be reducing your overall credit utilization and improving your debt-to-income ratio. When you have less debt, lenders feel more comfortable about your ability to add more debt.
Conclusion
Now you know about the many excellent bad credit home loans available in Fort Worth. We hope you'll be able to find a loan of your own before too long! We truly believe that everyone deserves a home loan and that anyone who wants should be able to find one. And soon, you'll have a place in this beautiful city to call your own.