There's no better way to grab a piece of the American dream for yourself than to own your own home. Safety and security of your own private property combined with the freedom of renovating the building however you'd like.
Get Help Pre Qualifying for a Texas Low Credit Home Loan – Click Here!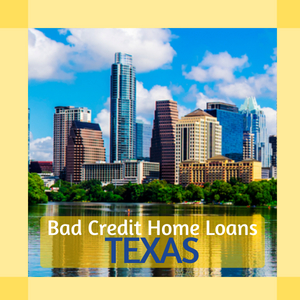 But when you have low income or bad credit, homeownership can feel more like the American nightmare. But don't worry – today we're going to teach you all about how and where to find bad credit home loans in Texas, along with alternatives like finding a cosigner or renting to own.
The idea of a credit score is simpler than it sounds. It's simply a measurement of your financial health and your history of repaying the lenders that you borrow from.
A lower score usually indicates that you regularly miss payments or borrow large sums of money without paying them back.
Of course, it may also mean simply that you are a first time home buyer! Either way, credit scores are important because they are the first thing that a lender considers when deciding whether to approve or reject your home loan application.
Your debt-to-income ratio is another important factor to keep in mind – the amount of payments you make on your debt in a month relative to your gross income.
Most bad credit home loan lenders in Texas want your D-I ratio to be no higher than 40 percent.
How To Buy A House In Texas With Bad Credit
Once your credit is ruined, raising your credit score number can be very difficult. You may want to start looking into some of the state and federal level government programs that are designed to make homeownership a reality.
Government Programs
Texas First Time Home Buyer Grants
The Texas State Affordable Housing Corporation, or TSAHC, provides mortgages and mortgage assistance to homebuyers all across the state. They're a great place to find more information about the Texas home buying process and will likely be a part of any mortgage journey.
But they also offer different types of grants that are specifically aimed at first time home buyers and which can help you secure a bad credit home loan in Texas.
The Homes for Texas Heroes Home Loan Program is available to teachers, firefighters, EMS personnel, police, correctional officers, and veterans. The Homes Sweet Texas Home Loan Program is available to any first-time Texas home buyer with low or moderate income.
Both of these programs have lenient credit requirements and offer down payment assistance. This is not the same thing as a bad credit home loan but it can be very helpful, especially since bad credit mortgages in Texas usually have higher down payments to offset the risk of accepting a low credit applicant.
If you're looking specifically for help in the city of Austin or the city of Houston, we've got you covered with other articles.
Federal Programs
If you're not eligible for a state level program or you need more than just some down payment assistance, you should look into the bad credit home loan programs that are offered by the federal government.
FHA Loans
If you're looking for a loan for bad credit in Texas, the FHA loan is a very good choice. It has all the benefits of down payment assistance, because down payments on a conventional loan are usually 20 percent of the property's total value and down payments on an FHA loan are as low as 3.5 percent.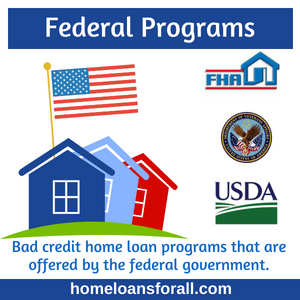 FHA loans have no minimum credit requirement, although if you have a credit score lower than 580 you will probably have to pay a larger down payment (usually no more than 10 percent) or will have to provide additional credit.
VA Loans
Eligible veterans and current service members can apply for a loan through the VA, which has no minimum credit requirement and which will often save you thousands of dollars on your loan payments.
The latter happens because VA loans in Texas waive the down payment entirely in most cases and don't require you to continually pay Private Mortgage Insurance (PMI.)
USDA Loans
The United States Department of Agriculture offers special home loans to rural areas – and that includes much of our state! If you're eligible for one of these loans, you can have an underwriter manually turn a USDA loan into a bad credit home loan and help you lower or waive the credit requirements. You can learn more from the TSAHC.
Rent To Own Options in Texas
Rent to own property sounds exactly like what it is: a home that you rent for a set time period (usually two years or so). After the time passes you buy the house outright.
Usually, you will have to pay a potential options fee at the beginning of a rent-to-own contract. You can think of this as being similar to a down payment on a mortgage.
Then, a portion of your monthly rent payment goes toward the principal cost of purchasing the home once the lease has run out.
At the end of a rent-to-own contract, you still have to find additional bad credit home loan Texas financing. That is why many people shy away from this option. However, it can be very good for people who want two years or so to repair their credit before committing to a full-time home loan of any kind.
Cosigner on a Home Loan
If you don't qualify for a bad credit home loan in Texas is to find a cosigner and you're looking for another option that will allow you to buy a house now, you might consider finding someone to cosign the mortgage with you.
Lenders will consider the cosigner's credit score in addition to your own before setting the terms of a potential mortgage, often leading to more favorable terms.
However, this means that the cosigner is agreeing to make any payments that you fail to pay. That's a big commitment, so make sure that your cosigner is someone you can trust.
And, perhaps more importantly, make sure that your trusted friend or family member understands what exactly they're getting into when they cosign your loan.
First Time Buyers In Texas With Bad Credit
If you're a first time home buyer in the state of Texas and you have bad credit, you should consider applying for an FHA home loan. These loans are specifically designed for first time home buyers and offer many attractive benefits, including the lack of a minimum credit requirement, a lower down payment, and more lenient debt and income requirements in general.
No wonder FHA home loans are the most popular mortgage option in the whole state!
Bad Credit Home Loans In Texas After Bankruptcy
When you file for bankruptcy, it greatly affects your ability to get a mortgage in the future. In most places in Texas, you cannot apply for a conventional home loan if you have filed for bankruptcy within the last seven years. But there are ways to make post-bankruptcy homeownership a reality much faster than that.
You might be able to apply for an FHA loan, which most home buyers should be able to do. You can do so only three years after you file for bankruptcy instead of the full seven. And if you're one of the few who are eligible for a VA loan, you can apply in only two!
Home Buying Assistance In Texas
There is plenty of home buying assistance available in the great state of Texas. The TSAHC and HUD counseling services will host seminars, answer questions, and post online resources that will help you better understand the process of mortgaging and taking ownership of a home.
Consider contacting these agencies if you have questions about what a bad credit home loan in Texas might look like.
Homestead Tax Credit
The Homestead Tax Credit won't help you buy a house. It will help you pay for the house even if you have bad credit. This credit lets you withhold a certain amount of property tax each year. You can live in the house while you are paying it off.
In Texas, this amount can be up to $25,000, so you should definitely look into this option and take advantage of it! "Take all the advantage you can", is the main motto of homebuyers.
How To Improve Your Credit Score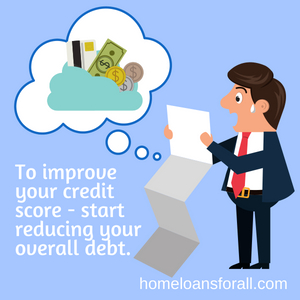 Repairing a credit score in Texas is a long and difficult process, but it is possible, especially with expert help. In the meantime, there are small steps that you should take every month to improve your credit score. You shouldn't wait too long for the credit score to improve.
One thing you can do is to regularly pay your phone, credit card, and utility bills. Your FICO credit score is mostly derived from your history of payments in these areas. So, this will directly impact your credit and can have a huge impact if done consistently.
The next best thing you can do to improve your credit score is to start reducing your overall debt. Pay down some of your high-interest credit cards and student loans to free up your income. This not only affects your credit score; it also improves your debt-to-income ratio.
Conclusion
Hopefully, you've learned a bit about how to find home loans for bad credit in Texas. Buying a house can sometimes feel like a tiring business. Instead, imagine how worth it the process will be once you're living safely and comfortably in a beautiful property of your own.