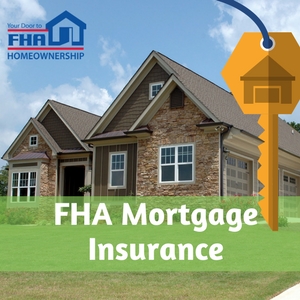 Mortgage insurance can be a necessary evil for home buyers who don't have a substantial down payment for the new property. Even FHA loans require buyers to make these payments, but it can help to understand just where this money is going each month. FHA mortgage insurance is a necessary expenditure for those who want to use this program, so what exactly do these payments do?
These monthly payments are a way to protect the lender in the event that you default on the loan. You pay a small fee each month which goes toward an insurance policy held by the lender or the investor in your loan. This provides them with some security if you ever stop making the payments on your home property. You might hear this referred to as PMI, which stands for private mortgage insurance. When it comes to FHA mortgage insurance, it's referred to as MIP for your mortgage insurance premium.
Is Mortgage Insurance Required?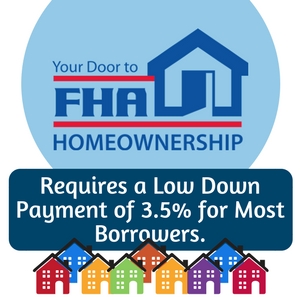 On a conventional loan, most home buyers have to pay for mortgage insurance until they build up twenty percent equity in their new home. A home buyer who put down a smaller down payment could request for their mortgage insurance to be removed once they met this standard benchmark. It was only required for homeowners who had very little equity in their new home purchase.
The FHA mortgage program is a little different, but it does still require mortgage insurance for a borrower who only places a small down payment on the property. One of the most advantageous features of the FHA loan is that it only requires a low down payment of 3.5 percent for most borrowers. This small down payment usually makes lenders a little wary of allowing you to forego mortgage insurance premiums though.
Yes, you must make your mortgage insurance premiums for a period of time but they can be removed later on.
How Does It Work?
When you make your initial purchase of the home, your lender will factor the mortgage insurance payments into your estimated monthly costs. You will make this payment monthly until you can lower your overall loan-to-value ratio, sometimes referred to as LTV. This payment will hold until you invest enough into the property to raise your equity to an acceptable level.
However, you will also have an upfront mortgage insurance premium that is due at the time of your closing. Borrowers do have the option to finance this amount into their overall loan if they choose not to pay it out of pocket.
Your upfront mortgage insurance premium is equal to 1.75 percent of your loan amount. Keep this figure in mind because it can definitely change the overall price of the home you are intending to purchase, particularly if you must combine it with your monthly insurance payments. The monthly payments are usually calculated on an annual basis but are only paid monthly.
How Much Does FHA Mortgage Insurance Cost?
The upfront FHA mortgage insurance cost is always the same. This number can be much easier to calculate because it is equal to 1.75 percent of the principal balance on your loan. This is a one-time fee that can easily be rolled into your remaining loan balance.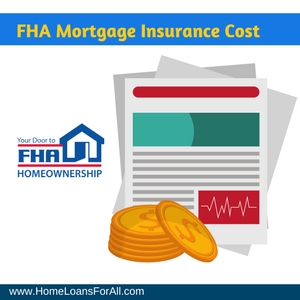 The second FHA mortgage insurance premium is a little more difficult to calculate. This will depend on your loan amount, your down payment amount (loan to value ratio), and the length of your loan. For loans that fall into the conventional category at $625,500 or less, you can expect your annual insurance premiums to fall into one of these categories:
30-year loan with less than 5% equity: 0.85%
30-year loan with more than 5% equity: 0.80%
15-year loan with less than 10% equity: 0.70%
15-year loan with more than 10% equity: 0.45%
These percentages will be applied to the total balance of your loan to come up with your annual total for mortgage insurance premiums. This figure can then be divided by twelve to determine how much you will owe on a monthly basis.
As you can see, your mortgage insurance premiums will change as you build more equity in the home and decrease your principal balance. Make sure you are paying attention to the changes in your private mortgage insurance each year to prove that your rates are decreasing.
What is MIP?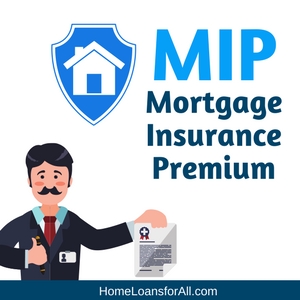 The MIP stands for "mortgage insurance premium." This is a specific type of insurance policy utilized with FHA loans to help protect the lenders in the event that you default on the loan. Your upfront mortgage insurance premium can be bundled into your loan amount, while you might also be responsible for a monthly payment to keep this service active.
The specific numbers will vary based on your loan amount, the duration of your loan, and the amount of equity you have built up in the property.
After you maintain the home for a period of time and build up enough equity in the home, you can qualify to have the MIP dropped from your monthly expenditures. You will have to know the details of your loan in order to determine if you qualify to cut out this unnecessary fee each month.
What is PMI?
PMI and MIP both have a very similar sound when you're trying to have a logical talk with your lender. You should really know how these two acronyms differ from one another before you make a commitment to any one type of loan product. What is the primary difference between private mortgage insurance and monthly insurance premiums?
Private mortgage insurance is issued on conventional loans to help protect lenders in case you choose to stop making the monthly payments on your mortgage. They tend to require this amount whenever you have a down payment that is less than twenty percent of the home's total value. PMI serves as an insurance policy to give them some peace of mind about taking a risk on your financing, even though you did not come up with a large down payment.
It is typically around 0.5 percent to 1.5 percent of the total loan value each year. This means that your PMI payments might change as you make more payments on your mortgage each year.
PMI can be removed from the property once you build up at least twenty percent interest with a good payment history. Alternatively, it might be terminated as soon as your loan balance is scheduled to reach 78 percent of the value on the home.
You might also be permitted to pay single premium PMI in one neat and tidy sum upon closing on your house. This lump sum payment could also be financed into the home's loan value to avoid making monthly payments specifically for the PMI. This applies to the most common type of PMI, which is known as borrower-paid.
You might also encounter lender-paid PMI which is factored into the interest rate of the loan. This fee will never go away or decrease until you are finished paying off the mortgage.
On the other hand, the MIP is used specifically for FHA loans.
How to Avoid PMI with FHA Loan
Understanding the ins and outs of how to get around making your MIP payments with FHA loans can be extremely tricky. Some of the details pertaining to your MIP are affected by the date of your closing. Homes that received financing prior to July 3, 2013, might already be able to remove their monthly insurance premiums.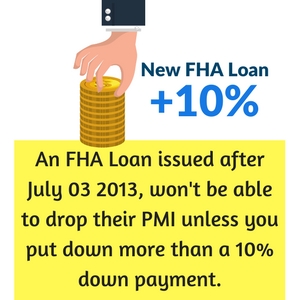 Loans made prior to July 3, 2013, must be paid down to a loan to value ratio of 78 percent or less. If your total is lower than this number and you have been paying for at least 11 years, you should be able to request for this monthly expense to be removed from your billing cycle. Alternatively, some lenders only require that you make these MIP payments for five full years if your loan falls into this category.
An FHA loan that was issued after July 3, 2013, will not be able to drop their PMI unless you put down more than a ten percent down payment.
This is the trick to avoiding a PMI payment with a brand-new FHA loan. You should plan to put down a ten percent down payment so that you automatically have more equity built up in the property. When this is the case, you can drop your PMI after eleven years instead of paying it for the duration of the loan.
The ability to drop your mortgage insurance premiums can represent a huge savings for homeowners. They will be able to save thousands of dollars over the duration of their loan by selecting a much larger down payment right now. You will have to weigh whether this could be the best option for you, particularly if it requires you to wait a couple years to continue saving for the down payment on your property.
How Do I Cancel FHA Mortgage Insurance?
Getting rid of your mortgage insurance premium should be a major undertaking on every homeowner's radar. Eliminating this monthly expense can save you a good bit of money each month, depending on your premium amount and the overall value of your home. It's only natural to want more details on exactly how you can go about canceling your FHA mortgage insurance.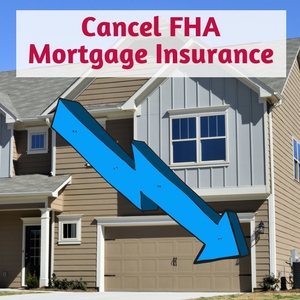 When Can I Cancel?
If you purchased your home prior to July 3, 2013, the MIP will simply be removed from your loan once the loan to value ratio reaches 78 percent. This can take roughly eleven years if you placed a 3.5 percent down payment on the property unless you make extra payments to remove the MIP sooner.
Homeowners who purchased their property after this magical date will have to take a slightly different approach to canceling their PMI, particularly if they only put down the minimum 3.5 percent down payment. You can choose to refinance your FHA mortgage into a different type of loan, such as a conventional loan product.
How does this work?
Well, the odds are that your home as gone up in value since the time you purchased it. Many homes have seen an increase as the real estate market started to rebound, even if they didn't have any major updates in the last few years. The home you purchased for $150,000 years ago might now be worth closer to $200,000.
This shows as accrued equity in the property when you attempt to refinance. The home is worth substantially more than what you originally paid for it. When you refinance it, you will need to plan to change your loan into something other than the same FHA financing program. Even though this would allow you to tap into the equity of your home, you will still be required to keep the PMI on the FHA financing whereas a conventional loan might not require it.
The standards to refinance your home might be a little more stringent than those expected for a traditional FHA loan. You might need a much higher credit score in the average to good range (around 600) for a lender to feel comfortable refinancing your home. Consider where you might be at financially to determine if refinancing your FHA loan to remove PMI could be for you.
Conclusion
FHA mortgage insurance might be a necessary part of your loan structure, depending on when you purchased your property. Paying this fee every month can add up to thousands of dollars in wasted money for you as the homeowner. You can take a few creative routes to avoid making a PMI payment on the purchase of a new home. If you've owned your home for a while, you might need to talk to your lender about whether you can remove your mortgage insurance premiums.
Frequently Asked Questions
Will FHA mortgage insurance go down?
Yes, FHA mortgage insurance will decrease in the total amount due as you pay down your principal balance on the mortgage.
What does FHA mortgage insurance cover?
FHA mortgage insurance covers your lender in the event that you were to default on your mortgage and the property would move into foreclosure. It is an insurance policy to help the lender recoup any lost funds from their initial investment.
Why is FHA mortgage insurance required?
FHA mortgage insurance is required to offer more protection to lenders in case you do not make the expected payments on your loan. This is done to help protect lenders who are issuing financing with lower down payments to homeowners who do not have equity in their properties.
Does FHA mortgage insurance go away after a certain amount of time?
FHA mortgage insurance can go away on loans that were issued before July 3, 2013, once the loan to value ratio becomes 78 percent or less. On homes that were purchased after this date, you can only get rid of MIP if you put down a ten percent down payment. If you had a lower down payment, you will have to pay FHA mortgage insurance for the duration of your financing.
Why is my FHA mortgage insurance so high?
Your FHA mortgage insurance is based on your down payment amount and loan type. It is calculated based on the value of the home. Here are the annual MIP rates for FHA mortgages of $625,000 or less:
30-year fixed rate mortgage with less than 5% down payment: 0.85%
30-year fixed rate mortgage with more than 5% down payment: 0.80%
15-year fixed rate mortgage with less than 10% down payment: 0.70%
15-year fixed rate mortgage with more than 10% down payment: 0.45%
FHA Mortgage Insurance Resources