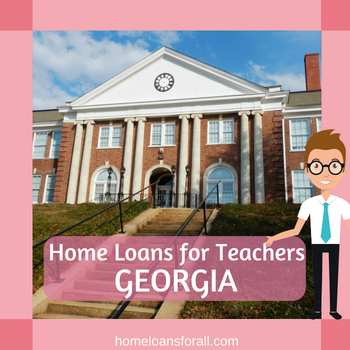 Looking for some great home loan programs in Georgia for teachers? At Home Loans For All, we can help. In this article, we'll go through government-insured and government-offered programs like the VA, FHA, and USDA loans. We'll help you find a mortgage for bad credit and give you some tips for improving your credit score. And we'll talk about the assistance that you can find before and after securing a mortgage if you are a Georgia teacher.
It is our hope that by the end of this article you will have all the information you need to make an informed decision in picking out a Georgia mortgage.
We Can Help You Qualify For A Georgia Teachers Home Loan
Fill Out The Form Below To Get Help Today!

Home loan programs in Georgia for teachers
The state of Georgia does not offer teacher-specific home loan programs as other states do. However, there are still many different types of home loans available.
The most obvious, of course, is a "conventional loan" – a mortgage which follows the Fannie Mae and Freddie Mac guidelines. These loans usually require a down payment equal to 20 percent of the value of the home and credit scores of 660 or higher. They also require the home buyer to pay for Private Mortgage Insurance (PMI) while making payments on the loan and may not have fixed interest rates.
These loans are all well and good for those who can afford them, but we don't need to tell you how difficult it can be to live on a teacher's salary in Georgia. Here are some more affordable home loan programs in Georgia for teachers that we have a lot of experience with:
FHA
FHA loans are insured by the Federal Housing Administration, which absorbs some of the risks that the lender takes on when they approve a mortgage application. Because of that reduced risk, lenders will accept applications for FHA loans that would be rejected outright for a conventional mortgage.
FHA loans have a lot of benefits, including great refinancing options, low credit requirements, and lenient income requirements. They are also widely available and can be applied for at most banks, brokers, and money lenders. However, the biggest advantage of the FHA home loan program for teachers in Georgia is that FHA loans only require a down payment of 3.5 to 10 percent. It depends on the credit score of the applicant; but either way, it is lower than the 20 percent down payment of a conventional mortgage.
Do you know why FHA makes such too-good-to-be-true offers? They are the government program, and the government wants happy citizens with housing. Happy families in their homes boost the economy like nothing else.
So if you're looking for an affordable way to find low-income housing in Georgia for teachers, it doesn't get much more affordable than an FHA loan!
VA
VA loans are also insured by the government – specifically, by the Department of Veterans' Affairs. As you can probably guess, this means that you can only apply for a VA loan if you are a current or former member of a branch of the US military.
However, these loans are in some ways even better than FHA loans. They have the same low requirements, but require no down payment at all in most cases! VA loans are also ideal as home loans for teachers with bad credit in Georgia because there are no minimum credit scores required.
Another advantage VA loans have over FHA loans is that they require no Private Mortgage Insurance, which must be paid for the duration of an FHA mortgage period.
USDA
The United States Department of Agriculture offers home loans for Georgia teachers who live in (or want to live in) rural areas. The definition of "rural area" is fairly generous – as long as you're not in Atlanta, Savannah, Athens, or Sandy Springs there is a good chance that you will be eligible for this program.
Like FHA loans, USDA loans are available to all home buyers (first time and otherwise). USDA loans are sometimes better if you're looking for a loan that offers 100 percent financing or if you think you'll need extra time to pay the loan (USDA loans have limits as high as 38 years, while the fixed-rate FHA loan only has a payback period of 30). However, USDA loans have higher income requirements, making this a bad option if you're looking for home loans for teachers with bad credit in Georgia.
Housing assistance for teachers in Georgia
Just because you've found a home loan doesn't mean you don't still need housing assistance for teachers in Georgia. Here are a few more state-level programs that you might consider taking advantage of:
Down payment assistance
One of the hardest parts of buying a home for many teachers (and all Georgia residents) is saving up for the initial down payment. Even if you go with a cheaper FHA loan, 3.5 to 10 percent of the full cost of a home can be a lot to pay all at once.
The Georgia Dream Homeownership program, offered through the Georgia Department of Community Affairs, will pay for all but $1,000 of your down payment on a mortgage with a 0% interest deferred loan that you will pay off after the mortgage. It's a good option for people who have been unable to save money in advance. Although, it may not help those who are simply looking for a way to spend less. This program also has a maximum income limit (which varies by county) that will make it unavailable to some applicants.
Still, if the down payment is all that stands between you and the home of your dreams, we say go for it! Apply for the Georgia Dream program and get the help you need.
Tax exemptions
Georgia law allows every homeowner to take advantage of a homestead tax exemption if they live in a primary residence that they are still paying off. This exemption lets you withhold property taxes on a certain amount of the residence's value – $4,000 to $30,000, depending on the county in which you live.
This doesn't help those who are still looking for home loan programs in Georgia for teachers, but once you already have a home it's nice to know that there's still plenty of assistance available to make paying off the mortgage as comfortable and affordable as possible.
Improving your credit score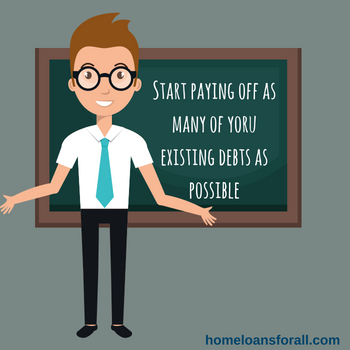 If you're still having trouble finding low-income housing in Georgia for teachers, you may need to start seriously considering improving your credit score. Your FICO credit score is a measurement of your financial responsibility and is usually the number one thing a mortgage broker looks at when they decide to accept or reject your application, so having good credit will give you a better chance of getting accepted and better terms on the mortgage once you are.
We've written a more comprehensive article on credit repair that you can read here. But there are three things you can do right now to improve your credit to the point that you can take advantage of home loan programs in Georgia for teachers.
First: pay your bills on time and in full every month. This has a huge impact on your credit when done consistently. A secured credit card may help you in this effort.
Second: start paying off as many of your existing debts as possible. Auto loans, student loans, pre-existing mortgages, etc.
Third: make sure you're checking your score regularly with some kind of free soft pull credit site. If you're not constantly aware of your credit ranking, you can't respond if something suddenly damages it. Plus, sometimes clerical errors will happen somewhere along the credit chain, and if you see something that looks unusual in that regard you can fix it immediately.
Conclusion
After reading this article, you should have a good understanding of the various home loan programs in Georgia for teachers as well as some of the housing assistance that's available for teachers in Georgia. We know that trying to buy a home on a teacher's salary in Georgia is often frustrating, so we hope that we've been able to help you and that you have now started on the path towards finding the home of your dreams at the price you desire.