Teaching isn't easy. Neither is finding a house. Most mortgages come with high income and credit requirements and will ask you to pay a big down payment up front.
It can be difficult for teachers to meet those requirements, which is why today we're going to cover loans and assistance that can help you find low income housing in Michigan for teachers today.
We'll start by covering a few home loan programs with expanded income requirements that teachers in the state of Michigan should have access to. Then we'll cover additional Michigan assistance for home loans that can help you find low income housing.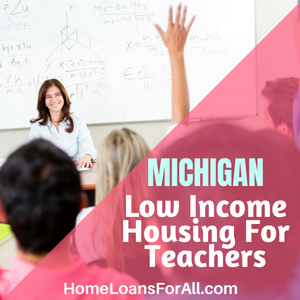 By the end of this article, we hope that you will have a better idea of where to start your home loan journey and what sort of things you should look for when buying housing.
Get Help Pre Qualifying for a Michigan Low Income Housing Loan – Click Here!
Loans for low income housing in Michigan for teachers
The basic Michigan mortgage in most cases is called the conventional home loan. Conventional home loans have high income requirements and usually require a minimum FICO credit score of 620 or higher.
They also won't allow you to take on new debt if your total debt takes up more than 40 percent of your gross income. Plus, conventional home loans require you to pay twenty percent of the total value of the home up front as a "down payment."
For low income home buyers in Michigan (which often includes teachers), these requirements are unreasonable and unachievable. A person may be perfectly qualified to make the monthly payments on a home buy may be unable to save up for a huge down payment.
And a debt-to-income ratio of fifty percent is still plenty of wiggle room to be able to pay off your debts every month.
That's why those looking for low income housing in Michigan for teachers have started turning to other loan programs that have more reasonable application requirements.
FHA loans for Michigan teachers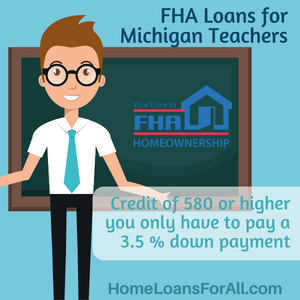 FHA loans are the most popular home loans offered in the state and are a great way to secure low income housing in Michigan for teachers.
FHA loans are insured by the Federal Housing Administration, which is a subset of the federal government. Because they agree to absorb some of the risk of the loan and are backed by the power of the US Treasury, lenders are willing to expand the eligibility requirements on these loans and may accept applicants who would be rejected outright for a conventional mortgage.
This means you can secure an FHA loan if you have a debt-to-income ratio of 50 percent and a minimum credit score of only 500 to 580.
If you have credit of 580 or higher you only have to pay a 3.5 percent down payment, and even those with credit of 500 will usually only have to pay as high as 10 percent up front, which is half of the down payment on a conventional mortgage.
So if you want to save thousands of dollars on low income housing and get accepted for loan terms that would be inaccessible otherwise, consider joining 30 percent of Michigan home owners and applying for an FHA loan today!
VA loans for Michigan teachers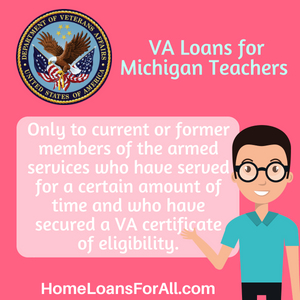 VA loans operate in a similar fashion to FHA loans. A branch of the federal government absorbs some of the risk, leading to low income housing requirements and no minimum credit score.
VA loans are actually a little better than FHA loans if you can get them, because they waive the private mortgage payments and usually require no up front down payment whatsoever.
There's no doubt that VA loans are the cheapest around, but they're also not available to many Michigan teachers. See, the "VA" in the name is short for the Department of Veterans' Affairs, the organization that insures these particular loans.
And as you may have guessed, that makes VA loans available only to current or former members of the armed services who have served for a certain amount of time and who have secured a VA certificate of eligibility.
Still, if you're a Michigan teacher who previously served in the military, consider applying for one of these money-saving low income housing loans today!
USDA loans for Michigan teachers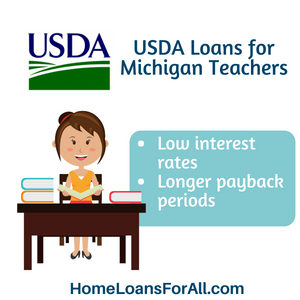 USDA loans are designed to help Michigan teachers and other home buyers purchase low income housing in rural areas for – if you'll pardon the pun – "dirt" cheap. And in some cases, USDA loans will cover 100 percent of a home's financing. In other words, no down payment necessary!
USDA home loans for teachers in Michigan are a little less accessible than FHA loans thanks to higher income and credit requirements (though still significantly lower than the requirements of conventional loans.)
These vary by lender, so you should shop around and see what the brokers and banks in your area are offering.
However, USDA loans have two other big advantages: low interest rates and longer payback periods. This means that your individual payments will likely be lower if you get a 38-year USDA home loan than they would be for a 30-year FHA loan.
Michigan assistance for home loans
If you're looking for low income housing in Michigan for teachers, there's other assistance to consider that goes beyond just finding a mortgage.
A good place to start looking for Michigan assistance for home loans is the Michigan State Housing Development Authority, or MSHDA. This organization can provide you with housing education, one-on-one counseling and advice, and other useful help for homeowners and home buyers at every stage of the process.
If you have specific questions about a unique situation you find yourself in, that's one of the best places to find help. HUD-approved counseling agencies can also fill a similar need.
The MSHDA also offers down payment assistance programs for eligible teachers. Down payment assistance is useful to anyone who doesn't have the funds to pay for a full 20 percent down payment upfront.
But it's especially helpful to any Michigan teacher home buyers with bad credit, because mortgage lenders usually make up for the risk of taking on a bad credit home buyer by increasing the up front payment.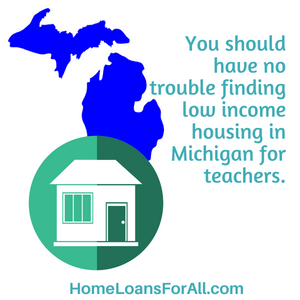 The primary form of down payment assistance offered in Michigan is the MI Home Loan program, which is a fixed-rate 30-year mortgage with a minimum credit requirement of 640. Up to 7,500 dollars of down payment is provided to those who are eligible for this loan, as long as you also take a free Homebuyer Education class.
The MI Home Loan Flex is also offered, a variant of the MI Home Loan program which is available to teachers anywhere in the state and which doesn't require all adults who intend to live in the home to qualify for a mortgage. It's a much more accessible program, but this accessibility comes with a slightly higher credit requirement of 660.
Low income housing buyers should also consider taking advantage of Michigan's Mortgage Credit Certification program (MCC) which is a tax credit that allows first-time home buyers to credit their mortgage payments to offset their tax bills. Paying off your bills in this way can help you pay off outstanding debts and lower your credit rating.
Sadly, there is no teacher-specific Michigan assistance for home loans offered like there is in other states. But with these programs and the affordable home loans listed above, you should have no trouble finding low income housing in Michigan for teachers.
Conclusion
We hope that this article has helped you better understand what options are available to help you find low income housing in Michigan for teachers. We know how difficult it is to balance teaching classes, grading papers, and (where applicable) raising a family when you're also trying to find a good home at an affordable price.
Looking for nurse home loans in Michigan? Click here.
But low income housing is available to anyone who knows where to look, and your income or credit shouldn't define whether or not you can buy a good place to live.