Is there anything more frustrating than trying to find a house with bad credit? We at Home Loans For All understand how stressful it can be to face rejection after rejection after rejection, which is why we're working to provide a series of article about resources that will help you find a mortgage no matter what your credit or income looks like. We've already covered Austin and San Antonio, so today, let's look at the best bad credit home loans in El Paso, Texas.
Get Help Pre Qualifying for an El Paso, Texas Low Credit Home Loan – Click Here!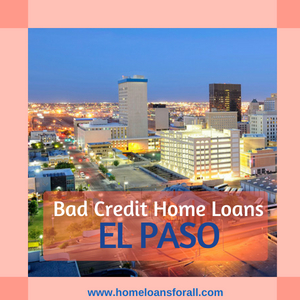 Finding Bad Credit Mortgage Companies In El Paso, TX
The two things that mortgage companies pay the most attention to when you apply for a home loan are your credit score and your debt-to-income ratio. You're probably familiar with at least the idea of a credit score; it's the approximate measurement that lets lenders see your financial health and your history of paying your bills. "Good credit" of 620 or above means you probably pay your bills regularly and don't have too many debts. Bad credit means you may have missed bills, taken on more debts than you can handle, or filed for bankruptcy at some point in the past. Mortgage companies care about your credit score because it shows them at a glance how likely you are to pay back the money that they lend you.
Your debt-to-income ratio is more or less exactly what it sounds like: a comparison ratio that puts your outstanding debts over your total gross income. Obviously, the lower this ratio is the more likely you are to be able to pay back a new mortgage that you take on. Most mortgage companies want your debt-to-income ratio to be 40 percent or lower.
When looking for bad credit mortgage companies in El Paso, TX, you should shop around to find the one that has the lowest credit requirements and the highest debt-to-income requirements. You should also see if they offer any of the following government programs which will make it easier to secure a bad credit home loan in El Paso.
Government Programs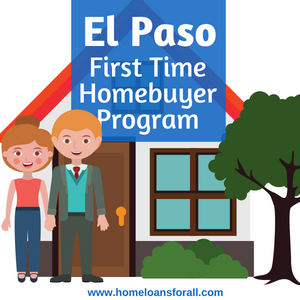 El Paso First Time Homebuyer Program
The El Paso First Time Homebuyer Program is a down payment and closing cost assistance program for first-time buyers with low income who are buying a home within the geographical borders of El Paso, TX. You can learn more about the eligibility requirements by clicking here.
This program is NOT the same as an El Paso bad credit home loan. However, the general rule with mortgages is that lower credit means higher down payments. So if you've found a loan that's willing to work with your credit but you can't quite afford it, the El Paso First Time Homebuyer Program can help you get that extra money you need to make the initial payment. And since this down payment assistance program has no credit requirements attached to it, it should be able to help you save money no matter what bad credit home loan you end up going with.
Federal Programs
We said before that lower credit means higher down payments. But these federal programs that are designed to help home buyers with bad credit provide the "best of both worlds" by having low down payments and low credit requirements, making them some of the best bad credit home loans you can find in El Paso.
FHA Loans in El Paso
FHA loans are bad credit home loans in El Paso that are insured by the Federal Housing Administration, which provides lenders with extra protection if you are unable to pay off the mortgage. Because of this protection, mortgage companies in El Paso, TX are willing to accept applications that would be rejected outright for a conventional loan.
FHA loans have more lenient requirements in general, but it's the lack of a credit requirement that makes them one of the best bad credit home loans in El Paso. Of course, the biggest benefit of an FHA loan is the lower down payment – often as low as 3.5 percent.

VA Loans in El Paso
VA loans are bad credit home loans in El Paso that are insured by the Department of Veterans' Affairs, which provides lenders with extra protection in the same way that the FHA insures FHA loans. These loans also have no minimum credit requirements, but they're even better than FHA loans if you can get them because they also require no down payment and no private mortgage insurance.
However, VA loans are only available to veterans and eligible service members, making them inaccessible to many bad credit home buyers.
First Time Buyers In El Paso With Bad Credit
If you've never bought a home before and you're looking at property in El Paso, we strongly recommend that you consider an FHA loan. If you have a credit score of 580 or greater, these bad credit home loans only come with a down payment of 3.5 percent. If your credit score is lower, you may be able to get a similar down payment if you provide alternative forms of credit. If these are not available to you, you may have to pay a down payment as high as 10 percent of the value of the home, which is still much lower than the 20 percent down payment required by conventional home loans.
Co-signer on a Home Loan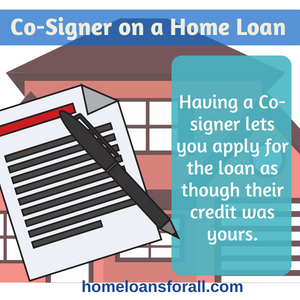 If you're unable to find a mortgage even with the down payment assistance and lower credit requirements of government loans, you can always try to find someone to co-sign with you. Having a co-signer lets you apply for the loan as though their credit was yours, which will give you a loan with much more favorable terms and give you a better chance of getting accepted in the first place.
But while this arrangement is nothing but positive for the recipient, it might have some downsides for the co-signer. By co-signing the loan, they're tying their credit directly to your property and your ability to make payments. It's a lot of risk, which is why co-signers are usually family members or close friends.
Rent To Own Options in El Paso, TX
If you're unable to or uninterested in applying for a bad credit home loan in El Paso, you might prefer a rent-to-own contract. When you rent to own, you fill out a standard rental contract, which like any rental situation will have much lower credit requirements than a contract to actually purchase the home.
When you sign the contract, you will have to pay a non-refundable potential options fee, similar to a down payment. This compensates the mortgage company for taking the house off the market and gives you the option to buy the home outright at the end of the lease.
This will require you to find a new bad credit home loan in El Paso, or at least some kind of additional financing, but the rent to own contract is a good way to find a temporary place to live while you build up your credit and pay off some debts.
How To Improve Your Credit Score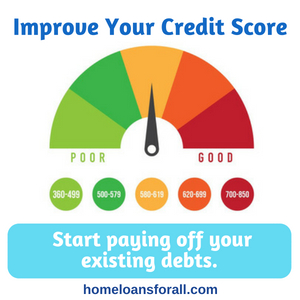 If you're looking to improve your credit score, you should know that it will probably take quite a bit of time. Unscrupulous credit repair agencies will occasionally try to convince you that they can do it faster, but there's nothing they can do for you that you can't already do on your own – and they'll just charge you extra.
Basically, your credit score is a measurement of how regularly you're paying your bills. So if you want good credit, start paying your bills in full and on time every month. When done consistently, this can have a major positive impact on your FICO credit score. It shows that you are a sound financial investment and that you will likely pay off your mortgage in the future.
Another thing you can do to improve your score is close off your existing lines of credit. The easiest way to do this is just to start paying off your debts – credit card debts, existing mortgages, auto loans, student loans, etc.
Bad Credit Home Loans In El Paso After Bankruptcy
If you've had to file for bankruptcy or if you've had your home foreclosed upon, it will cause major damage to your credit. But there's another problem with filing for a loan after you've declared yourself bankrupt, which is the seven-year waiting period.
Fortunately, the government programs we discussed above will help you find bad credit home loans in El Paso after bankruptcy. FHA loans only have a three-year waiting period and VA loans only require you to wait two years after filing bankruptcy. That's the perfect amount of time to start improving your credit and saving up for the payments!
Assistance Available In El Paso, TX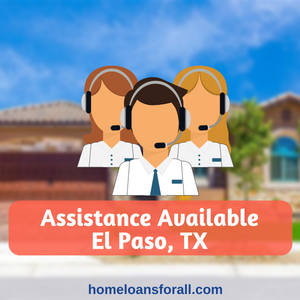 There's plenty of assistance available in El Paso if you know where to look. A HUD-approved counseling agency can help answer questions about the FHA and VA home loans, while the Texas State Affordable Housing Corporation provides seminars, one-on-one Q&A sessions, and other valuable resources if you're looking for advice.
And just because you've found a home loan doesn't mean you can't find more ways to save money. Take the homestead tax exemption for example, which lets you withhold a certain amount of property tax from a home you're already paying off. If you know where to look, there's plenty of ways to save money on bad credit home loans in El Paso.
Conclusion
We hope you've found the information you were looking for on bad credit home loans in El Paso. We know how easy it is to give up, but just think how much happier you'll be when you're living safely and securely in a home of your own. The mortgage of your dreams is out there, so go and find it!