Buying a home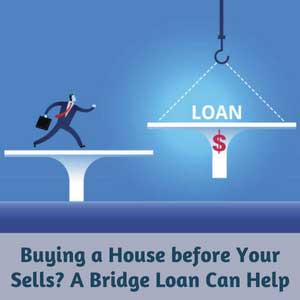 in a competitive real estate market is a daunting task. Perhaps you have spotted your dream house in a desirable neighborhood in Edmonton and you need to act fast before it is taken. If you make a purchase offer before selling your current house, you might be forced to make a hasty decision and hope against hope that your current house sells quickly before the purchase closing date.But don't worry. You won't be the first to make such hurried decisions; it is the norm.
Bridge financing explained
However, there is a quick solution for you when there is a lag in the closing dates- bridge mortgage. This is a short-term loan which allows you to close the gap between your new and old mortgage. What happens is that the equity of your current house becomes the down payment for your new house. So, you will own two properties simultaneously while waiting for the existing house to sell.
Not so many home buyers the concept behind bridge financing. But it is quite simple. To know how much bridge mortgage loan you require, subtract mortgage and initial deposit from the buying price of your new house. The remainder is the amount that requires being financed till the sale closes. Bridge financing is such a good strategy as it allows you to time to upgrade your home before you move in.
In other words, you will receive benefits without incurring too many expenses. Note that this type of loan is offered for not more than 3 months and their interest rates are higher than regular loans. Normally, their rates are about 2% higher than similar prime mortgage rates. But the rates differ from one institution to the other. The reasons the rate are higher is due to the high risk involved- what if a house falls apart before the sale closing date? If that happens, the buyer would be left with two mortgages to pay.
How it works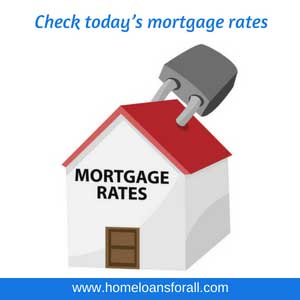 Bridge financing can work in two ways. First of all, you can settle the old mortgage and look for extra cash for the down payment on the new house. For instance, if the old mortgage is $100,000, your existing home is worth $400,000, and you need to put $60,000 down for the new house; then you can get a bridge loan and clear the balance once your old home sells. The bridge loan doesn't need monthly installments but the interest will be added to the loan.
Secondly, you can take a bridge loan of $60,000 to cover the down payment for the new home. After selling your existing house, you will be able to settle the $100,000 old mortgage in addition to the $60,000 plus the accrued interest.As you can see, this is a low-cost option but you should keep on paying the old mortgage as you finance your new house.
What happens if your old house doesn't sell?
Bridge loans must be paid off as quickly as possible, normally within 6-12 months. Your home has to sell in good time but if it doesn't, your lender might give you an extension. If you are not granted an extension or can't sell the house even after the extension, your house will be foreclosed. This is very risky during certain market conditions. So, you might want to consider safer options like home equity loan, cash-out refinance, piggyback mortgage, personal loan, and zero-down mortgage.
Are there any shortcomings?
The drawbacks of bridge mortgage are infinitesimal but it is important to keep a few things in mind. First, you must qualify for the loan. If you cannot afford a mortgage, there's no way you would get a bridge loan. You, therefore, need a good credit score to qualify. Secondly, there are only a few financial institutions willing to offer this type of loan and so they are quite competitive. Sometimes, when your credit portfolio is low, you might be required to find bridge financing from a private lender, in which case you should get ready to pay higher interest.
Check today's mortgage rates
Whether you are relocating to a different province, downsizing, or moving up, there is always an affordable option for you. Find out the current rates here. No social security number is needed to start and you are not obliged to continue if the rates don't appeal to you.
Simultaneous settlement explained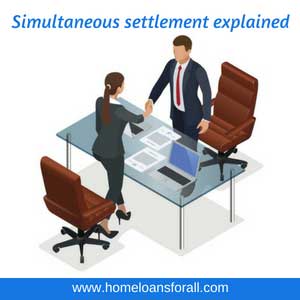 This is a situation whereby the sale date of the old home and purchase date of the new home concur. Choreographing such a situation is particularly difficult. But when it happens, you won't be forced to pay rent as you wait to buy a new house or pay double mortgage concurrently. The two transactions are dependent on each other if one faces a hiccup; you have to reschedule the entire process. You might lose your security deposit or incur more interest. But how can you achieve a simultaneous settlement?
To make ensure that the simultaneous settlement work for you, it is important that you exhibit strong negotiation skills and be willing to sell your old home at a lower value or purchase the new home at a higher value. You want to give other people incentives so they can agree to delayed closing. You will be in a better position if you are working with family members or very close friends.
Most probably, you have to put up your house on sale with a long-term settlement of about 6 months. You need to include a clause that allows you to bring the settlement forward provides that a one month's notice is given. Then, you can search for another house to buy. After finding your dream home, move the selling date of your old house forward to make sure that the settlement dates match.
Final word
You must be very careful about bridge financing. Buying a property first and failing to obtain a bridge loan can leave you in a financial jeopardy. So, you must be sure that you have sufficient equity and you're in a position to service the loan. That is why you need to consult a mortgage advisor who will look into your financial situation from current cash flow and ability to service two mortgages in case of an emergency. Check out how much mortgage you can afford.