Buying the perfect home is the goal for almost every home buyer, especially if the home they are buying is one in which they plan to live for several years. But sometimes the buyer's happy ending never really materializes because the house that seemed good for them really isn't. They obviously didn't find the right home.
In most of these cases, the disconnect between the happily-ever-after dream home and the home they actually purchased is surprisingly simple and involves just a few factors.
If you are a buyer currently shopping for your next home and eager to make sure that you choose one that you will continue to enjoy long after you close, be sure to ask yourself the following questions as you consider each property. Whether it's an FHA home loan, VA mortgage or just a Conventional loan; answering these questions from the get-go will help in your quest of how to choose the right home.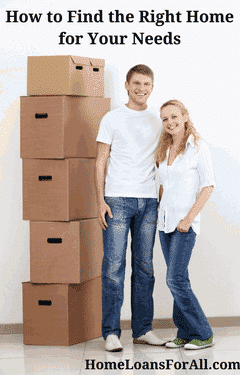 Is the Home Affordable to Purchase and Occupy?
The first question to consider is the actual cost of purchasing and living in the home.
Buyers should be wary of a home that stretches their budget to the breaking point.
 To be truly affordable, make sure that the home you decide to buy offers:
a comfortably affordable monthly mortgage & interest payment (if you will be financing the purchase)
repayment terms that fit well with your current financial situation (it is never a good idea to base home purchase decisions on money that you may or may not earn in the future)
affordable costs for heating, cooling, taxes, insurance, maintenance, and any HOA or other fees (if required)
Does the Home's Location Work for Your Situation?
Living in a home that requires lengthy drives to get to work, school, or to access basic needs, like grocery stores, banks, and medical care isn't for everyone. To choose a home with a beneficial location, consider mapping your daily activities and then looking for a home that is located in the same general area. If you are planning to consider one that is located outside the area, remember to include the cost of daily driving or transportation into your overall  budget.
Does the Home's Layout Meet Your Needs?
A home that fails to comfortably meet the current and expected physical needs of the occupants will leave something to be desired, no matter how beautiful it or affordable it may be. To make sure that you are choosing the very best home for your needs, make sure that the design of the home and even the topography of the lot on which it sits is comfortable for each occupant. As an example, this may mean choosing a one- level home instead of two-story one, if climbing stairs is difficult.
One caveat to this rule, however, is that if the home can be easily and affordably modified to fit a particular need, it may be worth  consideration.
What Size House Do I Need?
Space is a critical decision for many home buyers. A lack of sufficient available space for each occupant usually translates into a home that feels cramped and is harder to keep clean and organized. When considering the space needs for your home, remember to factor in additional space for growing children, future additions to the family, and specific space needs, such as a home office, storage needs,  etc.
Is it a Good Financial Investment?
The last factor to consider is whether the home you are considering seems to be a positive financial investment and will you be able to potentially recoup your investment when the time comes to sell. To determine this, ask your real estate professional to help you determine  how  the  home's  location  may  be  affected  by  real  estate  trends, community growth, or neighborhood changes during the course of your expected ownership.
After you have asked these questions, and have worked closely with your real estate agent, you should feel more confident moving forward to find the right home and making an offer on a home you can enjoy for years to come.