Finding a home with bad credit can often feel like a big challenge. We've compiled dozens of resources on the topic to help you find the best bad credit home loans in the country, from FHA loans to VA loans and non-government programs.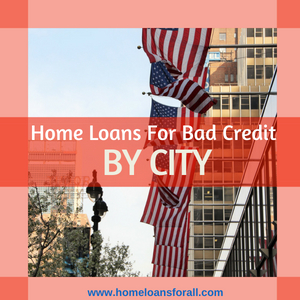 We've covered where to find home ownership assistance before, during, and after the home ownership process even if you have bad credit.
We've written about how to get around the credit requirements with a co-signer and how to find a place to live while you repair your credit to the point that you can apply for a conventional loan.
You can learn all this and more by clicking here and reading our ultimate guide to finding bad credit home loans.
Save Money by Applying for Your City's Bad Credit Home Loan Programs
But as useful as it is to have a more general guide, there's also a lot of value in diving into specifics.
Many cities in the US have bad credit home loan programs of their own.
Detroit, for example, offers an excellent home loan program that doesn't even take credit into consideration.
Even cities that don't go that far will at least have some kind of down payment assistance – always helpful if you're dealing with a lender who tries to offset the risk of taking on a bad credit home buyer by charging for a higher down payment up front.
Plus, home buyers in different cities will have different needs and different expectations.
Everyone deserves a home loan program that works for them, so we've compiled all of our city-specific articles into this one handy list.
We've written about how to find bad credit home loans in every major city of the United States. So take a look below and find the bad credit home loan of your dreams today:
Home Loans For Bad Credit By City
(These articles are organized alphabetically by the name of the city)